When we recently wrote our in-depth article on Peak ATP, we came to a conclusion that we need more stimulant-free pre-workout supplements with the ingredient inside!
We asked, and a company named NatureCity answered the call.
So today we're going to talk about NatureCity's TrueNOx, an incredible naturally-flavored, naturally-sweetened stimulant-free nitric oxide (NO) boosting formula with a clinically-studied 400 milligram dose of Peak ATP, as we requested, with some other powerful ingredients like Nitrosigine and amla to push nitric oxide production to the next level.
Why are we so excited here? Peak ATP's made from highly-stable disodium ATP — replenishing our body's ATP (cellular energy) stores while we train — but it actually works through increased blood flow! Yet most dietary supplement formulators only consider the energy aspect, mostly putting it into stimulant-based supplements or capsules.
Once we realized that, we understood that there was a gap in the stim-free pre-workout "pump" space. And TrueNOx fills it.
This is a great opportunity to explore the connection between cellular energy production and NO-mediated vasodilation. There's a lot more going on here than most realize, and TrueNOx is on to something that few brands in the sports nutrition niche have figured out.
One of the more surprising facts we'll discuss is that increases in extracellular ATP cause significant improvements in cardiovascular function. We hear a lot about how ATP can benefit muscular power and athletic performance, but far less about its effect on the cardiovascular system.
It's another great example of how cellular energy availability affects every aspect of human health. So let's get into the details, but first, check the PricePlow news and deals:
Nitric oxide boosting ingredients are incredibly common, forming the backbone of pretty much every product in one of the industry's most popular categories, pre-workout supplement. But even though almost all serious supplement users take some kind of daily NO booster, there's very little discussion of what it does for you beyond the superficial fact that NO can give you a nice pump.
Vasodilation for greater blood flow
Most of us know that NO leads to vasodilation (a mechanism that causes arteries to relax), which decreases cardiovascular resistance and relieves strain on your heart. The larger arterial diameter helps reducer blood pressure and heart rate, which benefits athletic performance and recovery, thanks to improved circulation.[1] And, in the long run, it can even reduce serious health risks.[2]
This vasodilation effect is usually what we get excited about with these stimulant-free pre-workout supplements — the improved blood flow it brings leads to tremendous benefits — and companies are more and more looking to replace heavy ingredients like citrulline to boost NO. More than just an energy substrate, Peak ATP is one of them.
But before getting into ingredients like Peak ATP, there's even more that improved nitric oxide may be able to do:
Mitochondrial improvements and more
As an example, in a 2016 study, researchers claimed that an increase in NO production from a nitric oxide boosting ingredient was the main mechanism behind the reversal of mitochondrial damage in mice.[3]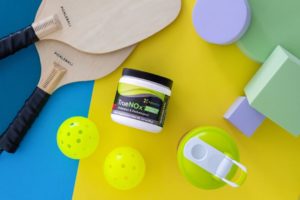 But while these things are very important, the benefits of NO upregulation actually go far beyond them.
This is a startling fact since mitochondria are of fundamental importance to human health. Mitochondria affect so many different aspects of health that, in recent years, mitochondrial function has become a target of anti-aging research.[4]
Other studies have found that NO production is usually impaired in people who are insulin resistant,[5] which isn't totally surprising. What may be surprising to most is that restoring NO production, with NO-boosting supplements like L-arginine, has been shown to improve insulin sensitivity and glycemic control.[6,7]
Point being, there's a lot more going on here than "pumps" and "blood flow". We can chase greater health overall. So let's dig into how NatureCity is capturing this with TrueNOx:
We asked for Peak ATP in a stim-free pre-workout supplement like this, and we sure got it. Little did we know that the formulators would also include many of our other favorite ingredients as well!
Of course, we always love seeing industry heavy-hitter NO booster Nitrosigine show up, but with the added Peak ATP and amla, there's even more to this one. One thing we really appreciate about TrueNOx is its emphasis on ATP-mediated vasodilation.
We're seeing a trend in the supplement industry, across the board and in every product category, toward a recognition of ATP and cellular energy being one of the most fundamental mechanisms of action for any effect we try to get from nutritional supplements.
In our opinion, this is a great trend. ATP is unbelievably important, which is why we write about it all the time here in the PricePlow Blog. To that point, TrueNOx truly delivers.