Hannibal Mejbri stole the show as his goal and assist earned Birmingham a 2-0 win over West Brom – to earn the Blues their first home win in 2023.
The on-loan Manchester United midfielder took just 10 minutes to put his side in front in sensational fashion, curling a wide free-kick in from 35 yards out, deceiving West Brom goalkeeper David Button by pretending to go for a cross.
Manchester United loanee Hannibal Mejbri scored a superb free-kick for Birmingham, completely catching out West Brom keeper, David Button.

Mejbri then curled in a wonderful corner for Krystian Bielik to head home, with the Blues midfielder beating Button to the ball.
The victory for the Blues moves them within six points of the play-off spots going into Saturday's action – with John Eustace's side now 10 points above the relegation zone.
Meanwhile, West Brom – who celebrated manager Carlos Corberan's new contract in midweek following speculation over a move to Leeds – missed the chance to move up to fifth.
Krystian Bielik got on the end of a brilliant corner from Hannibal Mejbri to head in his first goal for Birmingham.

Birmingham fans marched from the city centre to St Andrew's as protests against owners Birmingham Sports Holdings continued but they were at least given an early goal to ease their anger.
The hosts were bright and, when Lukas Jutkiewicz cleverly bought a free-kick off Conor Townsend 30 yards out on the right after 10 minutes, Hannibal took charge.
Button was expecting him to swing it into a crowded area but instead, the 20-year-old embarrassed the goalkeeper by curling around the one-man wall to find the bottom corner.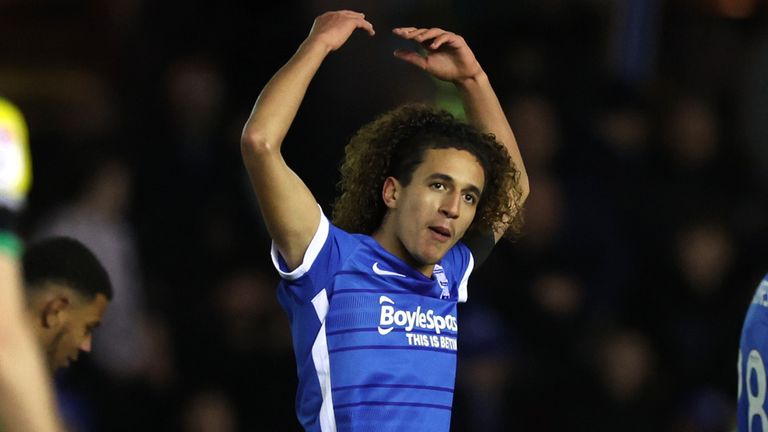 First to everything, the Blues rattled Albion but were initially unable to build on their lead, although Button had to turn Tahith Chong's fierce drive behind.
The Baggies struggled to match Birmingham's intensity and, while Daryl Dike briefly gave the hosts cause for concern when he charged down John Ruddy's clearance, they were second best.
Marc Albrighton's shot deflected wide but was never troubling Ruddy and there was no zip from a side who had won 11 of their previous 16 games.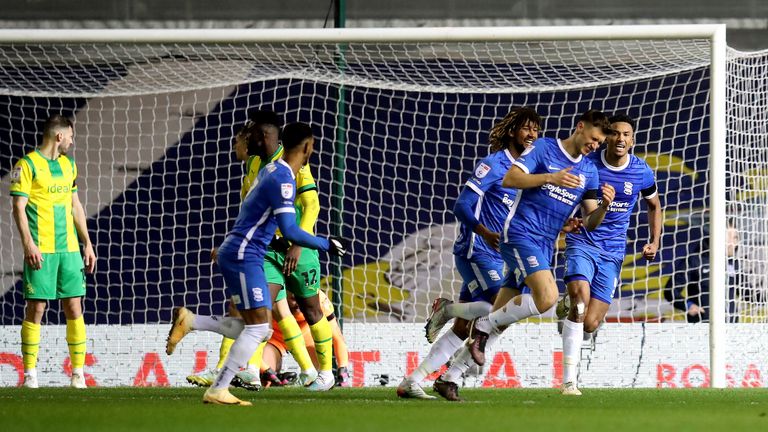 Corberan looked agitated on the bench and his mood would have only darkened seven minutes after the break.
Albion conceded a cheap corner and Hannibal's delivery was missed by a flapping Button for Bielik to nod in.
Ruddy turned John Swift's drive behind as the Baggies tried to respond but there was no way back.
The managers:
John Eustace feels he has a special group at Birmingham and aims to build the club up again.

Birmingham City manager John Eustace speaking to Sky Sports:
"I'm so proud of the group of players. It was a really difficult day with the protests. It just showed the character of the group, it's a special group. We were favourites for relegation at the start of the season, we signed a lot of loan players and have young, old players. They most important want to fight and scarp for each other and you could see that tonight.
"Last week, we said we got it wrong at half-time at Swansea. We put things right in the second half. Today, we got it right and set pieces win games. Hannibal works day in, day out at set pieces and we are grateful that he does.
"These are fantastic fans, all through the season so far. I've said from day one that the connection between players and fans are the most important thing for me. We've had difficult moments but they've given 100 per cent and I'm grateful for that and so are the players.
"We just take each day as it comes. I know it's cliché but in the Championship we can't get too high with the highs and low with the lows. We've just had five straight defeats and then two [wins] in a row. We've got another home game against Cardiff, we'll see where that takes us.
"Hannibal has come in, a young 19-year-old boy in his first loan. He had a fantastic start then had a bit of dip, he's come back and his performances have been excellent of late."
West Brom manager Carlos Corberan speaking to Sky Sports:
Carlos Corberan conceded that Birmingham were better than West Brom and felt they lacked intensity in their 2-0 loss.

"I think the two goals had a massive impact in the middle of the game. They started the game aggressive and they surprised us in the first goal.
"The intensity in the second balls, they were playing more aggressive. They were better than us in that.
"[After] half-time we tried to play more intensity in defence and more calm in attack to find more situations to progress. The game was interrupted in the first half and in the start of the second half. They were one level better than us.
"I think [the first goal] was a strange goal. In football, you can't be surprised by these actions. We were waiting for a cross and he made a finish. It was a good connection.
"The first important thing, if we win one game it is not by luck. If we lose a game it is not by luck. We didn't do well in the individual and collective point of view. The first thing we are going to do is take responsibility and hope to play better in the next one."
Player of the match: Hannibal Mejbri
Hannibal: I'm sure Erik ten Hag has Sky

Birmingham midfielder Hannibal Mejbri speaking to Sky Sports Football:
"It was a great game first, a good derby. I had the chance to score and I'm very happy. The atmosphere was really nice, I just have to enjoy the moment.
"There was no message [to shoot for the free-kick], the only message was in my head. I saw the goalkeeper was too high so I acted like I was going to cross so I shot.
"We are a big family. When someone needs help, we are always there. When things get hard, we stick together.
"I'm sure [Erik ten Hag] has Sky, but I just need to focus until the end of the season and we will see what happens in the summer."
Both teams are back in midweek Championship action, with Birmingham having another home game, this time against Cardiff.
West Brom, meanwhile, host Blackburn Rovers in a huge game in the play-off contention race.
Both games can be watched on the Sky Sports Football Red Button.