Antonio Conte will rue the defensive sloppiness that allowed Brahim Diaz to score AC Milan's winner at San Siro but there were positives for him to take from Tottenham's 1-0 defeat too. First, that Spurs kept the tie open ahead of the second leg. And second, the performances of Pape Sarr and Oliver Skipp in his midfield.
Sarr had never previously featured in the competition. In fact, this was only the 20-year-old's sixth appearance for Spurs in any competition. But together with Skipp, a full Champions League debutant himself at 22, he did not look out of place.
The pair were thrust into action due to circumstance, of course, with Pierre-Emile Hojbjerg suspended and Rodrigo Bentancur joining the injured Yves Bissouma on the sidelines when he ruptured his ACL in Saturday's 4-1 loss to Leicester in the Premier League.
But up against a vastly more experienced midfield duo of Sandro Tonali and Rade Krunic, they competed well, using the ball tidily and, in Sarr's case in particular, defending tigerishly.
The Senegal international made five tackles and regained possession 12 times – four more than any other player on the pitch.
"It's nice to have the manager's trust," Skipp told BT Sport afterwards, before Conte added, in his own interview, the academy product and his younger team-mate had "repaid" that trust. "I'm really satisfied for both players," added the Spurs boss.
In Hojbjerg, Conte should have at least one of his missing midfielders back for next month's second leg in north London, but Sarr and Skipp have shown they can deliver when called upon.
"To have this kind of performances from Skippy and Sarr makes me more relaxed," added Conte. "I know I can trust them 100 per cent."
Nick Wright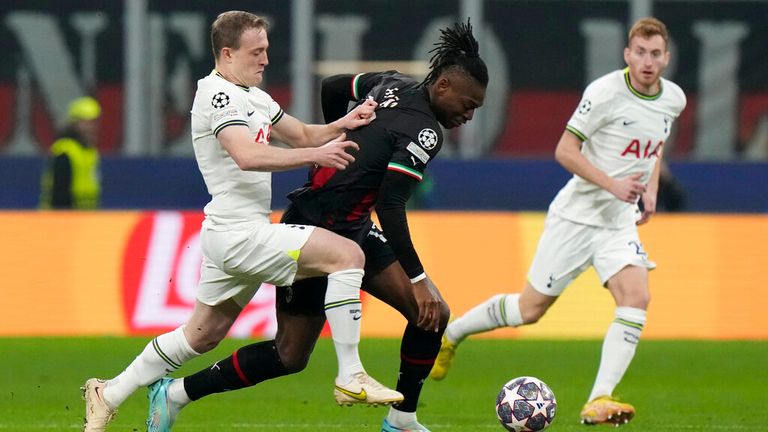 There was very little to get excited about at the San Siro on Tuesday night.
But AC Milan's star forward Rafael Leao was the exception. Despite not having a decisive impact on the tie, the Portugal international managed to dazzle on Milan's return to the Champions League knockout phases after nine years away.
Leao teased Tottenham with his quick feet and showed exactly why he's such a wanted man. He completed the same number of dribbles (9) as every other player on the pitch combined. That is more than any player has completed in a single Champions League game this season.
Even though he takes more risks than most, Leao hardly loses the ball. Spurs only managed to dispossess him twice as he attempted a match-high 12 dribbles, double the amount of the next closest player. The ball seems to stick to his feet to the annoyance of opposition defenders, who can only resort to hacking him down.
Leao uses his large frame to good effect in the physical battle, too. No player won more duels than him on Tuesday night (13) as he kept Spurs' vulnerable defence on the back foot.
The turgid tempo of Tuesday's game might have driven some neutrals to a Valentine's Day alternative, but Leao is the kind of player that will have you sticking around to watch just in case. His unpredictability leaves you feeling like something special could happen at any moment when he's on the pitch.
The only criticism that could be levelled at Leao on Tuesday night was his hesitation to cross earlier. As soon as he started to deliver the ball into Spurs' box, Milan were presented with two glorious chances to extend their lead and he probably should have come away with an assist.
Leao remains at an impasse with the Italian champions over a contract extension with his deal up in June 2024. Premier League clubs will almost certainly come calling if those negotiations rumbled on into the summer.
Zinny Boswell