One year ago today, war in Europe began when Russian forces invaded Ukraine.
With no resolution in sight, propaganda, rhetoric, policy and decisions are still scrutinised around the world. The conflict has also had repercussions in sport with its powerful voice and impact meaning it can affect the war.
As a result, Russia were banned from competing at the 2022 Qatar World Cup and other sports followed. The Champions League final was hosted in Paris instead of St. Petersburg and other competitions such as the World Athletics Championships were held without teams from Russia and its ally Belarus.

Ukraine: One Year On



Friday 24th February 6:30pm

Many Ukrainian sportspeople used their platform to speak out about the war and many were involved on the front line.
The debate continues around Russia's role on the world's sporting stage and in the last few days, over 35 countries, including the UK, want the ongoing ban on Russian and Belarusian athletes in international sporting events to continue.
Sky Sports News spoke exclusively to ex-Ukraine manager Andriy Shevchenko, former Shakhtar Donetsk manager Roberto De Zerbi, Everton's Ukrainian footballer Vitalii Mykolenko, Yuriy Vernydub – who left his coaching position to join the army – and former tennis player Sergiy Stakhovsky who is on the front line risking his life.
Shevchenko: My mum was crying… it was the hardest moment of my life
Andriy Shevchenko speaks exclusively to Sky Sports about his recent visit to his native Ukraine and discusses his terrifying experiences, including a close encounter with missiles

Shevchenko remembers the memories of the day the war started, his family's refusal to leave his home country, and how he wished to go back to fight on the front line.
He said: "I actually remember every second of that morning because I can't forget that. Especially a phone call from my mum and she was upset. She was crying, and she said that the war has started and that was probably the hardest moment in my life to hear that bad news – what we were all afraid was going to happen.
"Obviously, my family doesn't want to leave. My sister said, 'we want to stay and see how the situation, you know, maybe, something's going to change quickly'. I just wanted to go back to help my family… to help my country. And obviously my mum. She said to me 'use your voice, you talk'."
The former Ukraine manager decided to stay in London to gauge support to lead the appeal for humanitarian aid.
"That was the first time when my son and myself, we went to Trafalgar Square. That was a massive meeting to support Ukraine. The main thing was to raise awareness to help the people in Ukraine, to use my personal connection with the people, and to raise the money to go to medical aid."
He mentioned how tough life is for Ukrainian citizens, but he remains proud of how they have united during the war.
"I remember when the strong missile attack started in Kyiv and all Ukraine, and it absolutely shot down the electricity system," the former Chelsea striker said.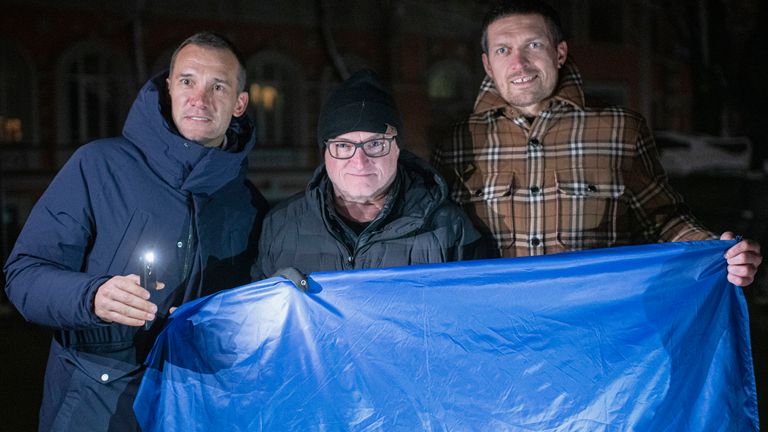 "And I never see my country, never see my city Kyiv with no light. But the reaction of the people was very strong. The people united together even more. We started to help each other. We share things – those who have some generators started to invite the people in the house to share the shower."
Other Ukrainian athletes have appealed to the public, provided aid and protested against the invasion. Shevchenko spoke of the importance of them all coming together to make a stand.
"Especially in the first couple weeks, all the important athletes and figures in Ukraine like Wladimir Klitschko, Vitali Klitschko, Oleksandr Zinchenko…. immediately united together,"
"Because when they stand, we send a strong message to the world that we need some help and the world to react immediately. And such big support started to come," he added.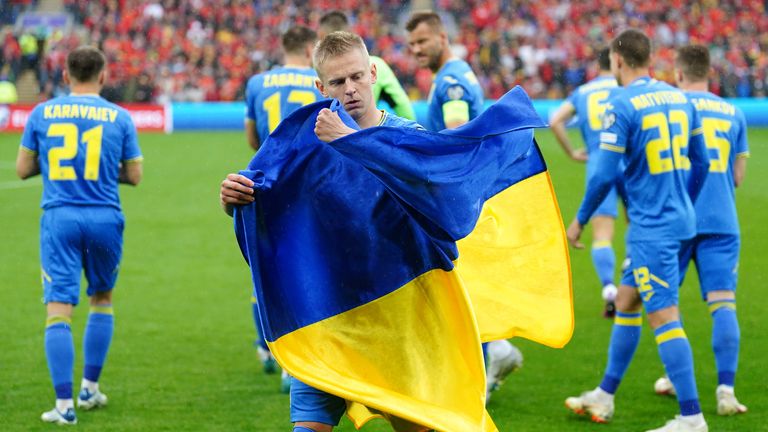 "I'm very proud about Ukrainian athletes who've been in the country. A lot have joined the army, started to defend and fight for Ukraine, and so many athletes who've been abroad have never forgotten about Ukraine."
Considered one of Europe's best strikers, Shevchenko was in charge of the Ukraine national team for five years. He also played for AC Milan, Chelsea and Dynamo Kyiv. He was extremely impressed with the support he received from countries around the world, especially the United Kingdom.
He said: "The UK have been very constant in the help, fundraising, and it was amazing. They were one of the first countries who provided all the housing to Ukraine, the government support. The sports' society reaction was very strong immediately and also tried to raise help."
A few days after the war started, many organisations banned Russian and Belarusian athletes and officials from competing in international sporting events. However, in recent months, the debate has changed with the IOC exploring the possibility that Russian athletes could participate at the 2024 Olympics as neutrals.
But it's a stance Shevchenko disagrees with. He said: "I think that Russian and Belarus outlets since the war started should be banned from any competition. We should keep the pressure on the Russian government to stop the war. People dying, children dying, athletes dying. We all have to be united in these decisions."
De Zerbi: Why I waited to leave when war began…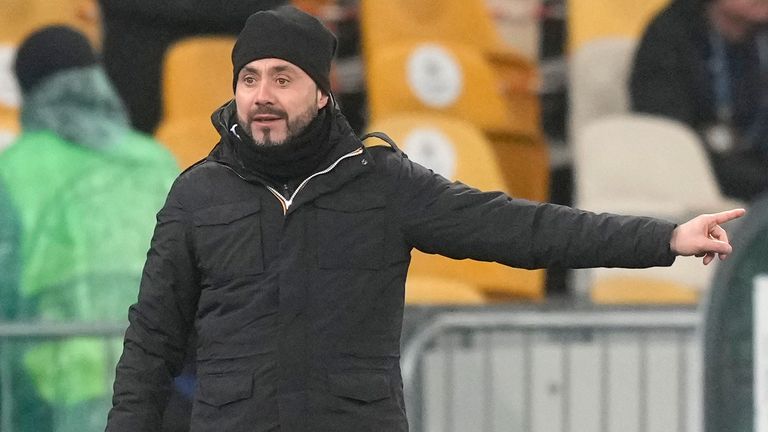 Brighton manager Roberto De Zerbi was managing Shakhtar Donetsk at the time of the invasion and his team were rushed to a hotel with a bunker in the capital.
"I was in Kyiv. It was a very difficult moment. A very sad moment for my life and for my work. And now it has been a year and the situation hasn't changed," he said.
The 43-year-old refused to leave the Ukrainian capital before all his overseas players and their families were out of the country and safe.
Spending the time in a hotel trying to escape the shelling, he said: "We were scared but… in our head, we had the idea to help them, and we didn't have much time.
"My family, they didn't understand why I waited and helped the players but when I came back to Italy, I explained to my family the reason and they were happy. They were proud for this."
De Zerbi explained how quickly events changed in the country, with war starting just hours after taking charge of training.
"I learned that one day can change everything. The day before the war started, we played in the training session. We enjoyed with the players and the guys. And the day after, we stayed inside the hotel with the bombs and the shelling.
"I'm watching the news of Ukraine every day and it's not finished… I keep the contact with the people who work in Shakhtar. But it is difficult when you live in another country so far."
De Zerbi says he now has love for the people of Ukraine which grew, and he felt more when the war started. The Italian spoke of his dreams to return to the country after the war is finished as he feels he has unfinished business.
He said: "I told a lot of the times in the past that my idea should be to go back one day to work in Ukraine, to complete my work because I lost my team, I lost my players, and this was a difficult situation to accept in my work."
Mykolenko: "People don't have heating, don't have light. But people in Ukraine are just getting stronger"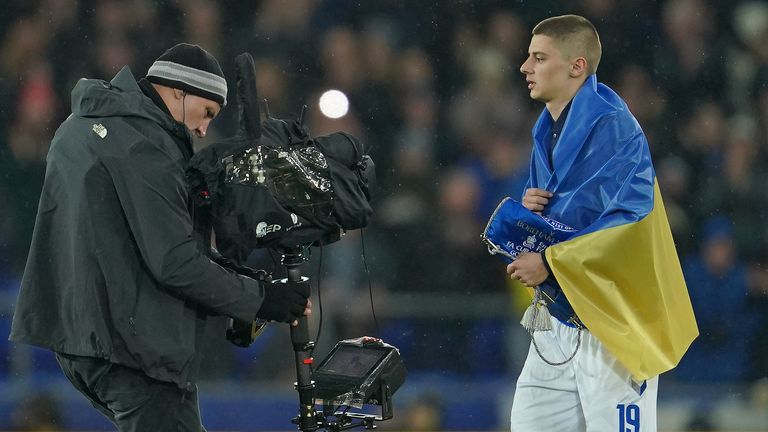 Everton footballer Vitalii Mykolenko had signed for his Premier League club, a month before the invasion.
He told Sky Sports News: "I remember I woke up around 3am. And I saw a message that it had started, where the rockets hit already. There was a great fear. I didn't understand, just like everyone else in Ukraine, probably, and those who were abroad didn't understand how to act. I didn't know how to help my parents, my friends."
Speaking about life in Ukraine, he mentioned the daily issues its citizens face.
"In the last four months, there have been major issues with electricity. A lot of people don't have heating, don't have light. It's difficult to imagine how people live.
"I don't know when it will end, I hope it will end as soon as possible. It is very tough to think that it's still ongoing."
The Everton player was in tears with then-Manchester City defender Oleksandr Zinchenko, with the pair embracing on the pitch before their Premier League game. Mykolenko was also seen fighting back tears on the bench at Goodison Park.
Ukraine are playing England next month at Wembley as part of a European Qualifier and Mykolenko hopes it will reassure his country and make them proud.
He said: "It will be a month after the war anniversary. I hope that we play well and our people, our soldiers will be watching us. We will give them some reassurance that we can do it all, we can do it all together and can beat any opponent."
Stakhovsky: "Ukraine won't win this war without the world's support"
Former tennis player Sergiy Stakhovsky returned to Ukraine on February 27 to defend the country and join the army.
"The hardest part is to see the despair of the people who lost everything, lost their families, lost their children, lost a home, fought for every single individual. The level of losing everything is different…. I mean it's the despair, the grief, the destruction is something really hard to take," he said.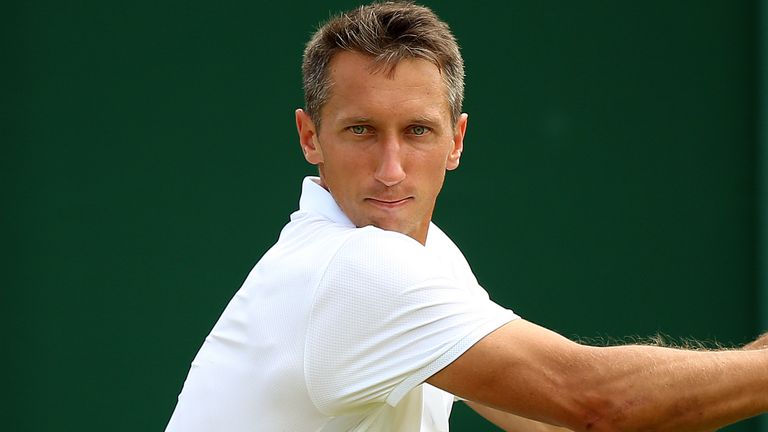 The 37-year-old believes his country will not be able to win the war without global support and explained how difficult it is for his colleagues to relate to his situation.
The eight-time ATP Tour title winner said: "I've received hundreds of messages from my colleagues. It's hard because they have their own lives. What can they say, that they're sorry? I know they're sorry, and they say it but there's not much else to say because it's an awkward situation where I'm in trenches and they live their lives."
Stakhovsky is against the opinion that the IOC can "set an example" to the world on unity by allowing athletes from Russia and Belarus to compete next year as individuals not representing their country. The IOC is facing criticism in some quarters for examining ways that Russian athletes could participate as neutrals in Paris next year.
Stakhovsky said: "We are talking about people (athletes) who did not express their position, who do not say that they're against the war, who did not say that they're against the invasion of Ukraine, who didn't actually say nothing.
"But when the war is on it's not about whether they support or not. It's about whether killing is okay, whether invading another country is okay, because we have all the countries who are supporting including Australia and all other countries where they compete.
"So, the countries are spending millions of dollars to help Ukraine win the war, yet they are paying millions of dollars to Russians who pay taxes back, it's bizarre."
Sky Sports News approached the ATP about Stakhovsky's comments but it is yet to receive a reply.
Vernydub: From head coach to the war's front line
Sheriff Tiraspol head coach Yuriy Vernydub put his job in football on hold last year as he decided to return to his homeland to become a soldier and join the fight against Russia.
He told Sky Sports News: "To be the head coach of the team that was just playing in the Champions League group stage, then this happened to the country, the war, and you go to the front line, it's very tough.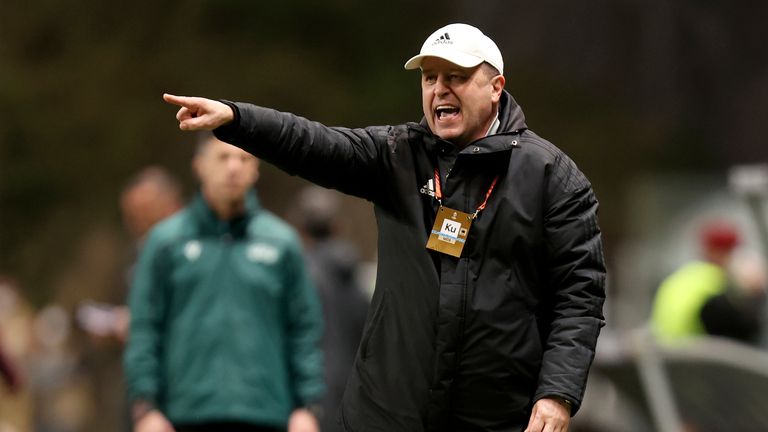 "I've never been a professional soldier; I've been a professional coach. I don't know what forced me, but I've always thought that I need to help. I need to do this."
The Moldovan champions' manager, who guided his side to a stunning victory against Real Madrid in the Champions League in 2021, explained the reality for the Ukrainians.
He said: "When your war brothers die or get severely wounded, it is very tough, you can't describe it. This is the reality for Ukrainian people who are fighting for their futures, fighting so we can live how we want to live. To do what we want to do – in no way to live under anybody. We want to be a free nation, free people. Victory is not far away. We'll win this war."
The Ukrainian Premier League restarted last August despite the invasion, uniting fans and footballers alike and allowing for some kind of normality to continue during the war.
Vernydub added: "Thanks to our country, to our people, to our defenders first of all, for giving us footballers the opportunity to play and do our favourite thing. Huge respect to our boys from the armed forces. We're a very strong nation. Playing football supports and helps our people.
"I would like to thank many European countries, the USA, UK for the help that they provide to our boys, to the armed forces of Ukraine. Thank them for this help as this help is very much needed, so we can indeed defend our homeland and kick the enemy out of our land."
Andriy Shevchenko is trying to raise funds for the Football for Ukraine charity which helps to provide relief to those affected by the war in Ukraine. If you would like to know more, please go to https://www.footballforukraine.com/
You can follow comprehensive coverage of the one-year anniversary of the Ukraine war on Sky News.