Bombed-out training facilities, daily curfews and nightly blackouts have become norm for Ukrainian athletes, writes Almi Nerurkar, as they continue to chase their sporting dreams
Yaroslava Yastreb is a 24-year-old Ukrainian middle-distance athlete from Kherson in the south of the country. Her home city was captured by the Russian military on day two of the invasion in February last year and, a few days after the occupation, she joined the millions of other Ukrainians trying to escape.
"When war broke out, I was in Kyiv for my studies," Yastreb says. "Within four days, I found a way to go abroad. The roads through western Ukraine were difficult, but when I crossed the border into Poland, there were free trains and lots of help for Ukrainians who had been forced to flee."
Her family, who were still in Kherson, spent over three weeks in a basement, hiding from the constant bombing and the Russian army in their city. "My mum and brother eventually went to stay with friends in the western part of Ukraine. Then I organised a bus for them to travel abroad. My uncles and my grandmother are still in Kherson and it is hard for us. They do not want to change homes. But it is still dangerous for them and it is difficult to contact them."
But Yastreb feels fortunate when she thinks about her new situation in Friedrichshafen, a city on the shore of Lake Constance in southern Germany. "Germany is the best country for Ukrainian people," she says. "The government pay for my apartment and I have language classes every day."
She has also gained a new perspective on training with her new coach Norman Feiler, who is based in Munich. "My coach in Ukraine was very old and coached us in the Soviet Union style system," she says. "Training was very hard, a big stress on the body. I went for five years without my period and I was very skinny.
"I had to keep my weight under 50kg, I was skin and bones… and maybe a little muscle," she laughs. "My coach in Munich does it as a hobby. There is less pressure for results. Now I can run because I love it, not because I must and because it's my job".
The last year has been a year full of adaptations for Yastreb. "A year ago I was able to win every race very easily," she says. "But this summer it was hard and it has been hard for me to understand that I don't have the same level as before. Now I manage my training with my health and in the future I want to return to Ukraine and compete in the national championships as a different athlete."
Daria Ozerianova is a former Ukrainian high jump junior champion who comes from the port city of Mykolaiv near the Black Sea in southern Ukraine. Her home town has been repeatedly bombed by the Russian military and around 150 civilians are thought to have lost their lives, even though the town is still in Ukrainian control. In March of last year, as an 18-year-old she fled her home and travelled to Belgium where she started working at a restaurant.
Arriving in her new country, Ozerianova initially stayed with a host family and was able to join the local athletics club. But in the months following she had to find other work to pay rent for an apartment. "Now I work out at the local gym when I have time after work, but it is hard to call it athletics," she says.
After missing the 2021 season due to injury, Ozerianova feels that the opportunity for her to pursue her athletic dreams have been put on hold. "In my case, war ruined everything. One day I know I will be back. But life now is so uncertain, I can't be sure of anything."
Not all Ukrainian athletes have been forced to flee their homeland. Erik Kostrytsya, 23, who two years ago won a bronze medal as part of the Ukrainian sprint relay team at the European Under-23 Championships in Tallinn and who finished third at the Ukrainian Indoor Championships recently is now based in the capital Kyiv.
Originally from Lutsk, 100 miles north of Lviv in western Ukraine, Kostrytsya describes life in the country's capital as "quite calm" compared to the heavier scenes of the conflict in the eastern regions of Ukraine. "Kyiv is the best place for my training, as my home town does not have an indoor track. It's sometimes tough being here and there are more uncertainties, but we have got used to this," Kostrytsya explains. "The lights going out or alarms going off in the middle of our training now feels normal."
Kostrytsya also tells me that "the early weeks of the invasion were the toughest. We all lived in complete uncertainty over our future. Some athletes decided to join the army, others were desperate to escape."
As early as July of last year the Ukrainian President Volodymyr Zelensky reported to the IOC President that 89 athletes and coaches had been killed while in active service for the Ukrainian military.
One year on from the start of the conflict, Kostrytsya says that "today things here feel more stable. We still hear bomb sirens and there are regular power cuts, but many people have returned to their homes and are focussed on defending their freedom by keeping the economy going and acting as territorial defence."
He adds that "now there is a big incentive to show to the world that we are strong, no matter what".
This same spirit of defiance is present in the Ukrainian Athletics Federation, which according to Kostrytsya, is keen to use the success of its athletes as a way of inspiring the population. "In spite of everything, our federation is trying to do everything for us," he says. "Although funding is limited and the competition calendar is not running as normal, many of us on the national team have managed to find a way to continue our training."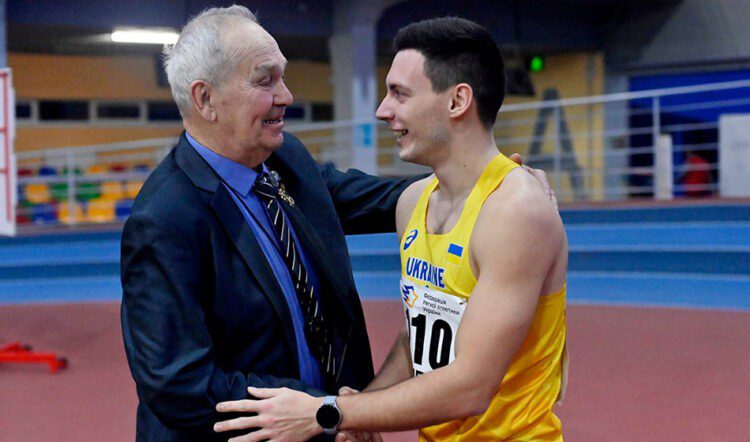 Stanislav Kovakenko, who won the Ukrainian indoor 60m title earlier this year, found a different route for his training, spending time in the United Kingdom and in Slovakia in his bid to win selection for the championships in Istanbul. Prior to the 2022 European Championships in Munich the 25-year-old and his national relay team spent three weeks training at Cardiff Metropolitan University. "Our federation had actually received offers of help from over twenty national federations," recalls Kovakenko, who currently has the fastest time in the sprint quartet.
"I can't say that life is easy," he says. "We have barely no salary and I feel that I am living from one day to the next. Maybe my savings will last another three or four months, but if I fail to show any decent results, I might have to join the army and be ready to defend my homeland on the real front."
Kovakenko explains that he has experience in dealing with difficult situations. "Growing up, I was a bad child and I had a difficult childhood. I played nothing but computer games. But then my teacher introduced me to athletics and I went from being a lazy boy who did absolutely nothing to becoming the fastest man in Ukraine. Sport saved me then. I am hoping it will save me again now."
Speaking to these athletes, it quickly becomes obvious how Russia's invasion of the Ukraine has had a huge impact on athletes as they go about their training. Over the past year all Ukrainians will have found ways to live with the uncertainty of not knowing how their lives might suddenly change, and this is no less the case for the athletes whose stories I heard.
From speaking with Kostrytsya and Kovakenko, I got the feeling that their determination to keep going in athletics was part of a wider desire and opportunity to demonstrate the pride and perseverance of the Ukrainian people.
Yastreb and Kovakenko also acknowledge how lucky they have been as athletes, compared to other Ukrainian refugees, in receiving the support of the international athletics community as they try to adapt to their new lives. Whether it be the support from Cardiff Metropolitan University for Kovakenko, or the guidance of Munich coach Feiler for Yastreb, she reflects "the world doesn't seem so big when you are connected to the running world".
However, Ozerianova's story also showed me how hard it has become for other Ukrainian athletes to keep going without any close support from coaches, fellow athletes and federations.
Wherever I have travelled, I have always valued the support of the local athletics community. From providing a familiar routine to a new set of friends, joining a sports club makes settling into a new place so much easier. Athletics has demonstrated its ability to facilitate intercultural communication, to provide a focus and to encourage personal development, especially in the most difficult of times.
» For more details of how you can support a project to facilitate the participation of the Ukrainian relay teams at the 2024 Olympic Games, please visit this link where you can also make a donation.
» The author, Almi Nerurkar, is halfway through a year abroad as a language student in Madrid. Her PBs include 4:20.51 for 1500m, 9:21.34 for 3000m and 16:21.64 for 5000m