Ollie Watkins is the first man to score in five consecutive Premier League games for Aston Villa. Only Marcus Rashford and Erling Haaland have scored more in the competition since Christmas. Watkins is next on the list, right alongside Harry Kane.
His is a stunning surge in form. Haaland and Kane had topped the list before Christmas too. Rashford's form is remarkable but, though younger than Watkins, he was scoring Premier League goals while the Villa striker was trying to make the breakthrough at Exeter City.
This might be the beginning of something for Watkins. After a difficult start to the season that brought as many managers as goals, he is back on course to reach double figures in the Premier League for a third consecutive season, adding variety to his game now.
That can be seen in the breadth of finishes in these last five games.
The run began with his headed winner at Southampton. There was an opportunistic close-range finish against Leicester. He scored with his right foot when one-on-one at Manchester City and with his left foot against Arsenal. A penalty at Everton made it five in five.
It is a reward for the extra work that he has put in.
"He is absolutely flying at the moment," Scott Chickelday tells Sky Sports. "In the last six weeks he has really come on again. I know he was disappointed not to make the World Cup squad and this is the reaction that you have got from him. He has worked even harder."
Chickelday is a finishing coach who worked with Watkins in a series of one-on-one sessions at Villa's training ground in the summer. That the player sought out a specialist coach is revealing in itself – a young man determined to maximise his potential.
"Footballers know what they need to work on. They are in control of their own careers now and want the specifics. Managers will focus on phase of play and build-up. Sometimes a striker will be thinking, I wanted to work on that instead this week. They let me know.
"I then use a fantastic platform called Wyscout. When I know I am working with a player I will jump on it and there you can see all their attacking moments – goals, assists, missed chances, the areas where they link play. You can see where their chances are scored.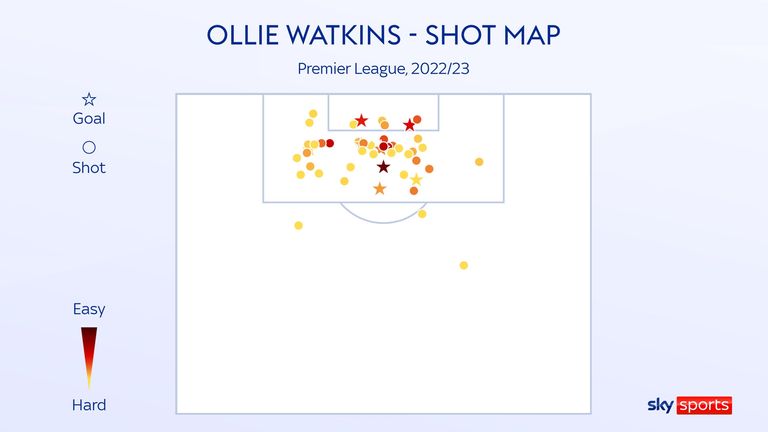 "I do not just focus on the misses, we want to repeat the ones they score too. But I build sessions around the areas they want to work on. Players are very honest. If you ask them what they want to improve, nine times out of 10 it is something I already have in mind.
"We work on a lot of repetition which players really seem to respond well to. If players are missing chances in certain situations, we try to recreate those moments just so that they can feel that repetition in those situations. It is about building up that confidence.
"For instance, if they are coming in from the right and dragging shots to the left, that can be to do with technique where they are using their instep rather than their laces. We break that down to get that straighter shot and repeat it to make sure they have got it."
With Watkins, this use of the lace shot was something that they worked on a lot. The player even took his penalty that way against Everton, but the main reason that he wanted to develop the skill was to avoid those angled chances drifting wide of the far post.
"Sometimes when the ball is wider it is an instep finish. You tend to use the side of your foot to come around it a bit. But if the angle is narrower and you use the instep, the likelihood is that you are going to drag it unless you are aiming really central with the shot.
"If you were to take that shot with your laces, it would be a more natural, balanced shot and you will get that straighter line. It is almost like firing an arrow. It is that straight line that you get. You stop that bit of after-touch. That is the technique that we look for.
"It is a fine line when to go with the instep and when to go with laces but that is what Ollie has got better at. His goal against Arsenal, that was that arrow shot I am talking about. He caught it with his laces straight across the goalkeeper into the bottom corner."
That goal against the Premier League leaders means that Watkins has now scored more goals with his left foot this season than in the whole of last season. "The modern-day striker has to be well balanced," explains Chickelday, who is just back from South Africa having spent five weeks working with the strikers at Orlando Pirates.
"Long gone are the days when a striker can afford to be strong only on one foot. If you are only going to shoot on your strongest foot at Premier League level, you will be found out and shown onto your weaker foot all the time. You are going to struggle.
"You have got to really have that balance now where you can be really clinical on both sides. Harry Kane is the master at it. It is just about being balanced and being unpredictable. Ollie has proved that. He is pitching in and scoring some fantastic goals with his left."
Change under Emery
Since the appointment of Unai Emery at Aston Villa, Ollie Watkins has had 18.7 per cent of his touches inside the opposition penalty box. That is more than under Dean Smith (16.3%) and Steven Gerrard (15.3%) and is reflected in Watkins' improvement in front of goal.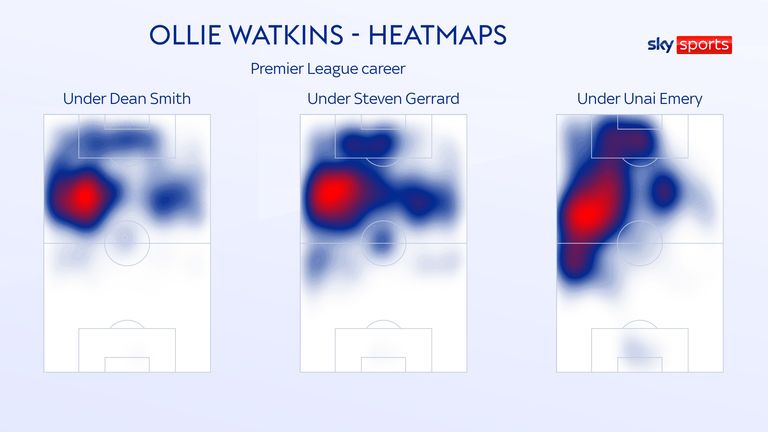 The final complication, of course, is the presence of the goalkeeper. Though repeatedly hitting the corners of the net is a good training exercise, taking the cue from the man stood in front is important too. That can change the type of finish that a player looks for.
"We use a goal screen at the start just to get the repetitions right and build confidence but we need a goalkeeper to base our finishes on them. Are they set or not? Has their weight shifted one way or another? If the foot is planted, do we need to go across them?"
Watkins' recent goal against Premier League champions Manchester City was a good example. The ball did not find the bottom of the corner, going in more centrally than that, but it did not need to. Ederson had found himself wrong-footed by the striker.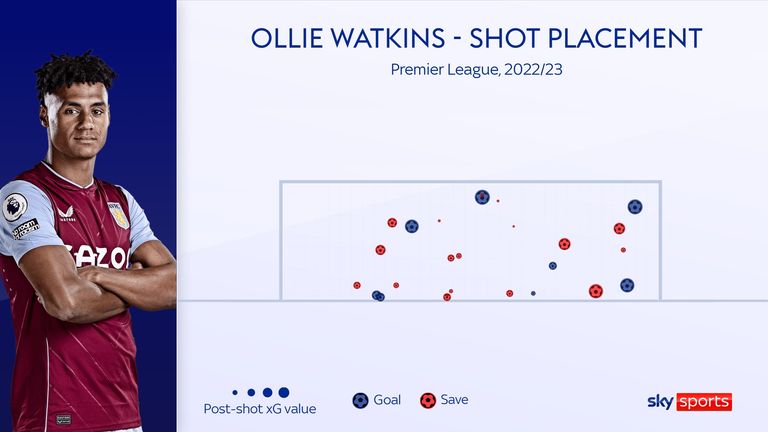 The hope is that these examples become a habit. Chickelday insists that all the credit must go to the player – not only for putting in the work but recognising the need to do so. His sympathies are always with those who have the hardest job in football.
"One thing I have learned over the years working with strikers is that it can be a really lonely place up there. Your manager wants you to score, your team-mates want you to score, you might have a packed house wanting you to score, the press are putting pressure on you.
"There is a lot of pressure. That is why a lot of players are now speaking with mindset guys away from clubs to help them cope with that. This game is all about trying to build confidence because when you are in that final third it is all about confidence."
Watkins has that confidence now. He has worked to develop it and more recognition could soon be coming his way. "If he keeps this momentum he will have a shot at being in the England squad," adds Chickelday. The turnaround would be complete.