Jon Jones ended a three-year sabbatical from the UFC with a convincing win over Ciryl Gane at UFC 285 in Las Vegas.
Considered one of the greatest UFC fighters, Jones has moved up to the highest weight class on his return, and it took him less than a minute into the first round to take Gane to the mat.
The 35-year-old won with a guillotine choke at 2:04 to seal the win.
"When I was a light heavyweight, people would say Jon is a lot stronger than what he appears to be", Jones said.
"Now that I have been powerlifting and living a martial arts lifestyle, I really truly believe I am the strongest heavyweight in the heavyweight division. Some of my best performances are going to be coming in the next few years."
This was Jones' first fight in three years, his first in the heavyweight division, and he took his time to enter the octagon, playing up to the sell-out crowd.
The former light heavyweight champion said it was important to cement in his own mind that he deserved the mantle of greatest ever.
With another GOAT, Tom Brady, watching on, Jones did just that. Brady flew in the day of the fight from Florida and spent time with Jones' brother, Las Vegas Raiders defensive end Chandler Jones.
"There is no doubt that Jon Jones is special, he is the GOAT. He is undefeated. He has fought all the best competition. Dealing with him is like dealing with an artist," Dana White said.
"I don't know what's going to happen next. I am happy we got to see what we saw tonight. I am a big believer in ring rust. We didn't see any ring rust tonight. He went in there and made it look like nothing. He is a freak of nature, and he is the best ever."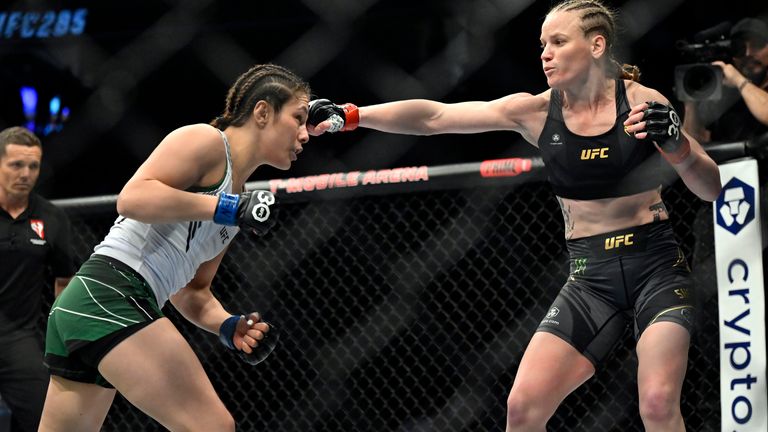 'I am going to finish Miocic'
There were question marks over whether the hiatus would affect Jones. His last fight was on 8 February 2020 when he beat Dominick Reyes by unanimous decision.
"I had to show up and get (Gane) down to the ground. I've been wresting since I was 12-years-old. I feel stronger than ever. Once I got him in my hands, I know I could take control," Jones added.
Jones is now unbeaten in 19 fights and is eyeing Stipe Miocic next, who is the second-ranked contender and who Jones called the greatest heavyweight ever.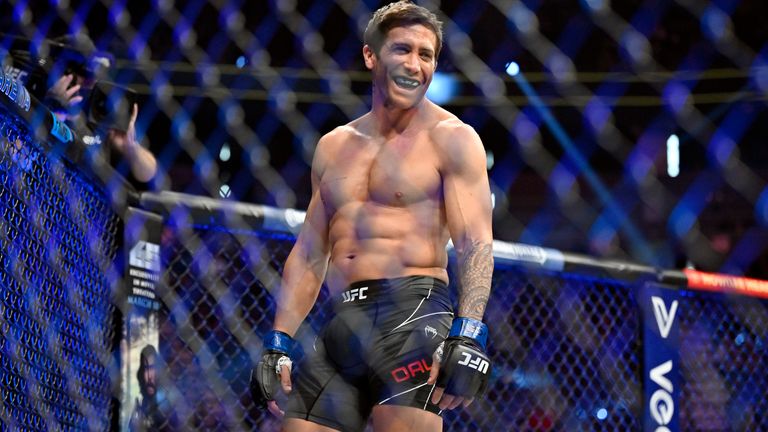 White said that fight will take place, but didn't know when it would occur, but Jones said he is fully focused on beating Miocic.
"My whole world is going to be focused on him. This is the biggest opportunity of my life, to beat the heavyweight GOAT. I am going to give it everything I have got. I am not only going to beat Stipe Miocic, I am going to finish Stipe Miocic!
France's Gane, 32, was the top-ranked heavyweight contender but has dropped to 11-2.
"This one is so painful," Gane said. "This one is a win lost. So now this is the past, and most of all, for what I see is in the future. I'm going to go straight back to the gym."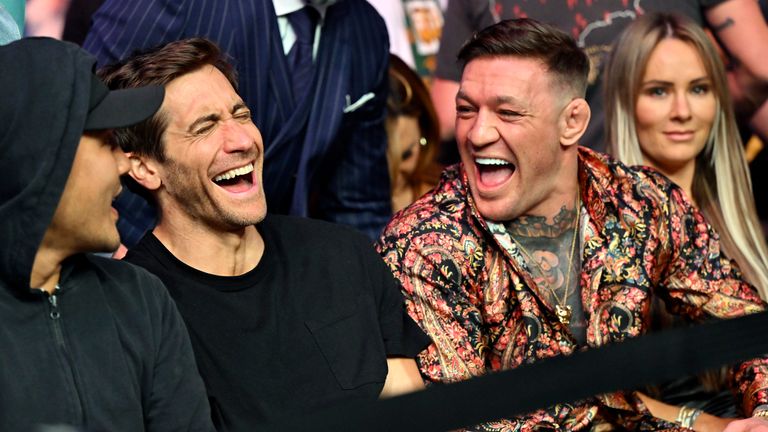 In the co-main event in the women's fight, Alexa Grasso beat champion Valentina Shevchenko in the fourth round to become the third Mexican champion.
Shevchenko said she wanted a rematch, but White wasn't sure it would happen.
Middleweight Bo Nickal, 27, won on his UFC debut, submitting Jamie Pickett, 34 by arm triangle in the first round.
Nickal won three NCAA wrestling championships at Penn State and moved to 4-0 overall.
Actor Jake Gyllenhaal was also in action, with scenes of the remake of 1989 film Road House shot in between action in the octagon, while Conor McGregor watched on.