Steve Clarke says Scotland have put a marker down in their bid to qualify for Euro 2024 after securing a famous 2-0 victory over Spain at Hampden Park, but he warned there is still a long way to go to seal qualification.
Scott McTominay scored a double as the Scots secured a first win over Spain since 1984 to take control of their Euro 2024 qualifying campaign.
Clarke's men now sit top of Group A after back-to-back wins, but he says there is still plenty of work to do for Scotland to reach a second straight European Championships.
"You don't qualify with six points so we've got a long way to go," he said.
"Two good performances over the nine days we've been together. It was important to capitalise on the home games as much as we could and we've managed to do that with maximum points.
"All the credit goes to the players, 16 on the pitch tonight and not one let us down. Seven players in the stand just every bit as happy as everyone else.
"We have a good group and we're working hard to get better and better. Tonight was a chance to put our mark on the group.
"We want to be competitive against the top teams and that's what we did."
He added: "It should give the players more belief.
"That's the last two top teams, Spain and Norway in World Cup qualifying, have come to Hampden and left with no points so that's a step forward in terms of believing in what we're trying to do.
"It's very important to stay grounded as there's still a long way to go in the group and, as we know to our cost, one game can cost you dearly."
'Scotland in a great position in Group A'
Former Scotland international David Marshall on Sky Sports News:
"Historically, people still talk about the Kenny Dalglish winner against Spain in 1984 so they will be talking about this win for years to come.
"However, the biggest thing about this win is the position it puts us in for the rest of this campaign and the confidence the team will take from it.
"Everybody has been talking about us being in competition with Norway and Georgia for the second spot in this group, but Scotland have a fantastic squad now. There is real depth. There were a few injuries in the game and the boys coming on are a similar standard.
"It's a brilliant night for the fans and the players, but what a position it puts Scotland in to qualify automatically for Euro 2024."
'The manager told us this was our chance'
Scotland hero McTominay continued his good scoring form, netting twice for the second straight game, and the Manchester United midfielder revealed that manager Clarke told the players they had a chance to create their own legacy against Spain.
"We did really, really well," he said. "We knew they'd have lots of the ball, and the manager said to be clinical when we had the opportunities, and I thought we had enough opportunities tonight to really hurt them and score some goals.
Scotland forward Ryan Christie reacts after his side beat Spain 2-0 in their Euro 2024 qualifying match.

"As a kid, I was an attacking midfielder – I like to get in the box. I've got to keep doing that, I know I can add more goals and assists to my game.
"Look at this place – I've never seen anything like it, incredible.
"The manager said this is our chance to create legacies as Scotland players and these are the nights in 20, 30 years that people remember. We can't thank the fans enough."
Marshall's praise for McTominay…
Former Scotland international David Marshall on Sky Sports News:
"There were so many good performances from Scotland.
"But I'm happy for Scott [McTominay]. He works so hard and is an incredible athlete.
"He shown over the last two games that he's good for a goal as well. They were two incredible strikes with his left foot against Spain.
"He produced a brilliant performance and I'm sure people at Manchester United will be taking note ahead of the weekend."
'Clarke deserves so much credit'
David Marshall claims that the 2-0 win over Spain at Hampden Park in the European Qualifier will be remembered for years to come and suggests that Steve Clarke's side are now in a great position to qualify for the 2024 Euros.

Former Scotland goalkeeper David Marshall, who watched Scotland's win over Spain for Sky Sports News, believes the Scots now have a great blend of youth and experience in the squad and says manager Clarke deserves plenty of credit for the changes he's made.
"It's easy to say how well it has gone when you are winning games," Marshall said.
"Initially we struggled. We won our first game under Clarke but then we had Belgium and Russia twice and lost four games.
"He made a lot of changes to the squad. He knew exactly what he wanted and what type of character he wanted within the squad, and he built it.
"It was a real close-knit squad that got us to the Euros and with international football there is always a lot of turnover but he's added to it.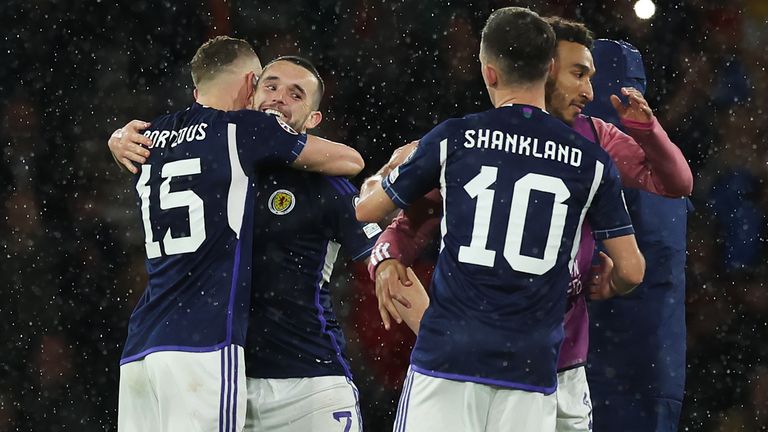 "There are fantastic young players coming in and it is just a great mix. It's a great blend of players and the manager has to take enormous credit for what he's done. It's so big for Scotland that he's signed a new contract.
"We've had plenty of disappointments in the past but that is a huge win. Let's hope we can kick on now, qualify for Euro 2024 and then make it a regular occurrence at major tournaments.
He added: "Clarke doesn't show much emotion. He's very much for the players. He backs his players, and that dressing room will be bouncing.
"It will be an extremely happy camp after that.
"The tactics were spot on and Spain didn't really lay a glove on Scotland. The win could have been by more and a huge amount of credit has to go to the manager."
'The way they play is rubbish'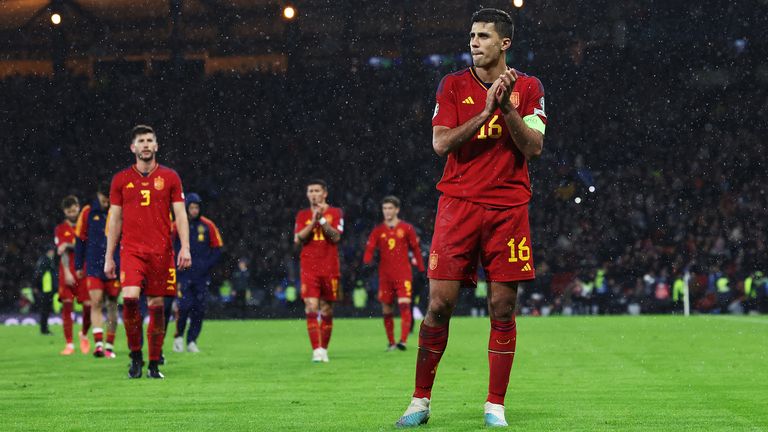 Spain had not been beaten in Euro qualifying since 2014, when they were beaten 2-1 by Slovakia ahead of the 2016 tournament in France.
They had won 34 of their last 38 European qualifying matches, with three draws, but at Hampden Park they looked unsettled.
Man City midfielder Rodri skippered a side featuring eight changes from their previous game, and he criticised the way Scotland went about their work.
"We did many good things to win," he said on Viaplay. "We conceded easy goals – this is football, if you concede easy goals you are penalised.
"It's the way they play, but for me it's rubbish, always wasting time, provoking you, always they fall. For me, this is not football. The referee has to take on this, but he says nothing.
"We will learn for the next time. We want to go for duels, for battles – we always fight, but this is not about fighting. It's about wasting time – four, five players on the floor, but this depends on the referee, not on us.
"Today we did many good things, but what's important is the goal, and we didn't score."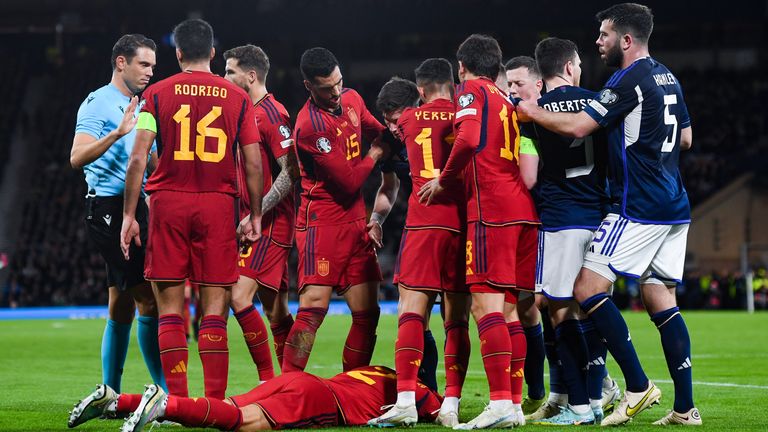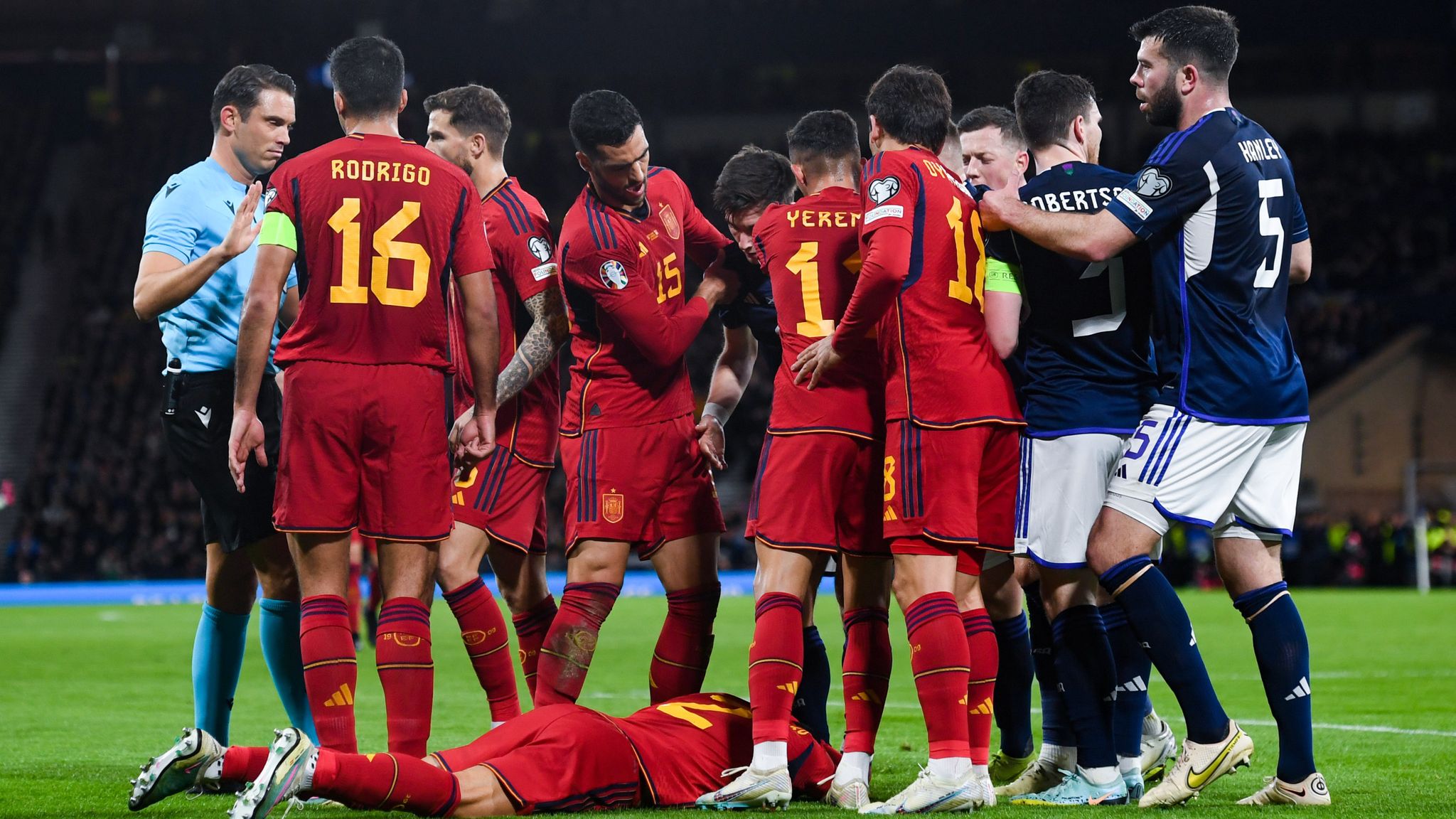 It was a tough night for us. We couldn't take advantage of our chances and they got the goals in transitions.
'Euros qualification is now realistic for Scotland' | Steve Clarke created togetherness
The Mirror's John Cross and Sam Wallace from the Daily Telegraph discuss Scotland's 2-0 win over Spain in European Championship qualification. 

Opta stats: A first win over Spain since 1984, five wins in a row at home – Scotland's stunning night in stats…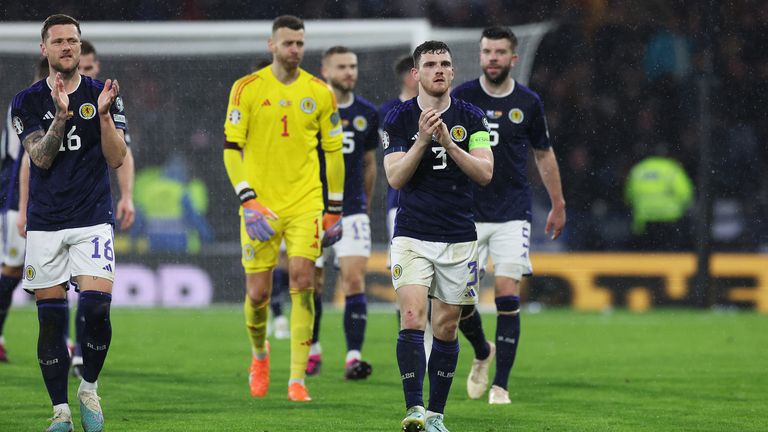 Scotland earned their first win over Spain since November 1984 (3-1 in a World Cup qualifier), while this was just their third ever competitive victory against them (1957, 1984 and 2023).
Scotland have won five consecutive home matches for the first time since September 2006-October 2007, when they won six in a row between tenures of Walter Smith and Alex McLeish.
Spain suffered their first defeat in a Euro qualifying match since October 2014 (1-2 v Slovakia), having won 17 of their last 19 such fixtures (D2) and never conceding more than once in a game in this run.
Scotland's next Euro 2024 qualifiers are in June.
They are away to Norway on June 17 before a match against Georgia at Hampden Park on June 20.