It's the end of an era, but certainly not the end. RAW Nutrition, a brand driven by the larger-than-life Chris Bumstead, has been instantly-recognizable for years with their "brown paper bag" labeling scheme.
Raw Nutrition rebrands away from the brown paper look
The team at RAW have decided that 2023 is the time for new beginnings. Starting this year, they've been rolling out some new, updated labels. We've got to hand it to them – they look good. They're much more minimalist: clean white backgrounds, dark bold fonts accented with some colorful gradient "RAW" branding.
While we're going to miss the classic RAW aesthetic, we see this as a step forward for RAW and their ascent in the supplement industry. RAW has matured. They've gotten older and wiser. Their formulas are for the serious athlete who does what it takes to get ahead.
This is RAW focused on what matters: the formulas, the flavors, and the image. We've been following them for years and we see nothing but green pastures ahead.
The new look at Raw Nutrition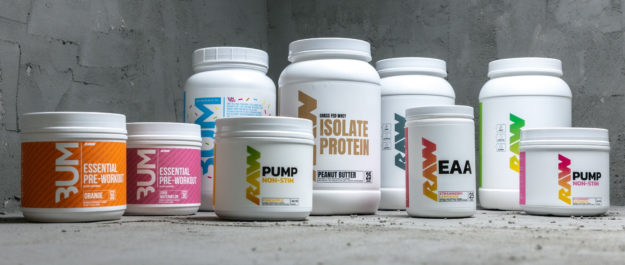 For those who are new to Raw Nutrition, it's first worth listening to Episode #052 of the PricePlow Podcast with Chris Bumstead, where the partnership was explained to the world.
The company was originally founded by bodybuilder and world-renowned fitness coach Matt Jansen with highly-respected doctor and entrepreneur Dr. Domenic Iavocone, both of whom co-founded Revive MD. In the podcast episode linked above, they discuss how CBum was brought into the fold as a partner, and it's been up only from there.
Key Products at Raw
Below are a few key Raw Nutrition products, a few of which are in the CBum line:
A fully-dosed pre-workout supplement with ~305 milligrams of caffeine and 6 grams of L-citrulline paired with 1.5 grams of Nitrosigine and far more. If that's too hefty, you can also check out the Raw Nutrition CBum Essential Pre or the lower-stimulant Raw Pre.

A pure whey protein isolate powder with a Mint Chip Ice Cream flavor that's simply out of this world.

Raw Nutrition's essential amino acids that are tasty and refreshing, but free from artificial colors. Train with them and keep catabolism at bay!
Matt Jansen's Original Commentary on the Brand
As a throwback down memory lane, we want to keep a quote Matt Jansen told us in 2020 when founding the brand:
"We really wanted to make a brand that focused on the individual raw ingredients and not cut corners when it came to the amounts of the most beneficial ingredients from a performance perspective. Our slogan is From the Ground Up, which simply means taking the most researched ingredients at the doses that are shown to induce the most amount of positive benefit for that ingredient within its individual category and turning them into the best overall products."

— Matt Jansen, Co-Founder RAW Nutrition
There's far more products to cover, so you can sign up for news alerts below or on our Raw Nutrition news page so that you don't miss new products and flavors.
Raw Nutrition – Deals and Price Drop Alerts
Get Price Alerts
No spam, no scams.
Disclosure: PricePlow relies on pricing from stores with which we have a business relationship. We work hard to keep pricing current, but you may find a better offer.
Posts are sponsored in part by the retailers and/or brands listed on this page.
Note that CBum's Bum Energy Drink operates as a separate brand.
2023: A year for brand changes
With lots of rebranding going on lately (we also recently covered a more minor Primeval Labs branding touch-up underway), we're now back down to one major active nutrition brand with the brown paper labeling — Arms Race Nutrition. Feel free to jump into the PricePlow Discord to discuss what you think.
Note: This article was originally published on July 7, 2020, and updated on April 7, 2023 with the updated branding and product list.