2023 Update: Ghost has announced the return of their TMNT collab, with a new SKU to come — a Shredder version of Ghost Burn (or is that Ghost Burn Black?!) and the Leonardo version has been upgraded to Legend ALL OUT. It's all available April 26, 2023, so stay tuned for updates on this page!
In 2022, Ghost Lifestyle announced a partnership with Teenage Mutant Ninja Turtles, shipping "pizza" boxes with four different supplements in OOZE flavor: UK Legend, Pump, Gamer, and Gamer Non-Stim!
Heroes of the sports supplement industry — Ghost Lifestyle — have announced a partnership with Heroes in a Halfshell, the Teenage Mutant Ninja Turtles! This is a collaboration like no other, with four different Ghost supplements getting a new "Ooze" flavor, inspired by the pop culture classic cartoon.
Ghost x TMNT: One OOZE flavor in four supplements
This is a follow-up to the recent Ghost Space Jam collaboration, which included two new Ghost Legend pre-workout formula variations. With the "TMNT" collab here, we instead have a single new flavor for four different Ghost supplements — each tied to one of the four Ninja Turtles. As opposed to Space Jam's formula variations, the supplements are available in their original labels, but one of these supplements is new to the line.
It'll be available through Ghost's website, but GNC will also be in on the collab if you want to get in on the action as soon as possible.
Each of these four supplements is tied to a different Ninja Turtle, which we'll explain below. But it may be easier to watch our video, since there's a lot to put together here, especially if you're unfamiliar with this classic kids cartoon:
Who are the Teenage Mutant Ninja Turtles?!
Abbreviated as TMNT, the Teenage Mutant Ninja Turtles are an entertainment series launched in 1984 that found their way to insane amounts of popular success by the late 1980s. They began as a comic featuring four turtles who were exposed to radioactive ooze that turned them into muscular, human-sized turtles.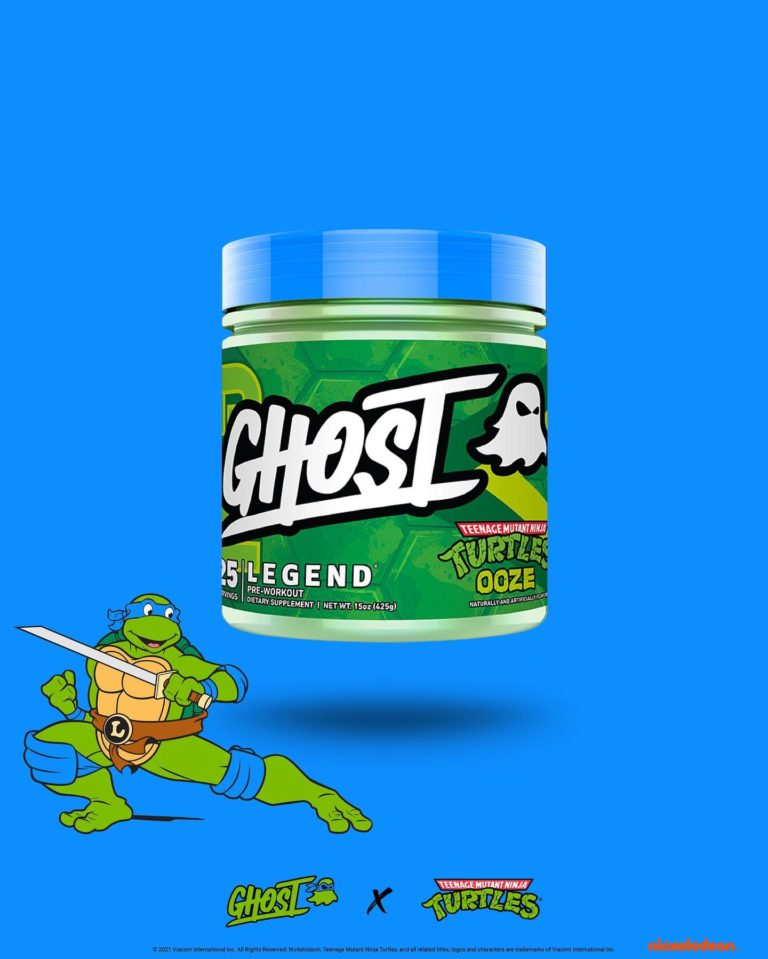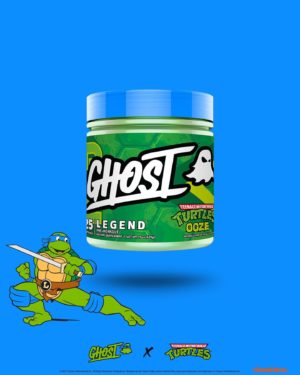 Trained by a rat named Master Splinter, they go on to fight crime in New York City (where they live in the sewers). Their arch-nemesis is Master Shredder, the leader of a gang named The Foot.
Once adapted to a cartoon, the entertaining Ninja Turtles became a massive pop culture classic. Anyone who skirts the borders of Generation X and Millennial should be very well aware of the original cartoons, whose epic theme song can still be sung by millions of fans. Beyond TV, TMNT was also made into action figures, movies, video games, additional animated series, and all other types of entertainment that have grossed billions of dollars.
The Four Ghost TMNT Supplements
All four supplements come in the Teenage Mutant Ninja Turtles OOZE flavor, but with a different colored lid denoting a different Turtle collab:
Blue (Leonardo): Ghost Legend UK Edition ALL OUT (2023)

Ghost's flagship product is the Ghost Legend pre workout supplement, featuring a solid 250 milligrams of caffeine next to clinical doses of L-citrulline and Nitrosigine for nitric oxide pumps and beta alanine for muscular endurance, paired next to the fully-disclosed Ghost Smart Energy blend for focus.

The UK Legend formula comes to America!

The key here, however, is that Ghost is using the UK version of Legend, which removes the rauwolfia / alpha-yohimbine and replaces it with NeuroFactor coffeeberry extract for a clean and focused feel. For the first time, this formula will be sold in the United States, which many followers are extremely excited about.

The UK Ghost Legend is partnered with Leonardo, who fights with two Katana blades and wears blue. He's generally regarded as the leader of the four Ninja Turtles, and is a clean, level-headed, expert swordsman. This pair makes sense, because the UK Legend formula is clean and controlled – just like Leonardo himself.

You can learn more about Legend in our article titled Ghost Legend: New Formula and Flavors for Pre Workout Legends, but remember, this one has NeuroFactor instead of rauwolfia.

Red (Raphael): Ghost Pump

Ghost's premiere stimulant-free pre-workout that's loaded with high doses of L-citrulline, arginine nitrate, pine bark extract, and far more. The formula was upgraded in early 2021, and is fully explained in our article titled Ghost Pump V2: Still VICIOUS with Bigger Pumps in an Upgraded Formula.

Ghost Pump is paired with Raphael, who fights with a pair of sai and wears red. He's well-known as the strongest and most aggressive of the Ninja Turtles, but is also a bit reckless in his fighting. As a supplement with an aggressive and very strong (yet not reckless) dose of nitrates, Ghost Pump makes perfect sense for the Raphael-paired supplement.

Orange (Michaelangelo): Ghost Gamer

Ghost's popular gaming supplement that's taking over the esports industry uses a powerful and clinically-verified 1.6 grams of nooLVL, a blood flow-enhancing cognitive support ingredient that's been studied on gamers playing modern games. A full serving is paired with 150 milligrams of caffeine and a nootropic blend that's just enough to zone you in, but won't push most users over the edge.

Ghost Gamer is paired with Michaelangelo, who fights with nunchucks and wears orange. He's probably the most popular Ninja Turtle, as he's known as the "party dude". He may be the most agile and outgoing, but he's the least disciplined, and can get the crew into trouble with his shenanigans.

In the gym, this attitude can be dangerous — but when gaming, it's a bit more acceptable to take Michaelangelo-like risks, so pairing Ghost Gamer with the orange-colored warrior is a fun match.

You can read more about the formula in our article titled Ghost Gamer: For A Legendary Gaming Experience.

Purple (Donatello): Ghost Gamer Non-Stim

The newest product launching with the TMNT collab, Ghost Gamer Non-Stim is similar to the above formula, but is caffeine-free.

Donatello is the most sober of the Ninja Turtles, who fights with a bo staff and wears purple. He can be considered the engineer of the group — he uses his inginuity to invent new tools and contraptions to help the crew get their job done.

Pairing Ghost Gamer Non-Stim with Donatello is the obvious choice. The nootropic-fueled supplement can be used anytime, anywhere, which is exactly how Donatello's skills come in handy. He's focused and intelligent. While he may not be the most exciting warrior (e.g. he's not "caffeinated"), he's the one you count on to get things done, and he'll pull all-nighters to do it.

Our article on the Ghost Gamer Non-Stim formula is coming soon.
What's this OOZE Flavor?
Radioactive ooze is how the turtles became the Teenage Mutant Ninja Turtles, and it's the flavor that's going to power your workouts or gaming endeavors — sans radiation. It can best be described as a "juice box" type flavor that has components of citrus, namely orange and tangerine… only made a bit more "green" to mimic that ooze!
A note on the pizza boxes
The products were shipped to Ghost's athletes, influencers, athletes, and media partners in pizza boxes because the Ninja Turtles love to devour a massive pizza (a well-known physique destroyer common to the @ghostlifestyle Instagram channel).
Watch Ghost's Building the Brand "Turtle Power" Episode Featuring PricePlow!
We were honored to visit Ghost Lifestyle HQ for this incredible launch, and had many pivotal scenes in the latest Building the Brand Episode. Watch on Ghost's channel below:
Learn more about this collab's inception and the future of Ghost on PricePlow Podcast #066
On April 18, 2022, Dan and Ryan invited Team PricePlow to Chicago to launch this collab. We talk about this launch, the rise of Ghost, their GNC and Anheuser-Busch partnerships, and the future of these collaborative efforts on Episode #066 of the PricePlow Podcast with Dan and Ryan. This is a must-listen episode for supplement industry fans and employees.
Heroes in a half shell… turtle power!
As supplement industry gurus who grew up with the Ninja Turtles, Dan Lourenco and Ryan Hughes have been working on this collaboration for quite some time. There are too many collaborations to list, but some highlights include Sour Patch Kids and Swedish Fish, Chips Ahoy!, and Oreo. The recent Space Jam effort is a bit more similar, since there's not a flavor to mimic, but instead a look and feel.
The four products selected are absolutely perfect, and we're extremely excited to have the UK version of Legend in America. We're equally excited to talk about Ghost Gamer Non-Stim, because sometimes we need a flavorful late night friendly nootropic without the caffeine.
The only question is if this collab will go further… because we have some ideas for a Master Shredder inspired version of Ghost Burn Black.
Ghost Legend – Deals and Price Drop Alerts
Get Price Alerts
No spam, no scams.
Disclosure: PricePlow relies on pricing from stores with which we have a business relationship. We work hard to keep pricing current, but you may find a better offer.
Posts are sponsored in part by the retailers and/or brands listed on this page.
Note: This article was originally published on April 12, 2022 and updated throughout April of 2023 with the latest updates.