When Arnold Allen won on his MMA debut in London 11 years ago, he made £250.
By the time he arrived home in Ipswich a few hours later, he had spent it all.
Allen had celebrated with a few drinks but also paid for his friends' tickets, who had made the trip to see him fight.
In the following days he was up at 4am to go sparring, before going to his job at a port where he helped move 50 tonnes of containers a day in what he describes as "back-breaking work".
Allen was earning just enough money to get by, paying for the essentials which paved the road for his bumpy journey to becoming a UFC star.
All that hard work is now paying off for the 29-year-old, who on Saturday in Kansas City will face the biggest test of his career in former champion Max Holloway.
Should Allen win in Missouri, he will be in prime position to challenge for the UFC undisputed featherweight title.
"It's an opportunity of a lifetime. I've always had the goal I wanted to be the best guy in the world and that's the reason I chase this dream," Allen tells BBC Sport.
"I'd quit now if I didn't believe I could do it. I wouldn't be doing it at all if that was how it was.
"Max is a very dangerous guy who's beat a lot of top contenders. He's tenacious – his mindset, he just keeps coming, walks through the fire and never quits.
"I'm very excited for the opportunity to challenge someone like that and show what I'm able to do."
'Everything is sweeter if you go through adversity'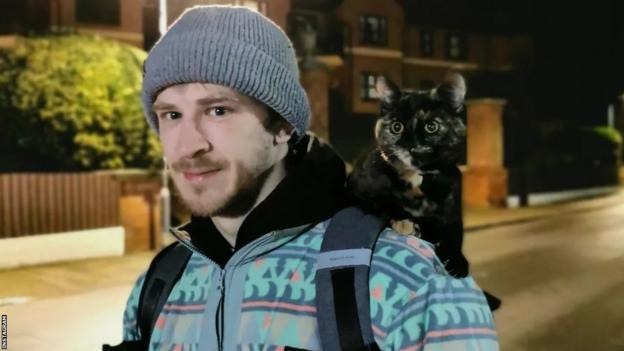 Allen grew up in Ipswich with his mum, dad and older brother.
Like his dad, his brother is a bodybuilder, competing in strongman competitions.
Allen says play-fighting with his brother when they were younger was what sparked his interest in MMA.
"We were always watching cartoon fighting. Dragon Ball Z was the one for us, then we sort of progressed to watching old-school Jackie Chan movies and practicing the kung fu moves on each other," he said.
"My parents would go to work and I would hold the cushions and he would kick me in the chest. I remember the time I was holding the cushion and he just ran across the kitchen and drop-kicked me through a table."
"Wrestling was another thing. We would always wrestle each other and he would beat me up. My guy was Stone Cold Steve Austin."
Allen would train at the gyms available in Suffolk but says it wasn't a breeding ground for MMA, although he jokes it is "a hotbed for potatoes".
This meant he would have to travel for training – something he still does to this day.
Before his fight against Dan Hooker last March, Allen started making a three-hour drive back and forth to train at Team Renegade in Birmingham – home of British welterweight champion Leon Edwards – but also still works with local long-time coaches who give him a "push".
In 2015, after nine wins and one defeat, Allen joined the UFC where he has won 10 successive fights – the fourth-longest win streak in the promotion among active fighters.
Despite his success inside the octagon, it has not always been straightforward for Allen, who with 10 fights in eight years has sometimes been accused of inactivity.
Allen argues this has been down to bad scheduling by the UFC, as well as bad luck with injuries for himself and opponents causing fights to be cancelled.
He is thankful for the adversity he has overcome.
"It's been a slow progress but it's been purposeful. I haven't rushed it at any step. I haven't taken any unnecessary beatings or unnecessary losses," said Allen.
"All the setbacks, the delays and all those things, I've been able to improve, get better and the opportunity that I'm getting next is everything.
"I've definitely been frustrated at times but everything is a bit sweeter if you go through adversity."
'I seem to be the guy fighting everyone's favourite'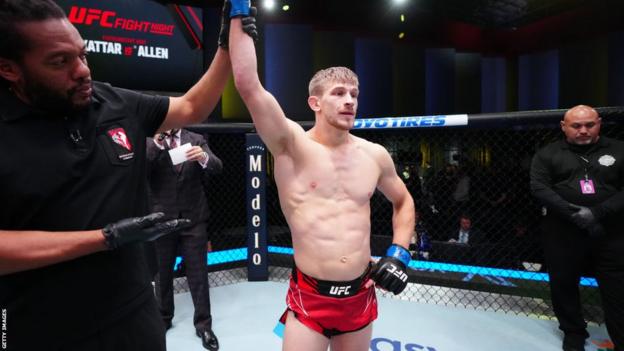 Allen's last fight was against Calvin Kattar in October, which Allen won after the American suffered a knee injury in the first round.
It was Allen's first main event in the UFC – a position he says he relished.
In facing Holloway, 31, Allen is once more a star attraction during a UFC fight week, illustrated by the promotional billboards dotted throughout Kansas City.
In Holloway however, he is fighting one of the most popular fighters in the UFC, with the Hawaiian's relentless striking approach producing a number of exciting bouts over the years.
Allen says he may not be the fan favourite for their fight at the T-Mobile Centre, but he is willing to embrace the antagonist role to win.
"I'm a fan of Max's work. I don't think there's anyone that dislikes him," said Allen.
"And I seem to be the guy that fights everyone's fan favourite. It was the same with Dan Hooker, Calvin Kattar and Sodiq Yusuff.
"I'm just trying to win fights, man. But if I can beat everyone's fan favourite and maybe a play a heel, that's what I've got to do."