All the top stories and transfer rumours from Monday's newspapers…
THE SUN
Paris Saint-Germain, who are set to change manager again this summer, are among the big European clubs monitoring Arsenal's Mikel Arteta.
Luis Enrique was prepared to join Chelsea immediately and was left disappointed when Frank Lampard took charge on an interim basis, reports say.
Napoli hitman Victor Osimhen has dealt his suitors a blow by declaring that he's already at one of the biggest clubs.
THE MIRROR
Arsenal are running the risk of losing boss Mikel Arteta with talks over a new contract being put on ice for the time being.
Wrexham's celebrity status will increase again on Tuesday when UFC legend Conor McGregor puts his Forged Irish Stout on sale at the nearby Turf Hotel in aid of the Your Space autism charity backed by striker Paul Mullin.
DAILY MAIL
Liverpool have been urged to sign Kalvin Phillips from Manchester City to help rebuild their midfield after the Reds ended their pursuit of Jude Bellingham.
Michael Olise is reportedly set to turn down a move to Arsenal as he has plans to stay at Crystal Palace next season.
Besiktas are reportedly lining up a move to bring Wout Weghorst back to the club in the summer – despite the Dutch forward leaving them midway through this season to join Manchester United.
Barcelona reportedly want to use their relationship with super-agent Jorge Mendes to sign Wolves midfielder Matheus Nunes, but expect a deal to be out of reach due to their financial constraints.
Newcastle United's owners remain in talks with a number of European clubs as they look to add an affiliate to their portfolio.
James McClean has called out the Football Association for once again failing to deal with anti-Irish abuse after he was subject to sectarian chants from home fans during their game at Wigan, which he highlighted to match official Thomas Bramall.
The publication of a report by barrister Katherine Newton into complaints of racism at Essex County Cricket Club has again been delayed amid reports that it will contain "bombshell" material implicating at least one well-known former player and coach.
Dillian Whyte does not believe Anthony Joshua's claim that he will not fight again until December and says he has been "doing some strange stuff" to try and create some mystery.
THE TIMES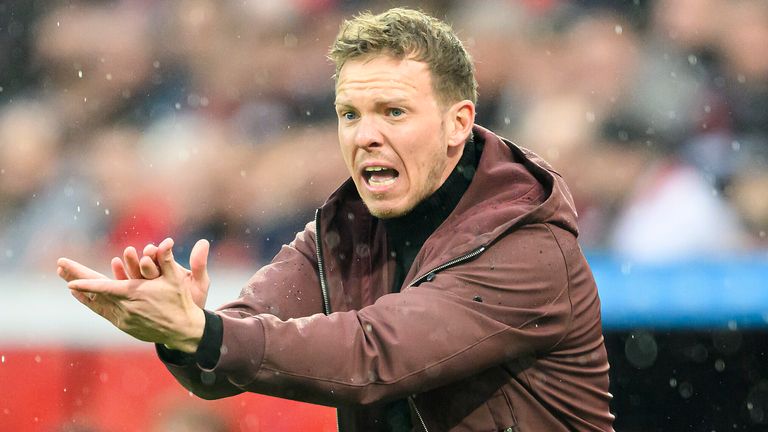 Chelsea have held a meeting with Julian Nagelsmann as the west London club aim to narrow down the shortlist of candidates to become their next permanent head coach.
Chelsea admire Vincent Kompany, who led Burnley back to the Premier League, and Palmeiras' Portuguese coach Abel Ferreira.
DAILY TELEGRAPH
Trainer Sandy Thomson is blaming the protestors who delayed Saturday's Grand National at Aintree for the death of his horse Hill Sixteen, who "got very hot" and had to be re-saddled during the delays and then suffered a fatal fall at the first fence.
DAILY STAR
The former Premier League player arrested on suspicion of child sex offences is now exploring legal action after a two-year investigation by police failed to lead to any charges being laid.
DAILY RECORD
Mick Kennedy, the manager who led minnows Darvel to a stunning Scottish Cup win over Aberdeen earlier this season, has left the club.
Tottenham are in pole position to sign highly-rated Kilmarnock teenager David Watson, with the possibility that he will spend time in London on trial, possibly as early as this week. Spurs are also interested in his 16-year-old team-mate Ben Brennan.
Former Celtic boss Neil Lennon warned players and staff that he was about to bring in "forensic computer IT guys" to try and find out the identity of the infamous "Lennoxtown Leaker" who was putting team news out 24 hours before their games.