Aryna Sabalenka fears comments from Belarus president Alexander Lukashenko may make her even more unpopular on the WTA Tour and insists she would "stop the war" in Ukraine if she could.
The world No 2 spoke last month about the "hate" she encountered in the locker room amid strained relations between some players following Russia's invasion of Ukraine, which was supported by its ally Belarus.
Lukashenko celebrated Sabalenka's Australian Open victory in January and said more recently that people knew which country she hailed from even if she was playing under a neutral flag.
In March 2022, tennis' governing bodies barred players from Russia and Belarus from competing under the name or flag of either country following the war, requiring them to play under neutral flags.
"I'm pretty sure that it's not helping," Sabalenka told reporters in Stuttgart on Tuesday when asked about Lukashenko's comments. "I don't know what to say because he can comment [on] my game, he can comment whatever he wants to.
"I have nothing to do with politics…If Ukrainians will hate me more after his speech, then what can I do? If they feel better by hating me, I'm happy to help them with that. They can do that.
"But the rest, if I could stop the war, I would do that, but unfortunately it's not in my hands and it's not under my control."
The 24-year-old said she keeps away from the internet as much as possible to avoid reading negative comments.
"I'll be able to focus on myself and on my game and not get too depressed about this situation," she added.
Sabalenka is playing at the Stuttgart Open this week after withdrawing from the Charleston Open with a minor injury. She will face Barbora Krejcikova in the second round of the clay-court event after receiving a bye in the opener.
Swiatek fit for Stuttgart title defence after injury
Iga Swiatek has recovered from a rib injury and is ready to defend her Stuttgart Open title, though the world No 1 concedes she may be a bit rusty following a month-long absence.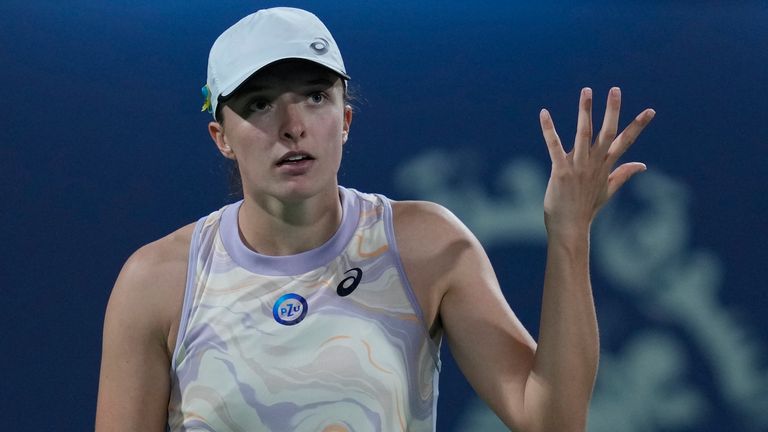 The Pole, who is also gearing up for the start of her French Open title defence next month, withdrew ahead of the Miami Open and Billie Jean King Cup qualifiers due to the injury she sustained during her run to the Indian Wells semi-finals last month.
"I'm not injured anymore, so that's the most important thing for me," the 21-year-old said on Tuesday. "I feel like I used that time in Warsaw well to rest a little bit and to not think about tennis. I have still been working out physically a little bit and obviously coming back to practising step by step. Here I am and I think I'm ready."
The three-time Grand Slam champion will begin her campaign at the WTA 500 clay-court event against China's Zheng Qinwen in the last 16 after receiving a bye in the first round.
"It's the first tournament on clay, so for sure I would love to play well, but I also know that I might be a little bit rusty because coming back from injury it's always a little bit like that," Swiatek added. "So I'm keeping my expectations low, but for sure I want to play the best tennis possible."