Claressa Shields successfully defended her undisputed middleweight title with a lopsided unanimous decision over Maricela Cornejo on Saturday night in Detroit.
Shields (14-0, 2 KOs) won with a score of 100-89 on one card and 100-90 on the other two.
"You saw the best of me tonight," she said. "The only thing I could have done better than I did tonight was get a knockout, and I think I would have knocked a lot of girls out with the punches I landed. Maricela is smart and she's tough."
Shields has won two Olympic gold medals and professional titles at super welterweight, middleweight and super middleweight.
Cornejo (16-6) hasn't beaten an opponent with a winning record in more than four years. She opened her statement by thanking Shields.
"You've created a movement in women's boxing, and you really are the GWOAT [greatest woman of all time]," she said. "After fighting you, I'm ready to go back to 154 pounds or even 147."
Cornejo gave Shields some trouble in the early rounds with a solid jab and movement away from Shields' right hand. However, she couldn't generate enough power to keep the champion from coming forward.
Shields opened a cut over Cornejo's right eye in the fifth round and hurt her with a series of combinations in the seventh. A straight right sent Cornejo into the ropes, but the round ended before Shields could finish her.
Cornejo tired in the final rounds, but was able to fend the champion off to make it to the final bell.
Shields didn't rule out returning to MMA. She had two fights in 2021, winning one and losing the other.
"I have some decisions to make going forward," Shields said. "I tend to focus on boxing, because that's what I'm best at, but I don't have any problem doing MMA. I think if I give it two years, I can be the champion there, too."
Shields was originally scheduled to fight a rematch with Hanna Gabriels, who knocked her down in 2018 before losing a unanimous decision. However, Gabriels was taken off the card after testing positive for a banned substance.
"I want to thank Maricela and her team for taking this fight on 10 days' notice," Shields said. "She's not a last-minute replacement that I could just walk through. She got my attention with some of those right hands."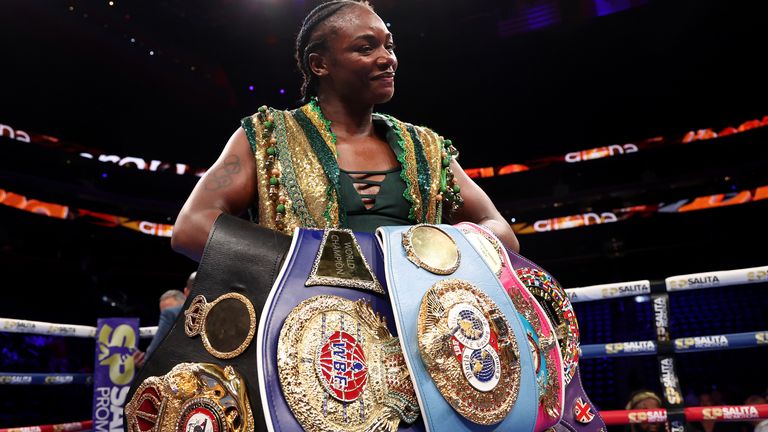 Earlier on the night, Joseph Hicks (7-0, 5 KOs) picked up the WBA Americas Silver middleweight title with a unanimous eight-round decision over Antonio Todd – and he also thanked Shields for the opportunty.
"It was a surreal moment for me – I've never fought in front of a crowd like this," Hicks said. "I want to thank Claressa for giving me a chance to experience this."
Shields and Savannah Marshall have created a rivalry, the likes of which women's boxing has never seen before

The attendance was announced as 11,784. The arena's lower bowl appeared more than half full while the upper bowl was curtained off.
"I think this has to end the myth that women don't have fans," Shields said. "People came from all over the world to see the GWOAT."
Shields says she would happily fight Savannah Marshall again and beat her, but believes Marshall's fight with Franchon Crews-Dezurn for the undisputed super-middleweight title is too soon

Savannah Marshall is convinced her fierce rivalry with Claressa Shields will lead them to fight once again.
Marshall lost a major undisputed middleweight clash to the American star in October.
The Briton is coming back from that reverse and stepping up to super-middleweight as she takes on the undisputed 168lb world champion Franchon Crews-Dezurn on July 1, live on Sky Sports.
Speaking before Shields' latest victory, Marshall said: "I've seen how my profile grew just from that one fight and I believe that it was down to the rivalry massively," Marshall told Sky Sports.
"Even now, all people are saying is: 'When's the rematch? When's the rematch?' That's what boxing's about. It's a business. If you haven't got a rival, it's not that you're going to struggle. But that's where it happens.
"They're the fights people want. Where there's a bit of needle."