Who has the upper hand heading into The Ashes? Sky Sports cricket experts Simon Doull and Kumar Sangakkara have cast their impartial eyes over both squads and have settled on a combined XI… So who makes the cut?
Steve Smith to open?!
SANGAKKARA: "Only one of the four openers from the two teams makes my combined Ashes XI and that's Usman Khawaja.
"He's had a great couple of years in Test cricket. He plays both high pace and spin really well.
DOULL: "Absolutely. He [Khawaja] is the easiest to pick at the top of the order.
"Sadly, Zak Crawley is not in the debate. So is it Ben Duckett or is it David Warner? Compare their form at the moment, Warner is on the downward spiral. His career stats don't lie but the Ashes numbers are not good, so it's a hard one to pick him.
Sky Sports' Michael Atherton takes a closer look at Australia's Ashes squad and expects England to target an out of form David Warner.

"Do you go then with Duckett, who is on the rise and scored a big hundred at Lord's [against Ireland]? If we're picking purely openers, I would go with him."
SANGAKKARA: "It's Steve Smith for me.
"I think he is the best equipped to do that, in order to balance the side that I want to get out on the park.
Australia's Steve Smith reaches 100 in the World Test Championship Final against India to make it 31 Test centuries.

"And it will be easy to convince him to open. Just tell him he's got the opportunity to bat all 90-odd overs."
DOULL: "I had Smith [who hasn't opened in Test cricket] at five in my side. But I don't mind putting round pegs in square holes, to be honest.
"I can't disagree really, because it ensures you get in the best batters, rather than playing one of Warner or Duckett."
Stuart Broad and James Anderson ask The Sky Sports Ashes AI Bot how to get Australia's Steve Smith out!

How does the middle order line up?
SANGAKKARA: Marnus Labuschagne is at three, for me. And Joe Root, who is definitely in my side, stays at number four to keep doing what he does best.
Australia's Marnus Labuschagne had to wake suddenly from an afternoon nap after India's Mohammed Siraj dismissed David Warner in the World Test Championship Final.

"I've got Harry Brook at five. But he's my utility player; if Ben Stokes, by chance, can't bowl then I can instead slot Cameron Green in there.
"Stokes still plays irrespective of that, even if purely as a batsman at six – and he's captain for me.
DOULL: "Labuschagne, Root and Stokes are in, without fail, and Jonny Bairstow keeping.
"And I have no issue with Brook or Green playing. Green is going to be a superstar!
Australia's Cameron Green pulls off a ripper of a catch at gully as India's Ajinkya Rahane is dismissed for 89 in the World Test Championship Final.

"I think he'll have a huge influence on this Ashes, having seen the way he bats [in the IPL]. He will play slightly differently, but I don't think I've seen a player hit the ball harder in a long, long time.
SANGAKKARA: "He does, and he plays spin quite well. A lot better than I thought he would.
"And in Test cricket, with the Dukes ball, he can be a very useful seamer."
DOULL: "He is absolutely capable of batting at five. But let's put Brook in there and have Green as our 12th man, ready to come in if Stokes can't bowl – which could also allow you to play an extra spinner."
England captain Ben Stokes demonstrated that he is back to bowling at full speed ahead of the upcoming Ashes series.

Who makes up the bowling attack?
DOULL: "Two seamers pick themselves – Jimmy Anderson is the best there is and Pat Cummins is as good as there is too – and Nathan Lyon is the best spinner in the world right now.
As England prepare for this summer's Ashes Tests, Jonny Bairstow and Jimmy Anderson spoke about the mentality change under Ben Stokes and Brendon McCullum.

"My question was over Josh Hazlewood or Stuart Broad as the third seamer? Hazlewood's numbers in Test cricket are phenomenal.
SANGAKKARA: "Jimmy and Cummins would both be in my side as well.
Australia captain Pat Cummins says the way his players are remembered will be defined by how they fare in England this summer

"Anderson and Broad opening the bowling have been brilliant, but I'd struggle to play them both together.
"Hazlewood [who missed the World Test Championship Final], I'm not sure. I'd have Mitchell Starc and the left-arm option, especially with rough that he'll create for Lyon."
"He swings the ball, has the ability to bowl high pace and short. Plus, if there's any reverse-swing, coming round the wicket to the right-handers, he's right up there.
"Ollie Robinson too deserves a mention, he could be an option. He has been sensational for England."
DOULL: "Again, I can't disagree. If it's going to reverse, Starc is the best exponent of that and he does also bring Lyon into the game.
"Mark Wood would also offer a point of difference with his pace, but as we don't have a left-armer, I'm happy to bring in Starc."
Summary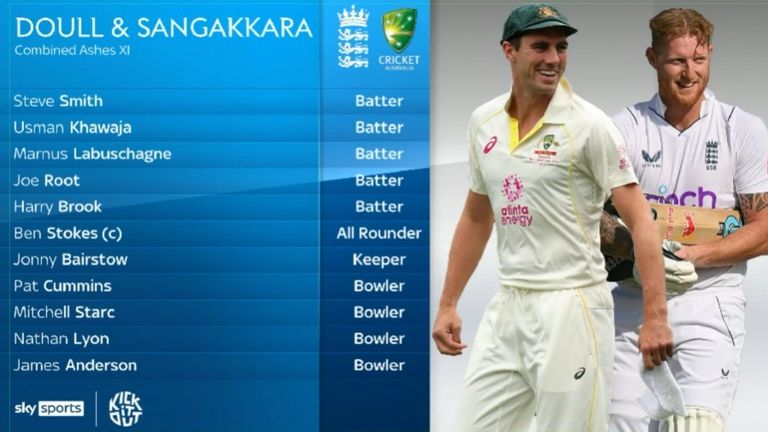 Whether it's an omen for this summer's Ashes, we'll soon find out, but Sangakkara and Doull ultimately settle on six Australians and five from England in their combined XI.
Plus there's Cameron Green carrying the drinks as 12th man, there to swing the balance further in Australia's favour should Stokes be unable to bowl and an extra spinner is on the agenda.
As for who the pair picked to coach this impressive looking lineup?
DOULL: "You can't look past Brendon McCullum, can you?"
In an extended interview, Brendon McCullum sits down with Ian Ward to break down the coaching philosophy behind England's new brand of Test cricket.

SANGAKKARA: "It has to be Baz, without a doubt. On the field and off the field, the players will have an amazing time!"
Doull: "They'll play a fun brand of cricket, and that's what we want. If that side took the park, I think they'd take on anyone in the world."
Watch The Ashes live on Sky Sports Cricket from Friday, June 16. Coverage from Edgbaston begins at 9.30am ahead of the first ball at 11am. You can also follow in-play clips and text commentary across Sky Sports' digital platforms.