In May of 2023, Kaged brought Team PricePlow to GNC's annual Franchise Convention in Las Vegas, NV. This is a closed show (as in not consumer facing) that provides an incredible opportunity for brands to showcase their latest product offerings and sales to GNC Franchisees.
At the show, Kaged — a brand with little official presence at GNC — made a massive splash, showcasing 27 new SKUs that are coming to the retailer. They teased new functional food products and an Elite product line with upgraded ingredients just for GNC.
In part 1 of a 2-part series, Ben sat down with Kaged's Chief Commercial Officer Aaron Heidebreicht and VP of Sales Darin Decker to discuss this massive launch, tease some new products, and to explain many of the recent shifts at Kaged — and their plan moving forward.
In part 2, which will be posted in Episode #098, Ben and Aaron later sat down with GNC's Nate Frazier (Chief Operating Officer) and Ken Huntly (VP of Sports Nutrition) to explore the retailer's role in these operations and where they are going this decade, especially with respect to their sales strategies.
Both of these episodes are must-listens for anyone interested in the business of the dietary supplement industry. Kaged provides the groundwork for how a premium brand can do things the right way, and a lot of it comes down to the right partnerships.
To listen, find the PricePlow Podcast on your favorite podcast app (some links are below) or watch the video on YouTube:
0:00 – Introductions – at the 2023 GNC Franchise Convention
Ben is here with Aaron Heidebreicht and Darin Decker from Kaged at the internal GNC Franchise Convention in Las Vegas. It's a closed show — not consumer-facing. The best of the best brands are at this convention to show GNC store operators and franchisees all about their brand, offering excellent sales. Ben attended as a guest of Kaged.
The group is going to run through some exciting new offerings from Kaged, most of which will end up in GNCs across the nation. Aaron unveils his gameplan in this episode, and it's clear he's been an incredible new asset for the brand in 2023:
1:40 – How did Kaged get here at GNC?
Kaged's roadmap with GNC began with the brand looking at how they want to distribute well in such a way that allows for innovations in specialty retailers, but also opens up the market for other channels to open as well.
Kaged looked at some of their winning formulas, like Hydra Charge, their #1-selling SKU. They then asked if they amplified their formulas, even Pre-Kaged Elite, brainstormed formats and categories, and came up with a 3-5 year roadmap driven by quarterly innovations, collabs, and strategic partnerships.
A big part of that is bringing their Elite line to GNC.
4:00 – The importance of education
There's this mass-market of consumers that isn't necessarily educated in supplement research, and Kaged wants to lean into solving this problem. PricePlow, GNC, and Kaged are going to spearhead media relations, along with the development of an education platform. Aaron explains that PricePlow's job is to help educate GNC's consumers but also to broaden the market beyond GNC.
Kaged is also going to be leveraging GNC TV to drive education, increase retention rates, and foster the right ecosystem. They understand that Kaged isn't for everyone, but PricePlow and GNC are already engaging with top brands and top consumers. The products are souped up, and Kaged is making a big push to educate — we have an opportunity to speak to the store managers and associates at GNC, whether in social media videos, on Discord, or anywhere online.
8:00 – 27 New SKUs coming to GNC
There are 27 new SKUs coming from Kaged through GNC, which is enormous. Most of the products are stronger versions of Kaged projects, like Hydration Elite Series being the big brother of Hydra Charge.
Besides Pre-Kaged, Hydra Charge definitely helped put Kaged on the map in the wellness world, and Ben is happy to see the innovative spirit behind it coming back.
In the Elite Series Hydration supplement, they're upping all of the electrolytes, adding elevATP along with the Ioniplex fulvic acid / mineral blend. It's a 30-day serving tub.
You'll see a lot of those kinds of additions in this new Elite series.
11:30 – Kaged Functional Foods – Protein Bar and Crumb Cakes
After 180 variations, Kaged has come upon their ultimate functional food formula. They've found ways to keep their forthcoming Kaged Protein Bars soft, to keep mold out, and to keep them tasting fresh. This was also discussed the last time we had Kaged on the podcast — see Episode #081 with formulator Brian Rand.
These bars are all-natural, and only have 6 ingredients, which is incredibly difficult to get right. Aaron has never seen merchants go so crazy for the bars. Peanut Butter Jelly and Peanut Butter Brownie are the first two flavors for the bars.
Kaged is also coming out with Crumb Cakes, which are a first in the functional food market. They're like a true alternative to dessert. Chocolate Cookie Crumble and Cinnamon Sugar Crumble are the first two flavors for these delicious treats.
Ben loves the crumbles: Kaged nailed the texture and the taste.
These were formulates in-house, which is unique in the current day. Kaged owns the formula, not the manufacturer.
18:45 – Kaged's Partnerships: The adults in the room
Kaged has moved into a "lifestyle meets educational" brand. They differentiate themselves by being the "adults in the room". Kaged has had some awesome names behind the brand in the past, which has led to a very strong community.
Kaged has a huge LTV (lifetime value) compared to other brands, and they owe that to their focus on education. This GNC partnership is answering a question from many of Kaged's fans – they want to buy Kaged products in GNC stores. When polling their community, the question wasn't "Why would you go to GNC?"… it was "Why aren't you in GNC?!"
Going beyond working with PricePlow and supplement industry media, Kaged is also going to be working with thought-leaders in the scientific space, like Andrew Huberman and Tim Ferriss. This builds them a "macro/micro" podcast network. This gives confidence to existing consumers, but also propels them towards new consumers.
Kaged has high-end customers — Ben likens it to the "Lifetime Fitness" crowd. Darin remarks that once someone starts getting into ingredient science and education, or wants to level up to a top-shelf brand, all roads lead to Kaged. Kaged has to communicate that.
23:30 – The Kaged Rebrand and New Female Customers
Ben notes that for a long time, Kaged just didn't communicate their strengths well. Darin agrees, and notes how his wife wouldn't take Hydra Charge because it was right under "Kaged Muscle", and women don't typically want huge muscles.
He notes that since Kaged rebranded, they've received a flood of new female consumers.
24:50 – Kris Gethin out: Changes in Identity and Direction
Kaged parting ways with Kris Gethin was an interesting moment. Early on (nearly a decade ago), Kris was the face of Kaged, leading many Kaged fans to be concerned that Kaged quality would decline. This fear is definitely unwarranted, as can be seen with the intensity of the formulations in the GNC partnership.
Ben makes it clear that Kris was not the CEO for quite some time — he was a spokesperson. A good one, but still a spokesperson who was no longer actively involved in product development, quality assurance/control, etc. The two remaining founders are Michael McClane (see him on Episode #058) and Brian Rand (see him on Episode #081). By the time Aaron stepped in (late 2022), there wasn't much communication with Kris in any capacity.
So the products coming out now are completely separate from Kris. The day the news broke that Kris Gethin was out, the Kaged team was actually sitting down with GNC's executives and merchandising team. Interestingly, the feedback was extremely positive and Aaron's ultra-targeted plan made GNC want to lean in even more with the new direction for Kaged.
Kaged has really taken off since then – they are currently "hockey sticking". Two recent examples are Kaged at Wegmans in the northeast and Kaged at H-E-B in Texas – they're growing like crazy.
Ben notes how it's okay for athletes to go their separate ways in this business. It's an exciting new frontier for Kaged.
Darin had been talking with Ghost's Dan Lourenço at the gym that morning, and he commented that brand is the focus. Ghost may have multiple athletes associated with the brand, but the person at the grocery store only knows Ghost, not any specific person. Operating on this level makes Kaged more sustainable.
32:00 – Kaged Expansion: New Hires and Strategy
The go-live date for the GNC partnership is August 31, 2023.
Kaged has nearly doubled its workforce in the past 7 months or so, whether it's in operations, sales, marketing. While other brands are bringing in top-tier influencers, Kaged is investing in themselves – in their own people — to operationalize what's to come in the next 3-5 years.
Nobody realizes how large the Kaged team has become – this is a real-deal company – not just a brand with an online presence.
It had been a very lean operation for a long time, but now Michael is investing to grow, especially with this roadmap and vision. They were online-first, limited in distribution, and now they're taking this new approach that involves huge scale in retail.
Kaged has a product that is going to make people want to get to the store and live the experience.
38:00 – Closing Down, Aaron knows everyone
Ben notes that Kaged had needed a great business face to talk to buyers and media companies, jokes that nobody in the industry knows more people than Aaron Heidebreicht.
They then segue to what will be the second part of this series, which is hosted on Episode #098.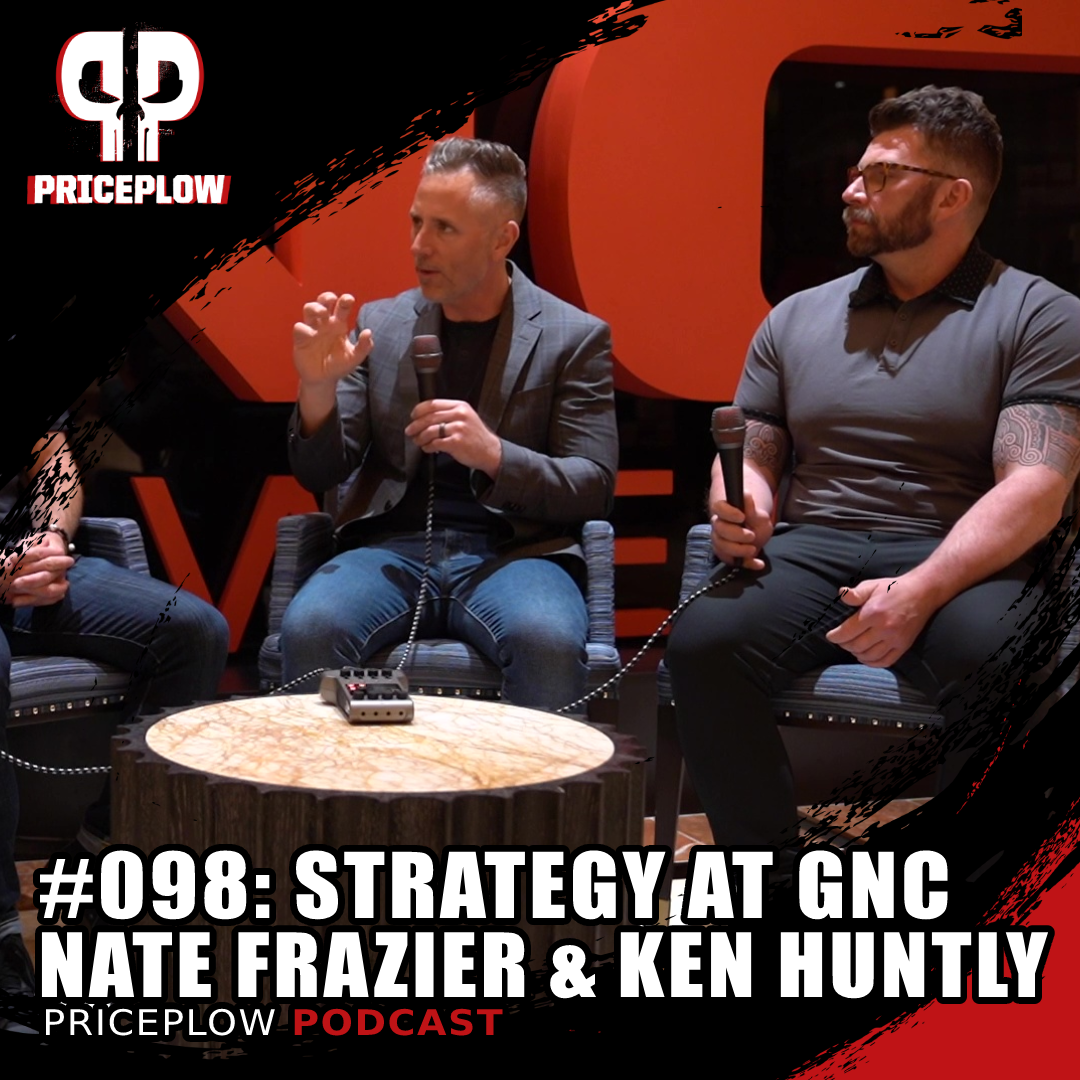 Thanks to Kaged for bringing Team PricePlow to the 2023 Franchise Convention! This was part 1 of 2 – if you haven't done so already, head over to Episode #098 with Nate Frazier and Ken Huntly of GNC.
Finally, subscribe to the PricePlow Podcast on the podcast app of your choice – we have more heavy-hitting episodes coming.