Steve Clarke is determined Scotland keep their "eye on the ball" and beat Georgia in Euro 2024 qualifying to continue "the feel-good factor" from the dramatic late victory over Norway.
The Scots made it three wins out of three in Group A with a thrilling 2-1 comeback win in Oslo on Saturday.
The victory, thanks to late goals from striker Lyndon Dykes and midfielder Kenny McLean, followed home wins against Cyprus and top seeds Spain in March.
The side now prepare to face second-placed Georgia in front of a sell-out crowd at Hampden Park, where they have won their last five matches.
"I am the guy in charge so they are not going to get too excited," said Clarke of his players, before acknowledging the growing excitement among the supporters.
"It is good. Everybody likes to be loved so when you come into the environment at Hampden Park and the players feel the reception of the crowd before the game and in the warm-up, the national anthem, and hopefully when the game starts we can start on the front foot and get the crowd behind us – it is nice to be loved.
"The players are feeling good and they are looking forward to another full house here, they are looking forward to putting on another good performance and hopefully we get the right result and that feel-good factor continues.
"We spoke after the March camp about capitalising on the home win against Spain. We managed to do that, albeit late on against Norway. We bring a feel-good factor on the back of those two results, but we know football has a habit of biting you if you don't respect the game.
"Obviously when you are getting good results alongside that everything feels good but you have to understand in football, if you take your eye off the ball you can be punished."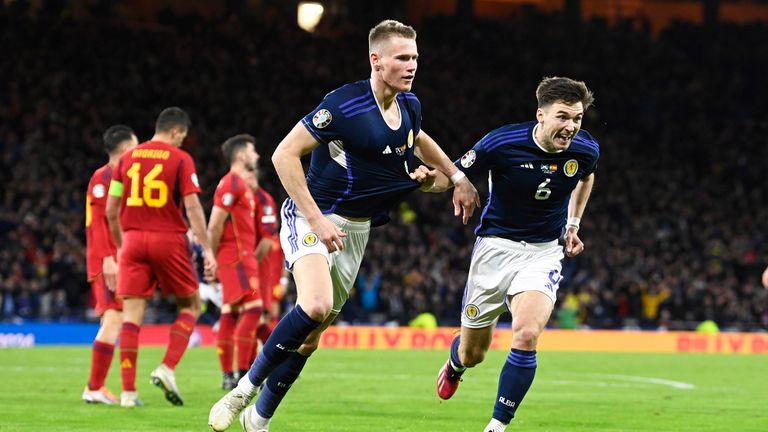 Clarke, however, noted the strengths of Georgia who moved into second place, five points behind the Scots with a 2-1 win away to Cyprus on Saturday.
The former Scotland defender, whose squad is "all present and correct" ahead of Tuesday's clash, said: "It will be difficult. I said right at the start we had the toughest group.
"Georgia are for sure the toughest pot four team, one defeat in 15 matches, they are on a good run, they will feel good about themselves," he said.
"A good win away to Cyprus, a difficult place to go, they have some good players, a good shape to their team. So, tough game.
"They are a real threat, especially going forward, so we will have to defend well. But they are a good side. We have to respect them and respect the game and try and get the three points."