Ranjuo Tomblin says he wants to "change the perception" of artistic swimming when he becomes the first male to represent Great Britain in the sport.
The 17-year-old will make his senior debut at the European Games this week in the artistic swimming mixed duet.
Tomblin, who is from Sussex but trains full-time in Bristol, won European bronze in the junior event last summer.
Artistic swimming is an Olympic sport but is only contested at that level by women in the duet and team disciplines.
"We always get these things like, 'oh, why is a man doing it?'," Tomblin told BBC Points West.
"You always think 'artistic swimming, that's a girls' sport' and I definitely want to change that perception of people. It's a sport for everyone, really."
Tomblin, who trains at the High Performance Centre in Bristol, will compete for Great Britain in the mixed duet free and technical events which begin on 21 June at the competition in Krakow, Poland, along with his partner Beatrice Crass.
"It's nice to encourage more boys into the sport and make it more of a balanced sport," Tomblin said.
"Definitely at the beginning it was all the girls and then there was just me, it was a bit scary. As we go on I think it will grow and boys will join into the sport."
'Multiple sports in one'
Tomblin was introduced to the sport in 2017 through a coach at his local swimming pool who knew of his background in gymnastics.
"I tried it out and immediately loved it and it's really grown from there," he added.
"I thought it was a challenge because it's multiple sports in one; it's gymnastics, it's dancing, it's swimming, holding your breath as well."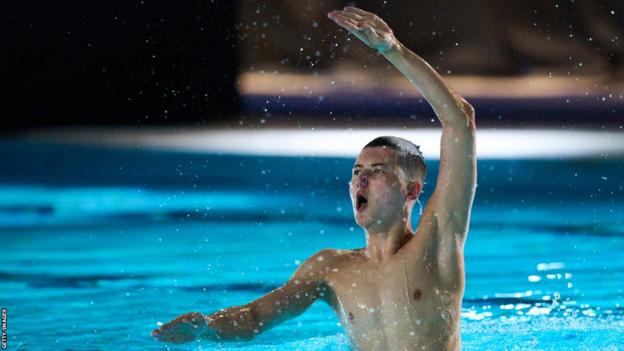 While there is another male in the junior ranks of the British team, Tomblin is the first and currently only one at senior level.
He said it was an "honour" to be making history for his sport in this country even if that came with a bit of pressure.
"It's every kid's dream who is in sport to represent Team GB, to get that kit," he said.
Tomblin finished fourth with Crass at the World Cup event in Spain earlier this month – which he called "a really big achievement" – but he has much bigger future ambitions for his progress in the sport.
While men are able to enter the artistic swimming team event at next year's Paris Olympics, Tomblin says the Los Angeles Games in 2028 – if the mixed discipline is added to the schedule – is the "ultimate goal".
"Hopefully as the mixed duet grows it will be allowed into the 2028 Games," Tomblin continued.
"I've got a lot more to learn, a lot more to develop.
"It's my first senior year, it's nice to get out there and experiment with the routines and we have all those years to develop and become better, and we can really perform well at the Olympic Games."