Domestic women's football could become a "billion pound industry" in 10 years' time says former Lionesses midfielder Karen Carney – the chair of a major review into the sport.
Her 126-page report recommends the top two tiers of women's football in England being fully professional.
It also calls for a new regular broadcast slot for women's football to be made available on television.
"It is what needs to be done, to move the sport forward," Carney said.
The ex-Birmingham and Chelsea player added: "Full-time is full-time. Go for it. Realistically the biggest issue we need to go after is professionalising the women's game and bringing standards up because that is a big problem."
Describing women's football as a "start-up business", Carney said everyone involved from sponsors, broadcasters and the Football Association "has a responsibility to invest in the game and move it to the next level".
She added: "If you are starting something you have to have an influx of money and I really do believe that in 10 years' time this sport could be a billion pound industry.
"But these standards and investment are the foundations that lead us to this point. I really do think we will make it [money] back."
An independently club-owned, club-run body is poised to take over the Women's Super League and the Women's Championship next year as the English women's game looks to capitalise on its rapid rise, accelerated by the Lionesses' success at Euro 2022.
A recent report by Deloitte showed Women's Super League club revenues rose by 60% in the 2021-22 season, showing signs of growth before even England's historic Euro 2022 victory.
Combined revenue for the WSL clubs was £32m, an increase of £12m on the previous season thanks in part to a new broadcast deal, however clubs still recorded an aggregate pre-tax loss of £14m.
Carney's findings have focused on several areas including audience reach and growth, the financial health of the game, its long-term financial sustainability and its existing structures – leading to 10 major recommendations, that include:
World leading standards for players, fans, staff, and everyone in the women's game.

To restore the talent pathway needed to create future generations of Lionesses.

Professionalisation across the top two tiers to attract and develop the best players in the world.

To address the lack of diversity across the women's game – in on- and off-pitch roles.

The game's governing bodies to work with broadcasters to create a new dedicated time slot.

Adopting more measures to support fans

Providing equal access to school sports for girls.

More investment in grassroots facilities and better access for females.
Carney's plan to 'revolutionise' women's football
Carney, who has worked in the media since her retirement from playing in 2019, was asked to examine issues affecting the game at elite and grassroots levels in September 2022. by the UK government.
The women's game has made huge progress in recent years and, at grassroots level, has become the most played team sport for women and girls in England, with three million registered players and over 12,000 registered teams.
However, both the Covid-19 pandemic and the men's game fan-led review highlighted the shallow resources within women's elite football.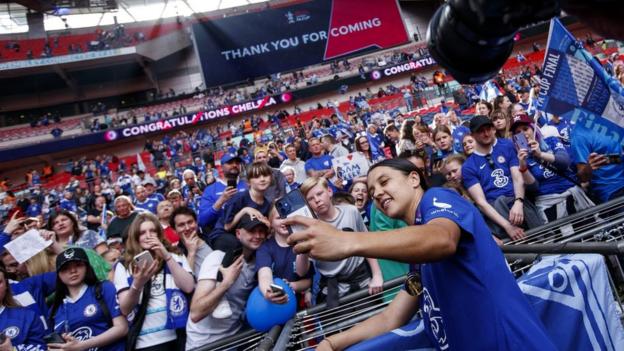 She appointed a number of experts from across sport and business, including a senior NFL executive, with the UK Culture Secretary Lucy Frazer calling it an opportunity to "revolutionise the game" in a positive and sustainable way.
In a statement the chief executive of the Professional Footballers' Association (PFA) Maheta Molango called the report a "brave, ambitious and detailed plan for the future of women's game".
An FA spokeswoman said they would help "address the challenges and opportunities in the report" to "deliver the changes needed".
They said: "These are exciting times for the development of the women's game and we share Karen's vision of creating world leading standards for players, fans, and everyone involved in women's football."
'Bin bags for curtains' – part-time players & low wages
While the 12-club WSL is fully professional that does not extend to English women's football's second tier.
A significant drop in broadcast fees and FA central funding means that turnovers can be as high as around £7m in the WSL but as low as £150,000 in the Women's Championship, where player wages can be below £5,000 per year.
Reading's recent relegation from the WSL saw them revert to part-time football due to the financial implications.
When it was put to Carney that more than £10m would be required to redress some of that balance, she passionately defended the need to attract additional income to the game.
"Do I want players to have to go on the NHS [for treatment of injuries]? No. Do I want players to have to use bin bags for curtains? No," she said.
"I don't want any of this situation any more. There was a lot of evidence in the review of the marketing strategy in place not being able to help the revenues grow.
"It is what is needed. It is not a negative to invest in women's sport, we have to change the mindset. I understand there is a reality to it."
On proposals to provide one source of funding from levelling FA Cup prize money across the men's and women's game, she added: "I'd hope there would not be a backlash.
"There are so many issues and women's sport has struggled for so long I'd hope there'd be an understanding but with anything there'll always be someone who will challenge it.
"I could have said equalise prize money right now but that would have taken down the pyramid of men's football. We should absolutely be going for equal prize money [in the future] from the FA Cup and the FA should be putting a timescale on that."
'Five weeks out can turn into five months' – injury improvements
A long-standing issue that Carney is keen to see addressed urgently is the relative lack of medical support offered to female players in comparison to their male counterparts.
A Fifa report in 2021 showed that a quarter of top-division women's clubs around the world do not employ a physio or team doctor and while there have been improvements Carney says there are still issues around the quality and continuity of care provided.
"There was a player who should have been out for five weeks and was out five months," Carney said.
"We've seen players pretty much say we are going to have to go into early retirement because of the medical situation. It is a systemic issue about women's health not just in sport but outside, it has to be better.
"Don't forget in the Championship there are players working three of four jobs. They are never going to be able to compete and it is not because they don't have the ability, it is the resources.
"Are they hydrated? Are they getting the right nutrients to perform? Are they fatigued? That is why we want minimum standards to come in to keep that competitive nature.
"We want all our players to be fit, available and playing because then the product is at its best because that's what the fans, broadcasters and players want."
A chance to take centre stage – kick-off times
Football's governing bodies have talked of exploring whether WSL fixtures can be televised on Saturday afternoons to help grow the audience.
Last term, WSL matches consistently kicked off at 11.30am on Saturdays and 6.45pm on Sundays to avoid scheduling clashes with men's games.
No matches are currently shown during the '3pm blackout' slot in order to encourage attendance at games.
However, Carney believes there is no simplistic solution: "It's very clear we need to find a slot specific for women's football.
"Men's football is really easily signposted, it is really difficult for women's football to have a slot and stand out.
"We have to look at it, it is a really saturated market and this is what we are up against."
'We need to keep pushing' – improving diversity
Carney's 'raising the bar' review also identifies the need to create a workforce strategy for the women's game and the need to create greater diversity on and off the pitch.
Former Brighton defender Fern Whelan, who is now an equalities executive at the PFA, echoed those comments in response to the report.
"We can all see that there is a lack of representation across the women's game," Whelan said.
"That isn't by design, or something the game needs to be defensive about. It's something where we've acknowledged there is an issue and begun to take action, but we need to keep pushing.
"It's positive that the review has highlighted the lack of diversity across the women's game as something that needs to be urgently addressed.
"Are we doing enough to encourage girls and young women from diverse backgrounds into the game? Are we making the professional pathway accessible enough? It's often about practicalities as well as culture."
'A highly significant moment' – analysis
BBC Sport reporter Emma Sanders
This is a highly significant moment in English women's football.
The report has strong backing from the PFA and FifPro, who have worked closely with the review board to ensure players from all backgrounds have been able to share their experiences in confidence.
There is a range of issues which will need long-term vision and patience to adapt to, but there are also clear short-term recommendations.
Among the most crucial are improved medical support, calls for fully funded union representation, better prize money and a dedicated WSL broadcast spot – all of which can be addressed immediately.
There are no legal enforcements given its an independent report, but the simple fact so many have come together to provide a detailed review suggests it will be hard for the likes of the FA – and the WSL takeover company – to ignore.