Sinead Farrelly says Republic of Ireland have the "fight and grit" to deal with the knockout nature of Group B at the World Cup.
The Irish underdogs need a draw or win over Canada on Wednesday or they will be knocked out in the group stage of their first major tournament.
Farrelly said the team had taken confidence from their narrow 1-0 defeat by co-hosts Australia in their opener.
"This team does best when we have nothing to lose," said the midfielder.
"I think we are all just even more confident and wishing we even approached that game against Australia with more belief and more confidence.
"We need and want to win the next two games, so our belief is high and we're really excited."
On their World Cup debut, the Irish pushed Australia close and were unfortunate not to score what would have been a famous equaliser in Sydney.
A fine defensive display frustrated the Matildas in the first half, but a cheap penalty gave Australia the lead before Ireland pressed for a late leveller.
After showing a more offensive approach in the closing stages, which led to untaken chances for Megan Connolly, Katie McCabe and Louise Quinn, Farrelly hopes to see more of the Irish attack against Canada.
"Totally," she said when asked by BBC Sport if she would like to see a more attacking approach.
"I think with how I am as a player, in my position it is so much fun to go forward and create things offensively.
"Every football game is going to be different. It was kind of a tale of two halves. The first half we were way more defensive and the second half we really got to go at them.
"We all have roles that we have to play and the game happened how it needed to but totally, I think we have the talent to do that more from the start.
"We are definitely going to look to do that in the next game."
Farrelly, who was a key whistleblower in the NWSL abuse allegations in 2021, returned to football earlier this year after almost eight years away.
The USA-born midfielder made her Irish debut in April against her home country, and was named to start in Thursday's historic World Cup opener in Sydney.
"It was surreal, it almost felt like a movie a little bit," Farrelly said of her World Cup experience.
"You are trying to hard to be present but you are also out of your body a little bit. It didn't feel real, but in my head I was just trying to get ready for the game.
"There was a lot going on but it is obviously something I am going to look back on and remember forever."
Support for Sheva
After giving away the decisive penalty against Australia Marissa Sheva, who, like Farrelly, is US-born and made her Republic debut this year, was visibly upset after the match and Farrelly said the pair had been supporting each other.
"We have similar fears and anxieties and feelings of pressure," Farrelly said about her relationship with Sheva.
"We're close and we're friends, we are talking each other through it, hearing each other out and validating each other.
"Everyone on the team has been so supportive and amazing too. It's been really nice to have her here.
"The whole team came behind her and lifted her up. We've all been there and we all know what that feels like.
"There are so many emotions involved in football but it is a team sport. We win together, we lose together.
"You have to feel your feelings and let it out and then it is onto the next one."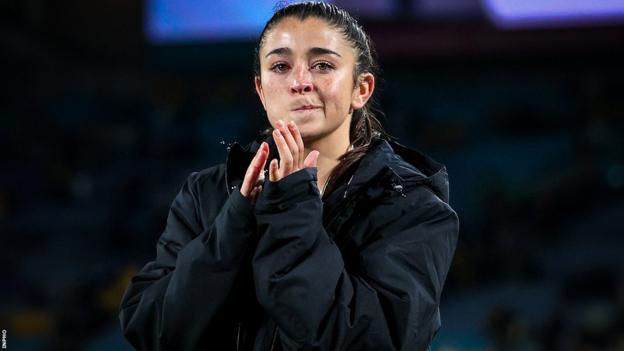 Farrelly added that she has dealt with her own anxieties when stepping on the pitch and she has "been battling her own mind".
"Personally, I have a fear of letting people down," she said.
"I want to be perfect and good and great all the time.
"I've felt nothing but support but I want to make the fans proud, make this country proud, make the girls proud.
"I think the way my brain has worked up until this point, it can turn support and belief into pressure.
"I've been really working on being so grateful for that support in the first place."