MAXed L-Citrulline (as Aminature) – 10000 mg
In early 2022's release of Pre-Kaged Elite, we could hardly believe the dose — 10 grams of L-citrulline to boost nitric oxide levels into the proverbial stratosphere. Kaged pushed the market forward with 6.5 grams back in the day in 2014's Pre-Kaged release, and they did it again here. Now, with MAX Catalyst, it's even better:
Why MAXed L-Citrulline?
First, let's explain the MAX Catalyst system. The label shows it as a separate ingredient at the bottom of the Pump & Performance Blend (as 4 milligrams of 95% piperine extract), but it's worth discussing how it enhances each of the top three ingredients in the formula.
MAX Catalyst's internal data in a randomized, double-blinded, crossover human trial found that combining it with citrulline led to a 64.57% improvement in plasma amino acid concentration in humans. This improvement was measured as the total area under the curve (AUC), measuring 572.6 umol/L compared to 347.9 umol/L when the same participants used placebo.
We hope to publish this data, or cite it when it's peer-reviewed and published, and will update this article when that happens.
Now let's explain L-Citrulline, then talk about why there's 10 grams:
What is L-citrulline?
L-Citrulline is an ingredient used as a nitric oxide (NO) precursor in dietary supplements,[1] and producing more nitric oxide is important because it leads to vasodilation — the widening of blood vessels due to relaxation[2,3] — which leads to improved blood flow. And that means literal pumps![4]
To be a bit more specific, L-citrulline first gets converted to L-arginine, which is then the real nitric oxide precursor.[1] Head-to-head, citrulline actually works better than arginine for this[2] because the digestive system breaks arginine down too quickly before it can exert its NO effects.[7-10] So Kaged doubles down on L-citrulline with a dose we'll explain below.
Benefits from increased nitric oxide production
With the NO boost in place, research studies have shown many benefits from citrulline, including improved ATP production (for cellular energy), better work output, and greater post-workout recovery.[12-14] A 2020 meta analysis solidified findings on L-citrulline's endurance gains as well — the ingredient leads to reduced perceived exertion and soreness since it helps with metabolic waste removal.[15]
We've seen clinical data supporting just 3 grams of L-citrulline (or 6 grams of citrulline malate),[16,17] and even newer research using 8 grams.[4] Kaged is well above and beyond all of that. But why?
Why 10 grams of citrulline?
Our answer comes from a 2018 article showing L-citrulline's impact on cardiometabolic health, where the authors reference a study that tested 2, 5, 10 or 15 grams:[16]
One such human study demonstrated a tolerance of up to 15 g l-citrulline per day in healthy volunteers.[11] By comparison, high-doses of l-arginine (~13 g) can induce significant gastrointestinal complications.[18,19] However, at 15 g doses of l-citrulline, a lower fractional absorption rate and plasma retention of l-citrulline was observed, potentially due to saturation of its transporters (e.g., ASC or B0,+-amino acid transporters) or reduced renal conversion of l-citrulline to l-arginine.

As such, the authors suggested a dose of 10 g l-citrulline for clinical use.[11] However, for increasing circulating l-arginine concentrations, doses of l-citrulline as low as 3 g have been shown to be effective.[2] Thus, the minimum effective dose is ~3 g/day, whereas the maximal effective dose may be as high as 10 g/day.[16]
This is an important snippet of understanding why we're here. They cite a 2008 study, which shows quite convincingly that 10 grams L-citrulline greatly outperforms 5 grams, but doesn't get much more progress at 15 grams.[11] In that study, plasma L-citrulline levels increase dose-dependently, but only so much gets converted to L-arginine. After about 10 grams, we hit the law of diminishing returns.
So if you're trying to boost NO using the L-citrulline → L-arginine → nitric oxide pathway, 10 grams of citrulline is about where we hit the wall. You can learn more about this in our article titled "10 Grams of Citrulline?! Why Kaged Goes Big and Competitors Go Home".
For fun, with such a large dose, we'd also like to reiterate what we wrote in our original Pre-Kaged Elite article: to get this much citrulline, you'd need to eat 7.3 to 16.5 pounds of watermelon, depending on the fruit's quality![16,20-22]
MAXed Beta Alanine (as Carnosyn) – 3200 mg
Next up, we have the go-to dose of the classic endurance booster, beta alanine.
MAX Catalyst + Beta Alanine
First, let's cover the MAX Catalyst data, since most readers know about the ingredient already. Internal data showed that beta alanine plasma levels could be improved a whopping 116.23% in total area under the curve compared to baseline — this is from 418.0 umol/L compared to the control group's 190.7 umol/L! This was again in a randomized, double-blinded, placebo-controlled, crossover study.
That's more than a doubling of beta alanine making it to the plasma, potentially allowing us to get more carnosine produced. Here's how it works and why that's important:
After ingestion beta alanine gets combined with the essential amino acid L-histidine to form an important molecule stored in the muscle, carnosine.[23,24] Carnosine is important because it acts as a proton buffer — it can buffer acids that induce muscular fatigue, so by having more carnosine (thanks to taking in more beta alanine), we can boost endurance.[24]
We've been using beta alanine in supplements for a couple of decades now, so there's been time to accumulate a great number of studies — enough that we have two meta-analyses breaking them down. The first, published in 2012, analyzed 15 studies (totaling 360 participants) and found that beta-alanine indeed increased working capacity in exercises 1-4 minutes long.[25]
Even better, though, was the updated 2016 meta-analysis that looked at 40 studies (totaling 1461 participants), which found that beta alanine increases work capacity in exercises ranging from 30 seconds to 10 minutes long![26]
There's also some synergy with creatine,[27] our next ingredient.
Most athletes know by this point that beta alanine can produce a tingling sensation. This is known as paresthesia,[28] but don't be concerned – there's a large safety study showing that it "does not adversely affect those consuming it".[29] But once you feel those tingles, it's time to get going!
MAXed Creatine Monohydrate – 3000 mg (of about 4.35 grams total creatine)
Kaged has long been a company that used creatine HCl, but the amount of data on creatine monohydrate is simply overwhelming. If you want creatine in a strong pre-workout (and we love creatine in pre-workouts, even though it's not as common anymore), Kaged Elite Pre-Workout is one to try.
MAX Catalyst + Creatine
Again, let's cover MAX Catalyst's increase before getting into the creatine itself: Internal data from their randomized, double-blinded, placebo-controlled trial showed that creatine + MAX Catalyst led to a significant 40.15% improvement in total plasma concentration compared to placebo (MAX: 7.7 umol/L, CON: 5.5 umol/L) in area under the curve measurements.
Creatine's bioavailability was once quite a hot topic, and isn't generally stressed over anymore, so this is incredibly impressive and may singlehandedly reopen that can of worms – fun times at Kaged! Now let's get into the ingredient:
Creatine is a phosphate donor for our body — with it, we can produce more ATP (adenosine triphosphate),[31-35] the "energy currency" of our bodies that are made of high-energy bonds. With better ATP production, nearly everything improves – especially athletically.
There have been mountains of studies on creatine showing the following benefits (many of which are supported by meta-analyses):
Increases in power[36,37]
More lean muscle mass gains,[37-41]
Improved weight gain,[37]
Better sprint speed,[42-44]
Greater hydration,[45]
Reduced fatigue,[46-49]
Improved general well-being[50-52]
Cognitive improvements (in vegans/vegetarians)[53,54]
Minor testosterone increases[31,55-58]
Greater bone mineral density (especially in vegans / vegetarians)[40]
This ingredient is so safe and effective, there's no longer any dispute about it — there hasn't been for quite some time, in fact. And when it comes to the type of creatine, nothing is better-studied than good old fashioned creatine monohydrate.[59,60]
In terms of dosage, it really depends on your gender, musculature, training intensity, and meat consumption, but 3 grams per day will keep most individuals close to saturation, while those who are bigger, training insanely, or need to "catch up" may want to load more.
Thankfully, we have even more creatine coming (from creatine nitrate below).
Betaine Anhydrous (as BetaPower) – 2500 mg
Betaine is also known as trimethylglycine, and is an ingredient that goes hand-in-hand with creatine to increase size and performance. As opposed to creatine, which is a phosphate donor, betaine is a methyl donor,[61,62] providing crucial methyl groups to numerous physical processes. With this, it can help increase cellular strength,[63] but it's also an osmolyte that helps regulate cellular fluid levels, protecting them from heat shock.[64]
Knowing this, it's unsurprising that betaine supplementation leads to great improvements in performance.[65-70]
However, a 2013 landmark study pushed it over the top for the sports nutrition industry: It was showed that a 2.5 gram dose taken daily supported a 5.3 pound gain in lean mass gained paired with 6.4 pounds of fat loss when using it on an intense training program – far more than placebo.[71,72] And in case you're wondering, arm size also increased significantly!
Going further, that same 2.5 gram daily dose also supported significant fat loss in women in a subsequent study by the same research team![73]
Creatine Nitrate (NO3-T) – 2000 mg
Adding about 1.35 grams of creatine to the 3 grams of monohydrate and a solid ~650 milligrams of nitrate, creatine nitrate is a double-whammy for both the creatine benefits and nitrate-basted pumps and blood flow!
There are many great benefits to nitrate consumption, but what's great is that there's research specifically performed on creatine nitrate as well. It's been shown to significantly boost bench press power,[74-76] leg strength,[75] and endurance (on leg press).[75] Additionally, creatine nitrate has a great safety profile,[74,77] which makes sense given its two components.
We've already covered creatine, so here's what the nitrate is doing:
How nitrates work
Found in many fruits and vegetables, nitrate (NO3) boosts nitric oxide levels using a mechanism that's unique to citrulline. What happens is that the nitrate gets metabolized into nitrite, which enters the bloodstream from the intestines, yet heads back to the salivary glands. Once there, enzymes convert it to nitric oxide![78-80]
We explain this because Kaged isn't overloading the same pathway – they maxed out the citrulline → arginine → NO pathway, and weren't done yet, so they added this nitrate → nitrite → NO pathway as well!
Benefits of nitrate
Similar to what we've seen with citrulline, there's a solid meta-analysis covering several nitrate-based studies, showing improved blood flow, performance, and endurance.[81] Here are some specific effects: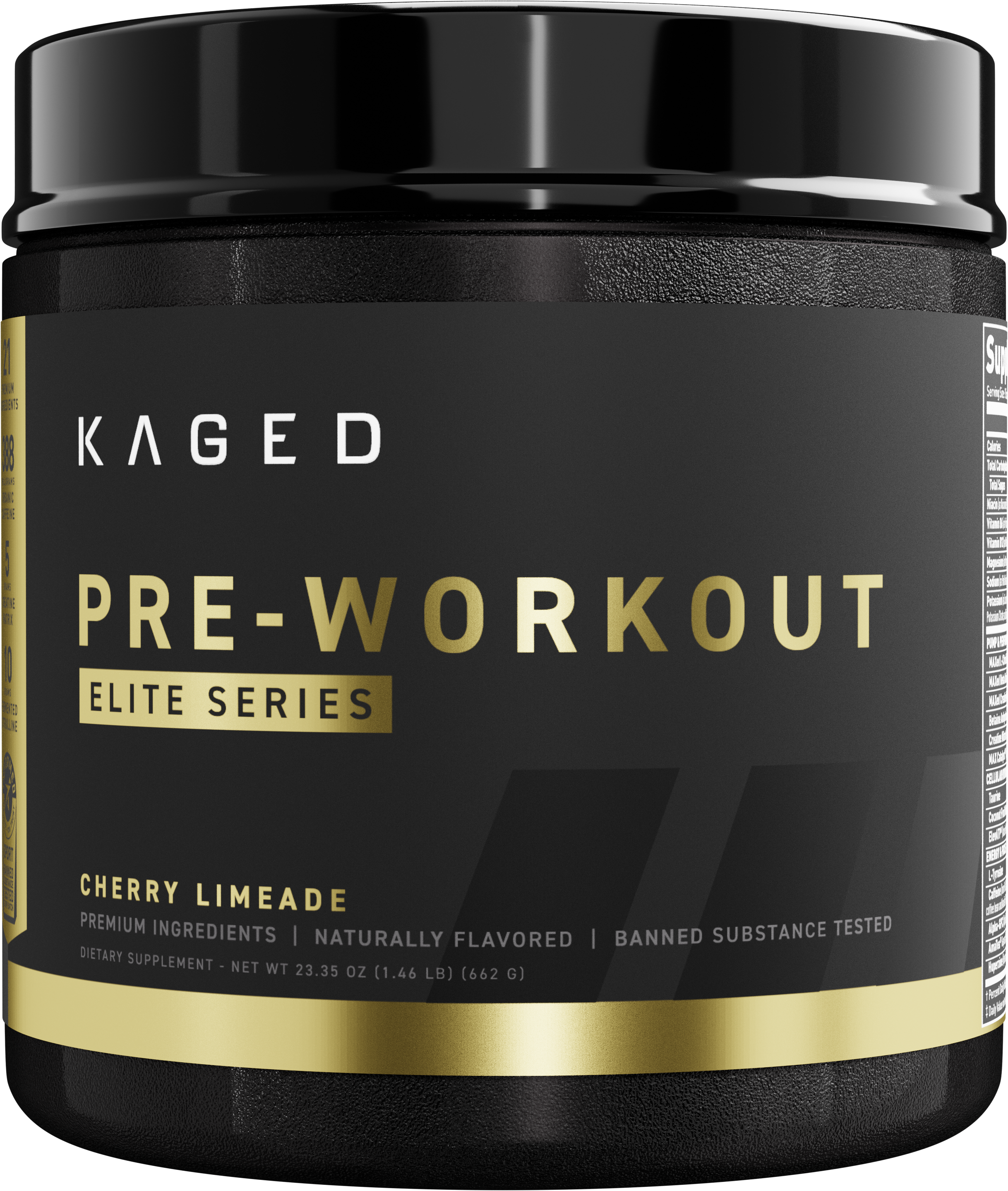 Increases in plasma nitric oxide[82,83]
Improved blood flow[84]
Greater strength / power / force production[82,85]
Longer athletic endurance[86,87]
Lower recovery time and increased cellular energy[83,85,88]
Reduced oxygen requirements/use for training[84,86,87,89]
The meta-analysis cited above[81] is from 2013, the data's only gotten better since then.
This is a perfect addition to an Elite status pre-workout. Nitrates are great for training (even if you don't have citrulline), but now we also get added creatine to boot. With 1.35 grams here, this brings our total creatine to 4.35 grams, more than enough to keep you at saturation (you'll still want to take creatine on off-days).
MAX Catalyst (Piper nigrum Fruit Extract) (95% Piperine) – 4 mg
We've already shared the MAX Catalyst data with our three ingredients, which we hope to publish more info on later:
Citrulline + MAX: 64% improvement in plasma amino acid concentration
Beta Alanine + MAX: 116.23% improvement in plasma amino acid concentration
Creatine + MAX: 40.15% improvement in plasma concentration
So what's going on here?
We've actually seen it many times before – using piperine from black pepper extract to boost the absorption and uptake of ingredients in numerous types of supplements.

We often cite a study showing how black pepper extract improves curcumin absorption by an astonishing 2000%[90] — only this supplement doesn't have any curcumin, and just because the mechanism works in one ingredient doesn't mean it'll work in all. And with the Federal Trade Commission's recent "love letters",[91-93] brands and ingredient suppliers alike are realizing that they need ingredients with human clinical data to support their use.
The solution? Take a known mechanism and demonstrate that it does work with other ingredients. But beyond that, make the existing technology work better. MAX Catalyst takes piperine and physically structurally alters it so that it gets absorbed just before the ingredient being targeted. For example, instead of needing to take piperine 90 minutes before you take caffeine, you can co-ingest it.
On to the mechanism, it's established that piperine inhibits two enzymes that break down certain drugs and molecules too quickly — P-glycoprotein and CYP3A4.[94] These enzymes are in the cytochrome P450 class, which is found in the liver and small intestinal cells, and is known for metabolizing over 50% of food and drug ingredients.[95]
Through this inhibition, piperine has been shown to improve ingredient and drug bioavailability, preventing early breakdown and slowing gastric emptying, so that the body has more time to use it.[94,96,97] Further, piperine can modify the rate of glucuronidation by reducing UDP-glucuronic acid,[98] which may also lower the rate at which some ingredients get metabolized.
That's not all, though. Piperine can also boost GLUT4 levels,[99] which is important since this signals glucose shuttling into muscle cells.[100] There are other potential metabolic benefits as well.[101]
All in all, this is a better spin on something we've seen for quite a while. We need human clinical support for more than just curcumin – and it seems like MAX Catalyst is set to provide it, as they're doing additional studies for further applications. Stay tuned to PricePlow – this area will be updated when more information is published.