Hosts:
Glasgow and across Scotland
Dates:
3-13 August
Coverage:
Watch live across BBC TV and iPlayer, with 200 hours of live streams on the BBC's digital platforms
Great Britain's Ben Wiggins says he "backed up the hype" by winning silver at the Cycling World Championships in Scotland on Friday.
The 18-year-old son of five-time Olympic champion Sir Bradley finished second to Australia's Oscar Chamberlain in the men's junior time trial.
And his Tour de France-winning father, 43, was in Stirling to watch the latest success in his son's burgeoning career.
"Winning a medal at my first Worlds, it can't get much better," Wiggins said.
The teenager hopes to earn a world champion's rainbow jersey in the future.
"I'm sure there'll be more opportunities to get that, so I can't complain today," he added.
Wiggins is a European champion on the track, winning the points race last year, and this May won the Trophee Centre Morbihan Nations Cup road race in France.
He was forced to pull out of last Saturday's junior road race in Glasgow – but in the 22.8km time trial, he finished 24.78 seconds behind Chamberlain, who took gold in 28 minutes 29.62 seconds.
"This has been my main goal all year, with lots of steps to it," said Wiggins.
"I was disappointed after the road race but if you'd told me I needed to sacrifice that for a medal in the time trial, I would have taken it."
'This is nothing compared to people camping outside your house'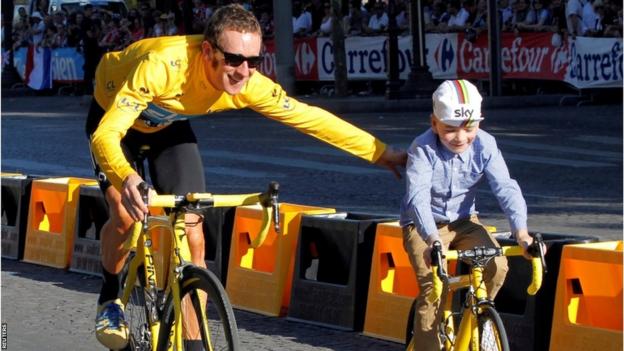 Between 2003 and 2016, Sir Bradley Wiggins won five Olympic goal medals, eight world titles and the 2012 Tour de France.
Yet his son Ben, who recently said that he wants to compete at the 2028 Olympics in Los Angeles, does not seem fazed about the weight of expectation coming from trying to emulate his father.
He added that his junior results are better than his dad's and, speaking after his silver medal in Stirling, showed he was old enough to remember the attention his father got at the peak of his professional career.
"I was seven when my dad won the Tour," he said. "Pretty much after that, he was probably the most famous man in Britain for a while.
"When you've got people camping outside your house and stuff, this is nothing compared to that.
"Having to miss days of school because we couldn't get out… anything that comes now, unless it's worse than that, I'm sure I can deal with it.
"There have been a few times when it's been quite hard. But days like today, it's nothing really, because I've backed up the hype."