The star striker of the Bundesliga season so far is not Harry Kane. It is Kevin Behrens. Both men made their debut in the competition at the age of 30. The difference is that Behrens spent much of the previous decade in the regional leagues of German football.
Now he is readying himself for Real Madrid.
At 32, Behrens is more than just a heartwarming story, the man who had spent his supposed prime in the fourth tier only to become a hero at Union Berlin, scoring a hat-trick on the opening weekend against Mainz and proceeding to cycle home. He is a symbol.
Harry Kane reflects on his new life at Bayern Munich after scoring twice against Augsburg

For the wider game, of course. The newspaper Berliner Zeitung revelled in the comparison with Neymar, said to have sat on golden leather on his private jet from Paris. The simple act of avoiding the traffic of East Berlin was enough to be seen as contrarian.
For Union, in particular. Their remarkable ride to the Champions League has been fuelled by a strange alchemy. This cult club from the capital, famed for its support but not its football, has upset the odds – and Germany's elite. No benefactor, just unshakeable belief.
Behrens epitomises that journey. "He is an identification figure," Jacob Sweetman tells Sky Sports. English by birth, Berliner by choice, Sweetman is now part of the communications team, spreading the gospel according to Union to the English-speaking world.
"Union are an old-fashioned football club," he says by way of explanation for the Behrens phenomenon. His hat-trick of headers against Mainz, the first player to do that in a Bundesliga game this century, is precisely what the crowd at Union want to see.
"We do not need to see the ball on the floor. We like a big No 9. We are not looking for the tricky genius. We like someone who goes up with his elbows. The fact that he can get kicked in the head and get up, we love it. Kevin Behrens embodies all of that."
His goals have been timely because there is a change happening at Union. In August, the club signed Germany internationals Robin Gosens and Kevin Volland. They followed that up by bringing in the legendary Italian defender Leonardo Bonucci. It is a new world.
Their Champions League home games will be played at the vast Olympiastadion, home to Hertha not Union. For a club so proud of its identity, Behrens is a reminder that this is still Union. "There is another dynamic at play with Union and Kevin," says Sweetman.
"I have noticed a sniffy attitude towards him over the last year or so in your more bourgeois press. They look down on him. There is definitely a snobbishness and I think an awful lot of Union fans think people see their club that way as well, so they take to him."
All of which makes this story special, but it took Behrens to make it possible. "Never give up, always work hard, both before training and after training, believe in yourself and take the chance." Those are the words of the man himself. "My path has not been normal."
'Such a strange career'
Released by Werder Bremen as a youngster, Behrens bounced from club to club, winning over supporters but not always his coaches. There was a season at Alemannia Aachen and another at Rot-Weiss Essen before finding a home in Saarbrucken aged 25.
Robert Roelofsen later became assistant manager at Saarbrucken. "After a few training sessions," Roelofsen tells Sky Sports, "I said to the head coach, 'We are a team for the transition.' Behrens was not one for an intricate game, thriving when there was space.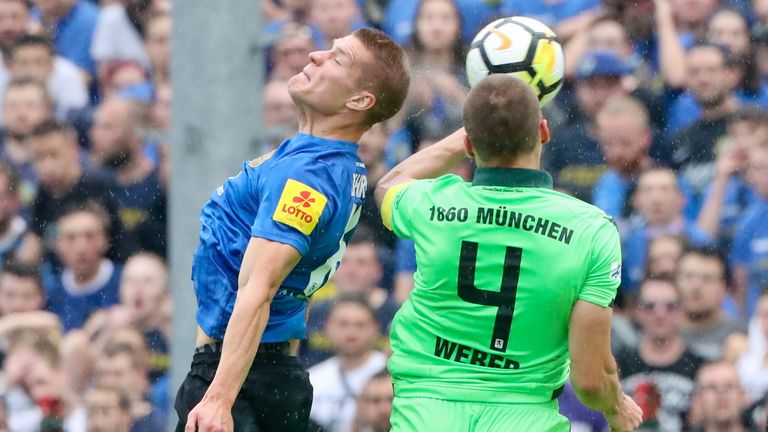 Roelofsen had coached in the Bundesliga with Wolfsburg, seeing all sorts of players. None like Behrens. "I had players who I thought would reach the top but never did. And then there are those who surprise you. I have never had a player with such a strange career."
His explanation? "Players think they have made it too young because they make so much money. The hunger you need to reach the next step is difficult. With Kevin, the mentality was always to reach the next step because he was not satisfied with his career."
Behrens left Saarbrucken after the club lost out on promotion to 1860 Munich in the playoffs. "Of course, the fourth league was too low for him. I definitely saw the potential for him to go to the second league. Did I see the Champions League? No, I did not."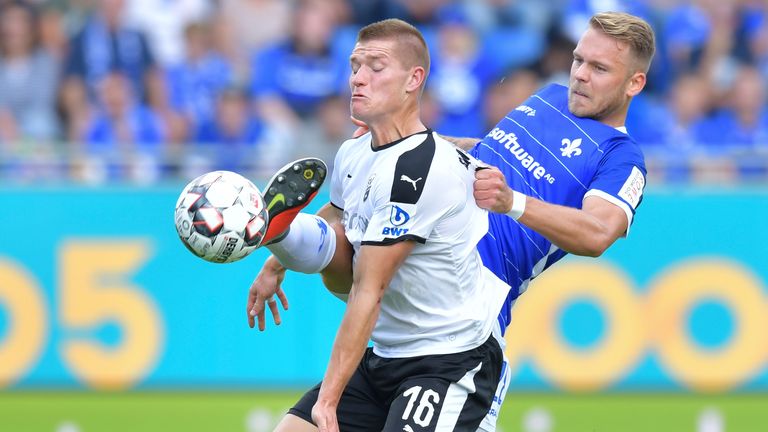 His seasons at Sandhausen established him as a force in the second tier. It took Union to bet on him in the Bundesliga. Asking a player the wrong side of 30 to step up, it seemed a risk. But Union's unique approach under Urs Fischer was the perfect fit for Berhens.
"You must find the right way to play with him," explains Roelofsen. "If he were playing for Manchester City with one up front and the spaces were tight, that is not for him. At Union, they play long balls and they use his physicality. That is the optimum use of his quality."
Roelofsen is not being disparaging when he uses the term "kick and rush" – it is a style that has unsettled the entire Bundesliga. Union sit deep, soak up pressure, then counter at speed or get the ball wide and pummel the penalty box with quality crosses. Many wilt.
"They are one of the only clubs where it could work but it is a perfect match because Kevin just wants to have fun. Do not expect much tactical talk from him. I do not think he has a plan a lot of the time but he has this physicality and he is eager. Just let him be.
"He is a machine. But you need a coach who recognises his quality. They found the player who fits their system and fits what the fans want. Union has a lot of people who work very hard all week. They want to see a player who works his ass off every weekend."
'There is more to Kevin Behrens'
Sweetman would agree with the demands of the Union Crowd at the intimate Stadion An der Alten Forsterei and recognises the reference to Behrens' insatiable work ethic. "He is a serious hard worker. You should see his abs. His stomach is just insane."
Although Behrens gave "every second to get as much as he can out of himself", his first season in the Bundesliga saw him having to settle for a bit-part role. Twenty-two of his 24 appearance came from the bench, scoring twice. Last season was different.
His equaliser at Borussia Monchengladbach in October captured the imagination. "It was a header and he got punched in the head by the goalkeeper," recalls Sweetman. He just brushed it off, of course, as he does. He had this shiner and barely seemed to notice."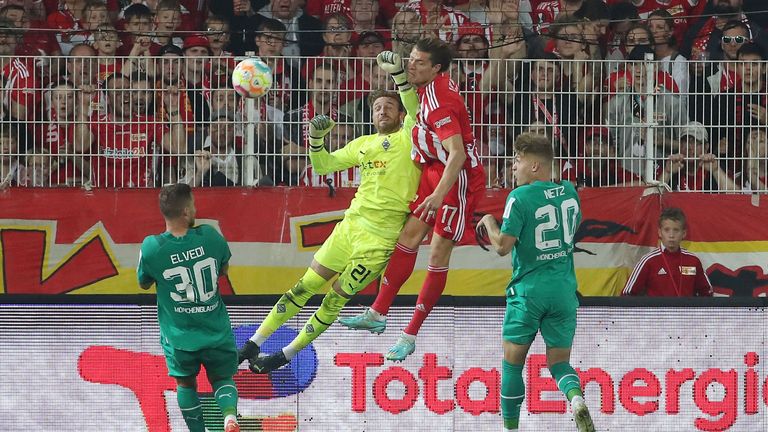 If that was for the fans, enhancing his legend, the winner at Werder Bremen in January was for him. "He had grown up there, you could see how much it meant to him. His parents were in the stands. There was a significance to it. I think that was a turning point for him."
Goals followed against Wolfsburg and Stuttgart, Eintracht Frankfurt and Freiburg, even away to Borussia Dortmund. Behrens developed his game, aided by Markus Hoffmann, Fischer's assistant and a former lower-league striker himself. A true talisman emerged.
He retains that sense of fun, Union's unlikely lad. When the players and staff lined up on the pitch to be introduced to the crowd before the first game of this season, Behrens could be seen flicking his colleagues on the back of the head, a constant nuisance.
He was once asked his ideal holiday destination and gave Mallorca as his reply, specifically Ballermann, the notorious German tourist bar. His choice of food? A foot-long bratwurst. Behrens is not afraid to lean into the caricature. "He is that kind of geezer. No bull."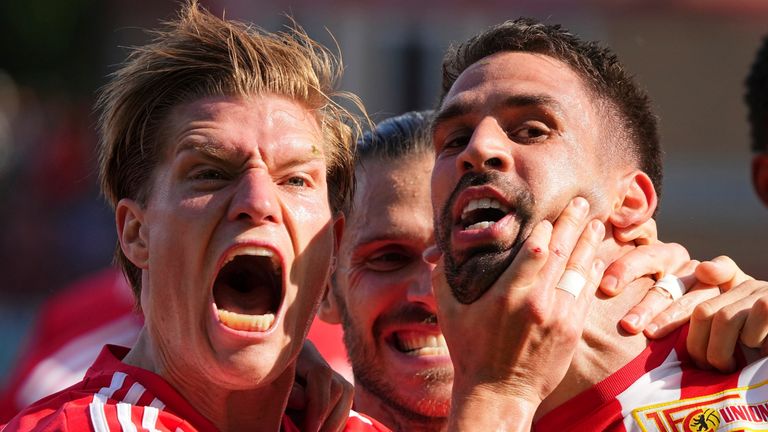 Nevertheless, Sweetman is convinced this gregarious image is not the full picture. "Whenever you see him, he is laughing and sticking his tongue out but I think he is more sensitive than he likes to make out," he adds. "I think there is more to Kevin Behrens."
He recalls the sight of Behrens with an injured Andras Schafer after beating Union Saint-Gilloise last season. "He was basically carrying him to the bus. There are no photos of it but it was really touching. It showed this side to Kevin that people do not see."
Real Madrid's worst nightmare?
It explains why Behrens is so popular with team-mates as well as supporters. "Everybody loves him. It comes back to this idea of him being a normal bloke. I think he is utterly remarkable." Roelofsen agrees. "He is humble. He is normal. And people love him for it."
Later this month, Behrens will be among the Union squad that arrives in the Bernabeu for a fixture that even now seems unthinkable. Four years ago, the club had yet to appear in the Bundesliga let alone take part in European competition.
Now they face the most famous club of them all.
The aristocrats of Real Madrid will be at home in more ways than one, the interlopers of Union equally comfortable in their role as outsiders. Within their ranks, a battering ram of a centre-forward from the regional leagues with a point to prove.
He couldn't, could he? "The most incredible thing is that it is not impossible," says Sweetman.
That is the lesson of the Kevin Behrens story.