On September 7, 2023, Team PricePlow traveled northeast to Maine, to visit the offices of Jocko Fuel and Origin USA. Jocko Fuel was born out of Origin, who manufactures jiu-jitsu gis, boots, and other apparel in the USA, using American materials.
After touring the facility, we sat down with Brian Littlefield, co-founder and Chief Product Officer of Jocko Fuel. We came primarily to introduce the new Jocko Pre-Workout, but actually kicked it off by trying the new Blue Raspberry Jocko Go energy drinks, a Vitamin Shoppe exclusive.
In this long and incredible conversation, we first talk about the founding of Origin and the arrival of retired US Navy Seal Commander Jocko Willink, which led to the creation of Jocko Fuel. After introducing the new Jocko Pre-Workout formula (first released on PricePlow through this podcast), we discuss why Jocko Fuel only uses natural flavoring and sweeteners, avoiding sucralose, aspartame, and ace-K at all times.
The trio also discusses other products coming down the pipe, life lessons from jiu-jitsu, Brian's background, products that are made in the USA, and some of the "tuition payments" they had to make as a growing brand.
This was an all-around incredible trip, one of our best podcasts ever, and we're more than honored to be the team to disclose the Jocko Pre-Workout to the world.
Detailed show notes are below — you can listen on your favorite audio podcast app or watch on YouTube:
0:00 – Introductions and Go Energy Drinks
In episode #111 of the PricePlow Podcast, Ben and Mike host Brian Littlefield, co-founder and CPO of Jocko Fuel. The guys kick it off by cracking open the new Blue Raspberry flavor of Jocko Go Energy Drinks (this is discussed later on, but Mike and Ben love the flavor).
Brian recounts the genesis and growth of Jocko and its parent company Origin USA, initially focusing on producing kimonos for the jiu-jitsu community and later expanding into men's apparel. The emphasis throughout their journey has been on US manufacturing, innovation, and maintaining quality through a domestic supply chain.
He praises founder Pete Roberts for his vision and dedication to originality. The company stands firm on principles such as transparency, trust, and discipline, reflected vividly in their patient approach to product development including waiting nine months to find the right co-packer for their energy drink. They house over 400 employees primarily in Maine and North Carolina and have converted two white-labeling facilities into manufacturing hubs.
Brian stresses the importance of understanding the multifaceted nature of the industry, including mastering go-to-market strategies and the nuances of manufacturing. Sharing his journey, Brian attributes the business's success to a deep understanding of the market derived from a rich background spanning customer experiences and manufacturing insights, underlined by a proactive and informed approach to business growth.
14:00 – Jocko Fuel's Branding
Ben shares a story about a past interaction with the Jocko Fuel team, setting the stage for a conversation on the evolution and trajectory of the team's branding and product lines. Jocko's reaction to not attending a sports nutrition expo, choosing instead to focus on training, served as a defining moment that underscored the team's dedication to honing their craft over following industry trends or mingling in expos.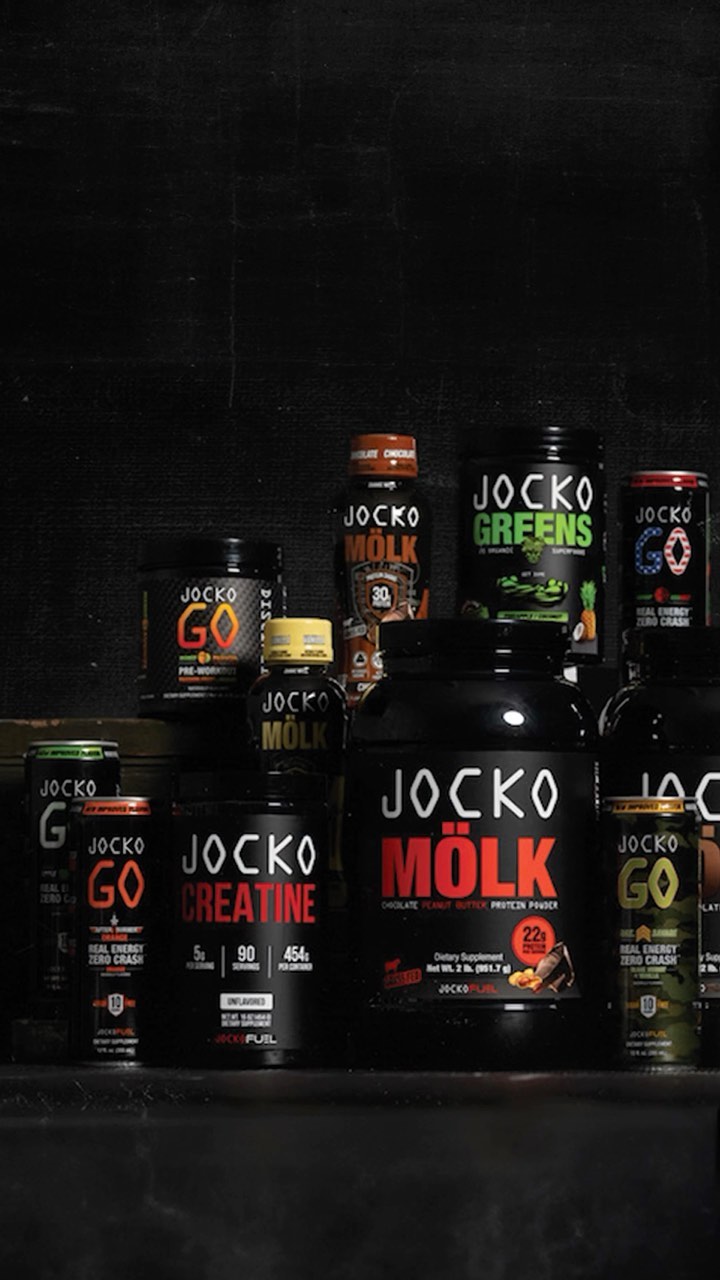 Brian, in response, acknowledges the rooted approach of their brand that primarily revolved around a lifestyle more than being a "gym culture brand". He notes that while their approach has fostered substantial customer loyalty, there's a growing recognition of the need to possibly disrupt the market and venture into new realms.
When Mike asks about the demographic they are aiming to reach with their new pre-workout supplement, Brian describes their broad existing customer base which spans males between 25-50 years primarily, but also includes a significant portion of females (depending on the product) and a wider age range given Jocko's wide-reaching influence. In totality, Jocko serves anyone aged 8 to 80.
Brian delineates their initiative to cater to their existing customer base's growing demand for a gym-focused pre-workout supplement, emphasizing the intention to first serve their community before branching out to capture a greater market share.
Ben commends the thoughtful approach of the team in gradually building up to introducing a pre-workout supplement, unlike most emerging brands which typically start with such a product. Brian appreciates the recognition, mentioning the unique starting point of their product line with krill oil (Super Krill) and a joint formula (Joint Warfare).
20:30 – Jocko's affiliation with Origin
Brian goes into how Jocko first became affiliated with Origin, noting his strong patriotism and the affinity for the fact that Origin was the only American-made gi manufacturer at the time.[1,2] Brian shares the somewhat funny backdrop to their initial connection with Jocko, emphasizing the chaotic period they were navigating as they were engrossed in maintaining their equipment and expanding their outreach, almost missing Jocko's messages.
They reflect on the remarkable growth trajectory that ensued following this collaboration, splitting into two significantly burgeoning brands, and even achieving a notable spot in the Inc 500 list for a few consecutive years. Mike brings up the unique satisfaction and assurance that comes from witnessing the manufacturing process and understanding the depth of domestic production in an era where supply chains have become incredibly vulnerable.
Following this, Ben and Brian discuss the persistently high demand for Origin's products, particularly noting the RTX line and the frequent stock outs owing to the surging demand. Brian mentions Kip Fulks, co-founder of Under Armour, who has become a vital resource for Origin, offering critical insights and advice borne from his extensive experience in nurturing a brand from its grassroots to becoming a multi-billion-dollar entity.
24:15 – Partnerships
Ben brings up the collaboration between their company and Sorinex, applauding not only their high-quality equipment but their contribution to the community as well, which aligns well with their own values and mission. Brian agrees, highlighting the positive nature of the partnership with Sorinex, emphasizing the family-owned nature of the business and their commitment to building iconic gyms around the U.S.
The conversation then shifts to another significant partnership they have established with the CrossFit community, becoming the official energy and protein drink supplier for the CrossFit Games. Brian shares his positive experience attending the games and witnessing the close-knit and welcoming community firsthand. He appreciates the community's reception to their products and hints at the significant growth potential of this partnership given the large and engaged demographic that CrossFit attracts.
Mike recognizes the steady growth CrossFit has experienced over the years, maintaining a substantial presence even if the explosive growth has plateaued somewhat. Brian agrees, noting that despite the slowed growth rate, CrossFit continues to surpass traditional sports in terms of year-over-year growth percentages, with many new gyms planning to open in the coming years, indicating a vibrant and expanding community.
The group draws parallels between CrossFit and jujitsu, highlighting the camaraderie, team spirit, and positivity that characterize both communities. While acknowledging that individual workout regimes have their merit, they appreciate the collaborative and spirited environment CrossFit offers, fostering consistency and joy in the participants.
29:45 – New JOCKO GO flavors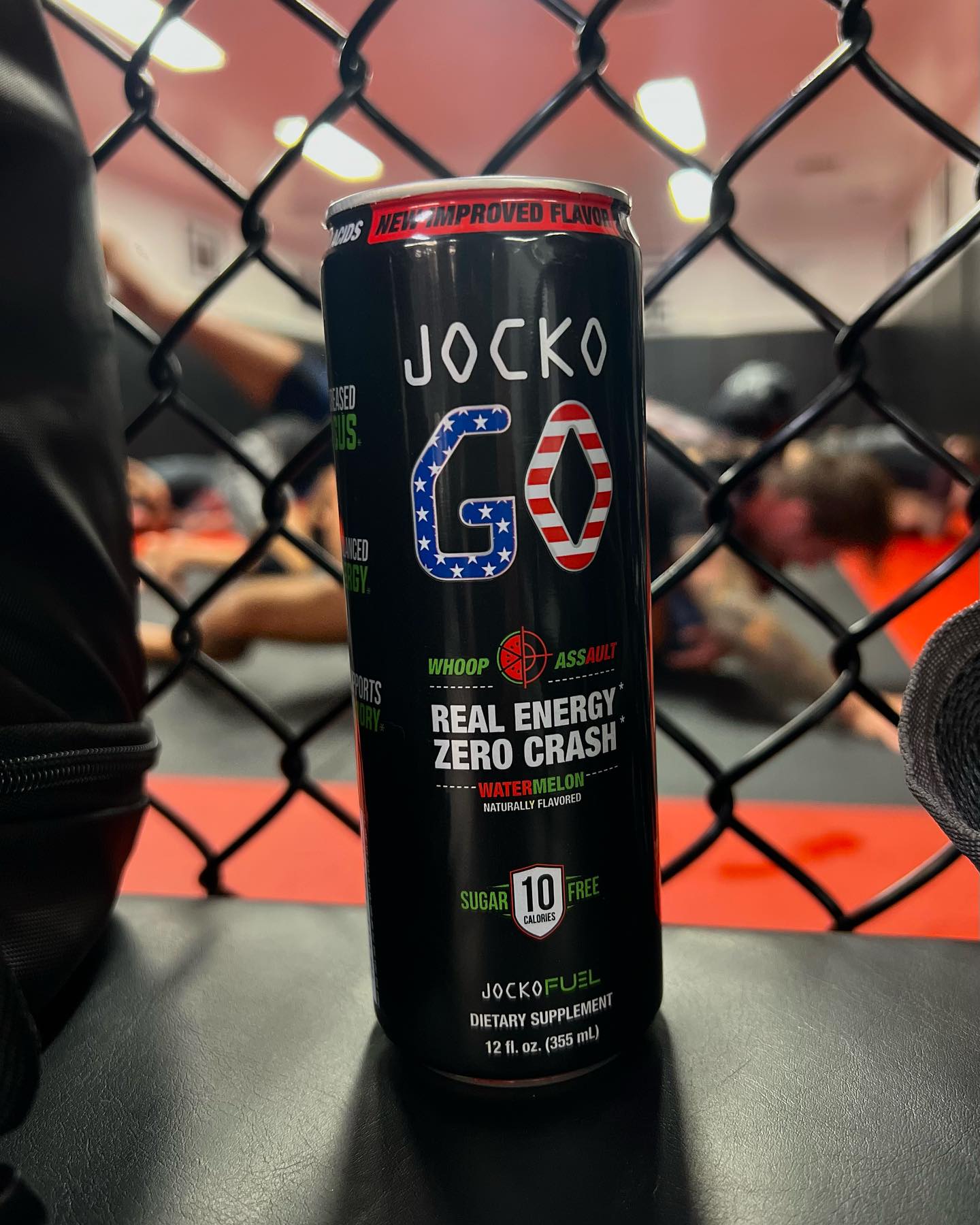 The conversation turns to the new Blue Raspberry flavor of JOCKO GO. Brian shares the challenges they faced in the production process, including the supply chain constraints experienced in 2020, which led to a shift from matte to gloss printed cans to prevent scuff marks occurring during production. Brian also mentions their efforts to be more sustainable by choosing not to dispose of outdated cans, instead opting to use them.
In addition to blue raspberry, JOCKO FUEL is launching some other awesome flavors: sour peach, sour grape, and nitro pop – essentially cherry with a hint of lime.They then discuss the flavor profile which is predominantly cherry with a hint of lime. Brian shares insights into the difficulties of masking the unpleasant tastes of certain ingredients, including caffeine, emphasizing that using a natural source of caffeine from coffee beans presented a unique challenge in flavor masking.
36:15 – The Jocko Pre-Workout
Ben and Brian engage in a discussion about the objectives behind JOCKO Pre-Workout. Brian Littlefield shares that their goal is to create a dependable, staple pre-workout supplement that stands out in a crowded market filled with products boasting a myriad of ingredients and stimulants. The product they are developing is geared towards being a reliable option that users will consistently favor, terming it as a "daily driver."
The Jocko Pre-Workout Ingredients
We're proud to announce the Jocko Pre-Workout ingredients:
L-Citrulline – 6g

Beta Alanine – 3.2g

Betaine Anhydrous – 2.5g

N-Acetyl L-Carnitine Hydrochloride – 500 mg

Caffeine (naturally sourced from Coffee Bean) – 200 mg

Theobromine – 50 mg

Methylliberine (as Dynamine) – 25 mg

Added Vitamins and Minerals:

Vitamin C – 90 mg (100% DV)

Vitamin B6 – 2 mg (118% DV)

Vitamin B12 – 2 mcg (83% DV)

Magnesium (as magnesium citrate) – 15 mg (4% DV)

Chloride (as sodium chloride) – 70 mg (3% DV)

Sodium (as sodium chloride, sodium gluconate) – 90 mg (4% DV)

Potassium (as potassium citrate) – 80 mg (2% DV)

Other Ingredients:

Natural Flavors, Malic Acid, Silicon Dioxide, Citric Acid, Fermented Sugar Cane (Reb-M), Monk Fruit Extract, Spirulina Extract (for color)
This is 30 full servings, weighing in at 17.8 grams, providing 200 milligrams of caffeine. As we'll discuss, this allows for safe 1.5 to 2-scooping, and Brian and his team did a fantastic job flavoring the three difficult-to-flavor ingredients (caffeine, theobromine, and Dynamine).

To differentiate from other supplements in the market, they are focusing on a clean, more natural formulation that avoids using a proprietary blend, aiming to create a better and transparent experience for consumers.
The conversation then shifts towards the logistics of the product launch, with Mike bringing up the launch date, which is tentatively set for September 15th, a detail Brian confirms. The team is collaborating with Vitamin Shoppe to release Nitro Pop alongside the other flavors in their line. Despite the launch with Vitamin Shoppe being at an unlucky time in February 2020, the partnership has blossomed, partly credited to the substantial reach of their podcast which, according to Brian, commands a listenership exceeding that of national network TV shows.
41:00 – The philosophy behind JOCKO FUEL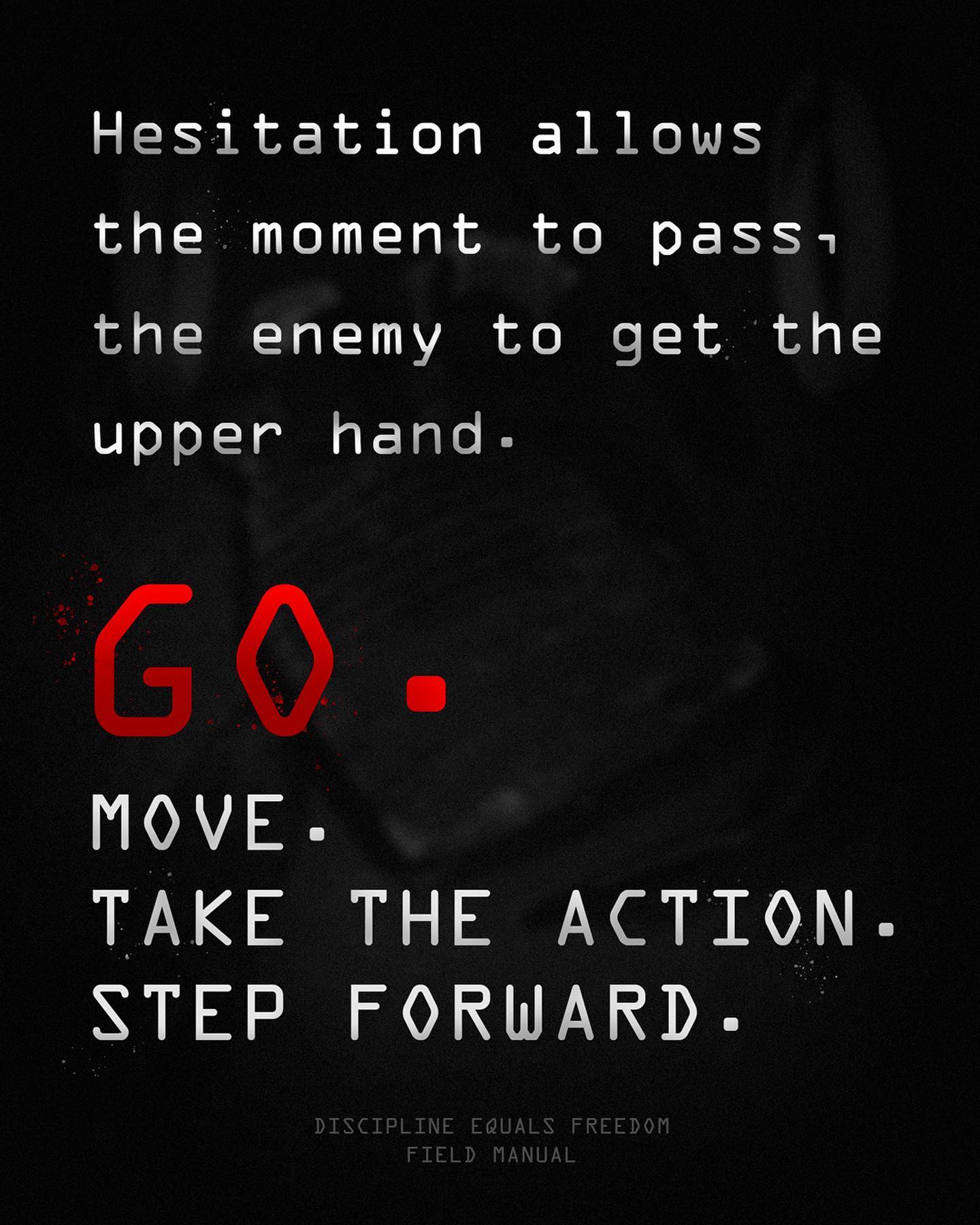 Ben and Brian discuss the evolution and philosophy behind Jocko's brand and its position in the market. The brand has a hardcore and authentic identity, deeply tied to Jocko's personal discipline and lifestyle which involves waking up early, working out intensely, and living a balanced life which even involves surfing.
They bring up the brand's product development phase, emphasizing the authenticity and commitment Jocko has towards the products which are not just for the "meatheads in the gym" but promote a holistic lifestyle. In discussing a specific product, they note it includes tested ingredients in reasonable doses, pointing out that they prioritize efficacy over a high stimulant kick.
They touch upon how their approach to offering staples like creatine monohydrate is guided by the desire to provide trustworthy products to their consumer base, fostering a community where people can buy products they know are safe and reliable. They believe in earning everything, and this philosophy permeates every aspect of their organization and product development process.
54:00 – The importance of good partnership alignment
Ben and Brian from Jocko Fuel delve into their brand's growth and their approach to partnerships and product formulation. Brian underscores the success of their direct-to-consumer and Amazon businesses, emphasizing their mission to be where their customers are and to provide them with reliable and healthy products.
They highlight the importance of associating with individuals who genuinely resonate with the brand's values rather than just aiming for financial gains through sponsorships. When it comes to product formulation, the emphasis is on backing every ingredient with credible scientific literature to ensure efficacy and authenticity. They hint at promising developments for the brand in the next 12 to 24 months, steering clear of shady practices in the industry by focusing on authenticity and the quality of their partnerships.
Laughs break out as Mike opens up a can of GO that he found with a 2021 expiration date. He enjoys it, noting that the current version is better thanks to Reb M "finishing the job".
1:04:30 – Caffeine and sweeteners
Mike, Brian, and Ben discuss the caffeine dosage in Jocko Fuel's products – a relatively modest dose of 95 milligrams. The dosage is decided based on Jocko's preference and FDA guidelines to ensure safety. They highlight the option for consumers to adjust the dosage according to their needs and discuss the frequency of high-intensity workouts in a week, suggesting that not everyone needs to be "pumped and stemmed out" every day.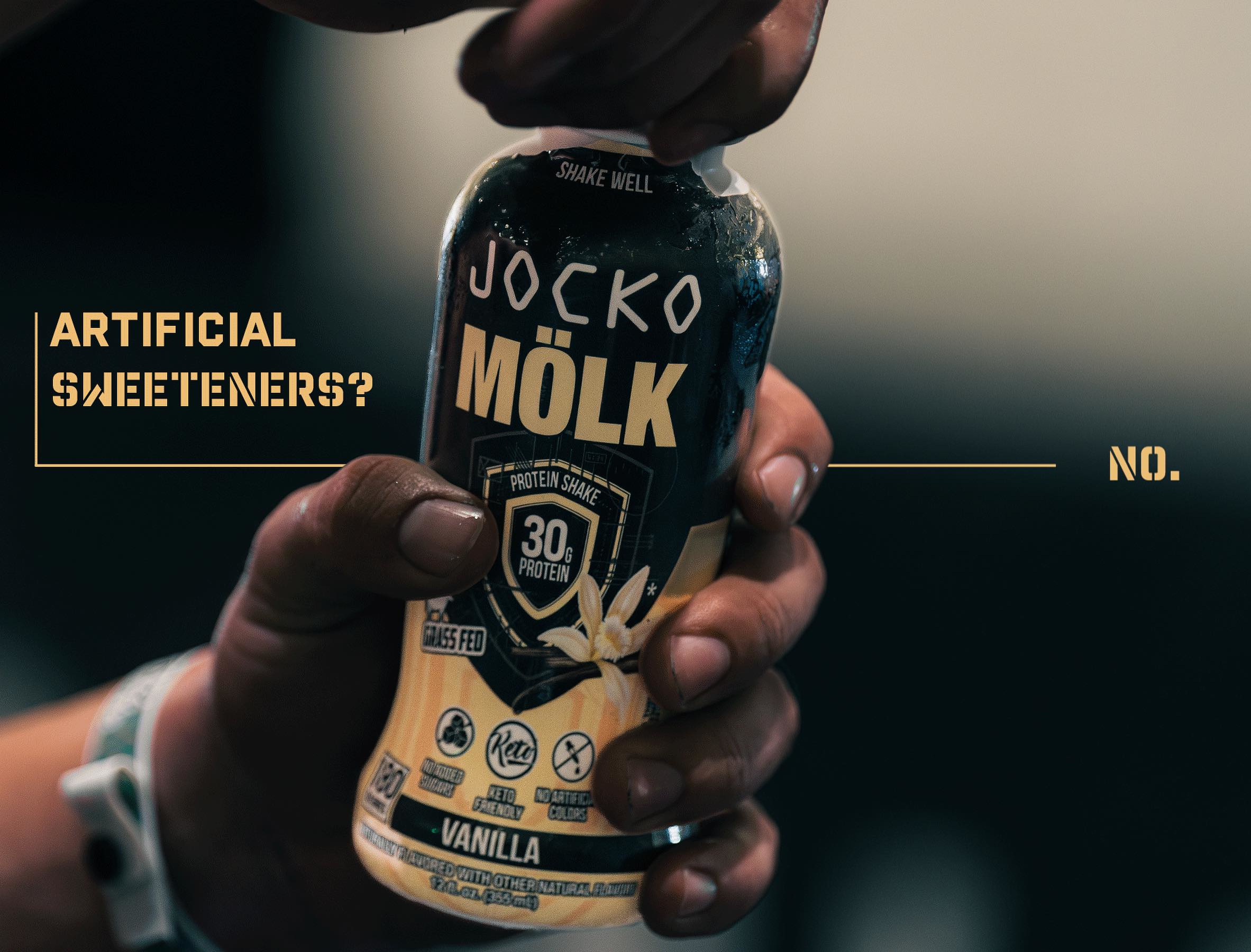 The discussion moves to the choice of sweeteners in their products, emphasizing a commitment to natural ingredients. Initially, they used monk fruit but faced limitations with its flavor profile. This led them to incorporate other natural sweeteners like allulose and Reb M (Rebaudioside M) from sugarcane, which provided a well-rounded taste while staying natural.
Reb M is also found in stevia,[3] but Jocko Fuel's is from fermented sugarcane — before the podcast, Brian noted that they tried both sources, and for whatever reason, the fermented sugarcane based Reb M simply tasted better.
Despite initial reservations about changing the sweetener and expecting backlash from their customer base accustomed to monk fruit, they received a positive response, which Brian attributes to clear communication regarding the change. They underscore their dedication to simple, transparent, and natural formulations in their products.
1:19:00 – Making "Life Bets"
Toxins are abundant in the modern world, and Brian isn't willing to be the test subject for poorly-researched chemicals, and he's certainly not willing to push that onto customers.
Mike rolls this into a conversation on what he calls "life bets". When you reach a certain age, you start having to make bets about what habits will be good for you and sustain you for the second half of your life. He mentions that he has made such a bet regarding the benefits of eating a lot of red meat, and that saturated fats and cholesterol are healthy. Because of this, Mike appreciates the consistency of ingredients with JOCKO FUEL. It enables users to be able to use anything from the brand and know that they're getting a formulator who's consistent in making his bets.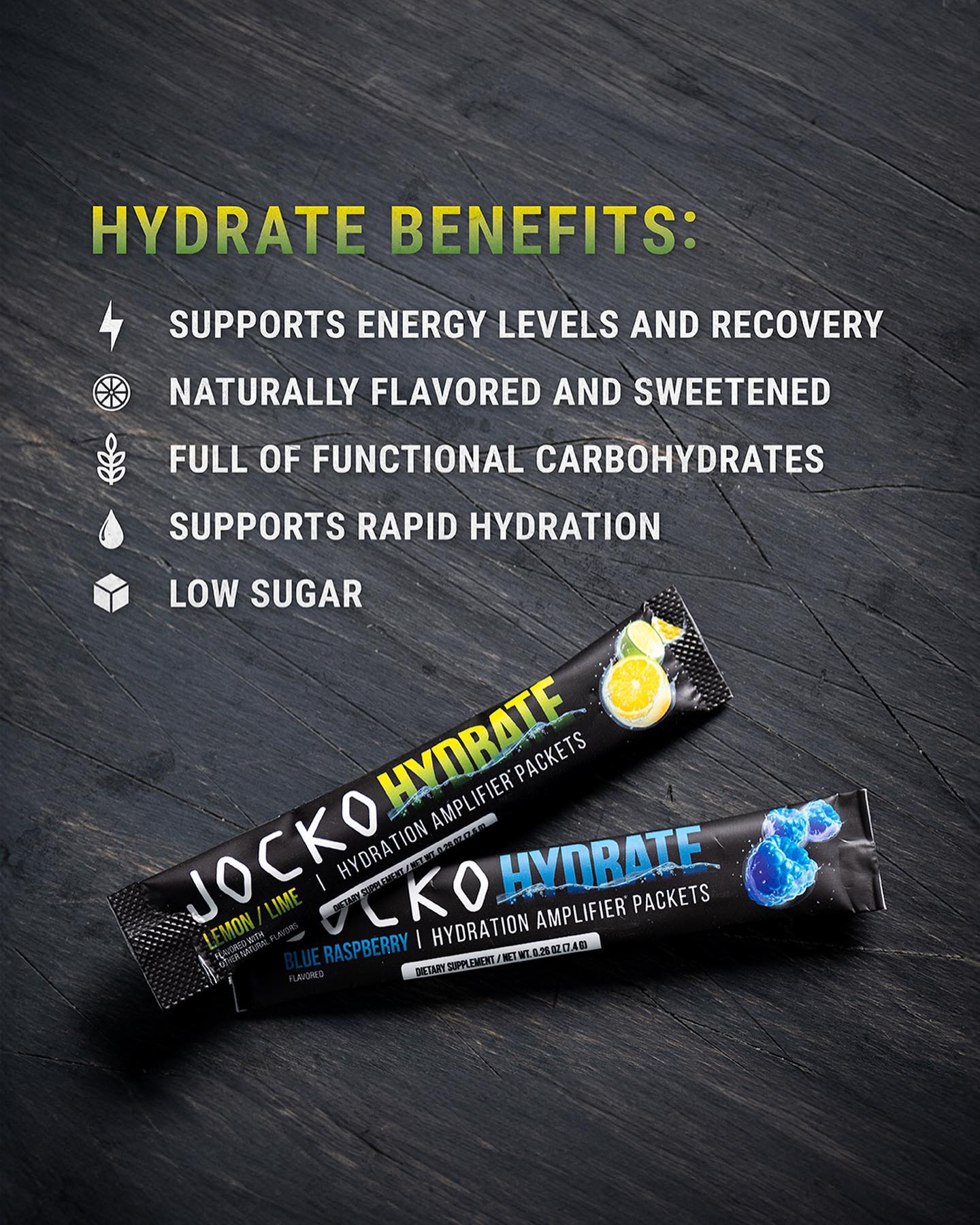 Brian elaborates on the sweetener combination they've honed. He mentions that sweeteners like Reb M, allulose, and monk fruit are a bit "one-dimensional" on their own, but really come to life when combined.
1:29:20 – Upcoming Product with the 3-Sweetener Trifecta
Brian teases a product that will use the Reb-M / monk fruit / allulose trifecta which he believes will be a gamechanger in its category.
The conversation quickly changes to the Molk RTD, which everyone loves, but Ben presses how good the Banana flavor is. They joke about them selling out of Vitamin Shoppe consistently, especially when it's dollar drink day.
In the northeast, they'll drive in from all over the rural areas to get to the Portland, Maine Vitamin Shoppe location and stock up on those Molk RTDs.
1:31:30 – Hydrate, and Jocko Fuel's Stance on Carbs
So is Jocko Fuel against carbs in general? The answer is no — they just don't use them to sweeten products. In fact, Jocko Hydrate uses 2 grams of D-ribose for ATP support. Most aren't doing this in hydration.
Hydrate interestingly has a small amount of L-theanine, which isn't really a "hydration" ingredient, but generally feels good and helps reduce anxiety. They felt slightly better with it, so they put it in. Ben notes how they're scrappy entrepreneurs: not doing standard practices, testing things differently (such as in the dojo), and this is the kind of product you get.
1:33:30 – What is Brian? Brian's Background in Supplements
Ben asks an interesting question – if Jocko is the Navy SEAL Leader, and Pete's the scrappy entrepreneur and designer, but "What is Brian?"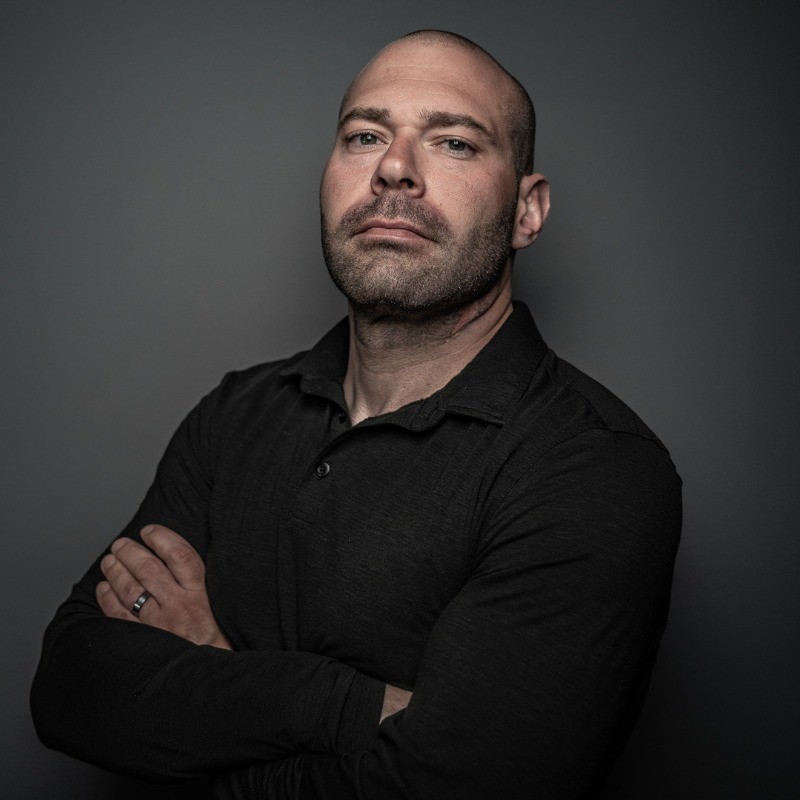 Brian came in as the one who had direct supplement industry experience, having run a store and interacted directly with the customers. He would sell to people while running a jiu-jitsu school and training MMA, and was able to use all of these people to gather information and knowledge.
Running a small independent store, he also got lots of free stuff, which he'd take home, study, send to friends, and ultimately collected tons of feedback and began taking notes.
He didn't realize he'd be formulating for a brand like this, but eventually it came together. Ben calls him a "problem solver" and Mike calls him a "deconstructionist" or "deconstructor".
For example, Brian tells a story about how he took apart his own underwear to make a pattern in the early days of Origin. He simply had to figure things out, which is common in the jiu-jitsu world.
When Brian decided he wanted to get involved in Origin, he built a 6 hour radius around his location, and went to martial arts schools, building up 120 accounts. Eventually, Origin was doing so well that he had to stop selling, but Pete offered him a job back in Maine, so he came back and did it.
He had a business degree, so he took on operations at Origin, but had to do tons of things, even oiling sewing machines. Just figure it out.
Brian also talks about how he originally went to school to work on race cars. After working on them for a season, he realized that it wasn't what he wanted to do with his life. He went back to business school, and took some extra biology classes.
Regarding jiu-jitsu, Brian didn't start until later – he didn't wrestle in high school and only played ball sports until freshman year before getting into cars.
1:43:30 – The learning principles of jiu-jitsu
Jiu-jitsu can definitely be humbling as a grown man – many of the principles have led to great advancement for Brian. Between the personal connections, business, getting him deeper into nutrition and dietary supplements, Brian states that nothing has led to greater advancement for his mind and body than BJJ.
When overcoming big challenges, there's nothing like having the perspective of having been under someone's mount who could technically have murdered you. That puts things in a different angle – business and life problems become smaller after that. "You're not going to spiral out of control."
Once the primitive fight-or-flight goes away, you can accept your situation and start using your tools to solve problems — that's like a superpower.
1:48:00 – New Jocko Molk Protein Bags, Retail Exclusivity
Ben pulls out some Jocko Molk protein bags from behind him, noting that they're different from what he'd seen. This is because they're brand new, and aren't out yet. There's a seasonal flavor (Smashing Pumpkin, which released September 13th exclusively at The Vitamin Shoppe) that was new too.
Mike notes that Vitamin Shoppe's leaning in hard on Jocko, and Ben gives a shout-out to Jack Gayton (PricePlow Podcast Episode #105). Brian notes that Jack wasn't the original buyer who brought Jocko in, but the next person to really push for the brand internally was indeed Jack, who understands the brand and knows the long-term game.
And while Jocko Fuel / Vitamin Shoppe relationship has been great, Brian explains that their brand has enough pull to go into even more retailers – they absolutely crush it at every regional grocery store they enter.
1:49:45 – Jocko Greens
The topic of greens comes up, since Ben's been taking Jocko Greens as a lifestyle product (he didn't even really look at the label).
Brian explains that he had a lot of freedom on this product, and it surprised a lot of people since the brand is hyper masculine with black packaging. But how many fruits and greens are most users eating? Jocko only eats a giant Caesar salad. But how could Jocko Fuel do it better?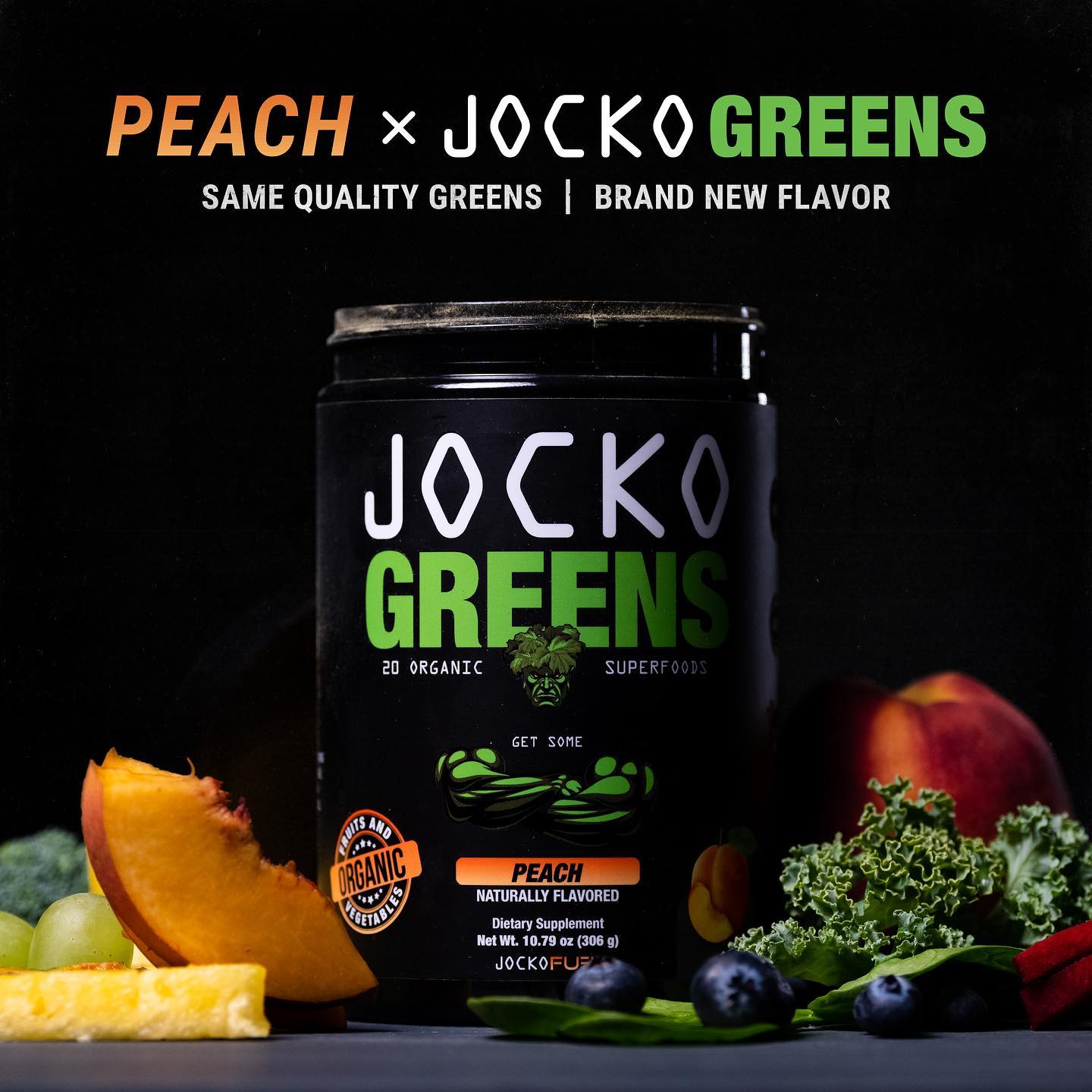 In order to get Jocko on board, Brian had to make it better. Of course it'd be naturally flavored and sweetened, but that wasn't enough. He realized that so many other brands used proprietary blends and soy inside. But that still wasn't enough.
Brian decided that the biggest thing to do was to make naturally-flavored and naturally-sweetened greens that actually taste good. And to do that, he used organic fruits and vegetables, which also taste good, and don't require fillers. For instance, pomegranate powder and banana powder already taste great!
Mike notes that Jocko Fuel didn't panic to get a rushed greens out in 2020 – they waited, did it right, and developed it with care. It came out a bit later, but it came out at the time that was right for them. This flashes back to the learning lessons of jiu-jitsu – don't panic.
1:57:30 – The Behemoth that is Jocko and his Podcast
Brian makes it very clear that they understand how powerful Jocko and his podcast are. It's the X-Factor. But they're not going to use that to launch bad products.
He takes it back to his attempts at creating a protein bar, which they built their own manufacturing line to try to create! But after 100s of iterations of bars, it just wasn't good enough.
Jocko said something that stuck with Brian:
"I can sell some shit. But I can't sell shit."

— Jocko Willink
And they shut the protein bars down. This is what Brian considers one of their main "tuition payments", meaning a learning lesson that costs a lot of time and money. Thankfully, they did get the Jocko Molk Protein Cookies out of it, so it wasn't a total loss.
But by never selling shit products, Jocko Fuel maintains a 52% subscription rate, meaning 52% of their direct-to-consumer business is subscription-based. Yet people still walk into Vitamin Shoppe, buy on Amazon, and everything else.
"People underestimate the army."
2:01:00 – Will Jocko Fuel try Manufacturing in the USA again?
Given Origin's USA manufacturing success, Mike asks if Jocko Fuel would ever try to manufacture supplements or functional foods in the US again. Brian flat-out says "No."
One part of being a good operator / business person / entrepreneur is admitting and being honest at what you're good at and what you're not good at. Being able to relinquish control to trusted partners.
Additionally, if they did set up their own manufacturing facility, then outpaced it with increasing sales (which is likely), they'd be back in the same quandary, chasing their own tails. Partnering with great manufacturers is more important.
Ben asks for a manufacturer that's been good to them, and Brian mentions Simpson Labs, run by Eric Simpson who's become a friend to all three on the podcast and does a fantastic job with flavoring and stick packs. They make the Jocko Hydrate product.
Brian also points out that certain manufacturers are great at certain things, and they've learned to lean on the ones who excel in their areas.
One thing that shocks Brian is that many brands don't visit their co-mans (contract manufacturers). This is obviously not the Jocko way – they audit facilities and check the boxes and have a full vetting process with a quality professional.
Ultimately, the brand is legally responsible for the products that they sell, so you can't blindly trust manufacturers.
The guys also talk about up-and-coming TikTok brands, some of which have admitted to not testing their products.
Brian's advice to these smaller guys is to keep grinding, yet implement the processes that will build a real longstanding relationship in the industry now, even though they're expensive and uncomfortable. Some of these brands, really, aren't even in the same space as Jocko Fuel.
2:08:45 – If only PricePlow were doing this in 2016…
Brian compliments PricePlow by stating that had we been doing this level of content back in 2016 when he first started, he would have been sucking it all in. He thinks back to that era, referencing Episode #106 with Mike McCandless, who sold Scivation in 2017. You can't get a degree in this.
Mike notes that if you were to try to get into this space and wanted a degree, biochemistry would be a great degree to get. Anatomy and physiology are also great, as well as some business background. Brian, however, has been "OJT" – On the Job Training.
Brian believes that someone's going to come along and completely revolutionize the industry, shaking the industry up. The industry is still in its infancy and is underfunded.
He likens this to MMA — it started with martial artists who started as adults. But now we're seeing kids who are bred into it right from the beginning, with all of the skill sets as a child. Brian hopes that someday, there will be kids who want to be a supplement formulator when they grow up.
So Brian thinks that someone will come by and blow this entire industry up, taking it to the next level.
2:14:45 – We need more research data
To the guys, one of the biggest things holding back the industry is the availability of data in more ingredients beyond creatine, caffeine, citrulline, betaine, and beta alanine – basically your quintessential pre-workout ingredients (we could add whey protein as well).
For instance, Ben discusses a study that the University of Arkansas did comparing citrulline to Nitrosigine, where they showed that 1.5 grams of Nitrosigine was roughly equivalent to 8 grams of citrulline malate (this study was published without Nutrition21's knowledge). But nowhere in the study did they combine the two — and citrulline and Nitrosigine are used together probably 90% of the time!
Jocko Fuel would love to do more research — Brian mentions that they did do a research study on Jocko GO Energy Drink, measuring it against a flavored placebo and a flavored drink with caffeine alone. It's not yet published, but the data showed that it outperformed both, which is exciting because it means that GO is more than just caffeinated energy!
2:18:30 – Made in the USA?
Since Origin is made in the USA, Mike asks how much Jocko Fuel's customers would like a dietary supplement that's made entirely in the USA, ingredients and all.
Brian answers that they'd love to lean in that direction, and apparel is. It's obviously hard with dietary supplements, since the ingredients are nearly all sourced overseas, and those made in the USA are at least 2X more expensive.
The cans are made in the USA, although they had to get outsourced overseas in 2020/2021 – yet they brought them back to the USA the moment they could.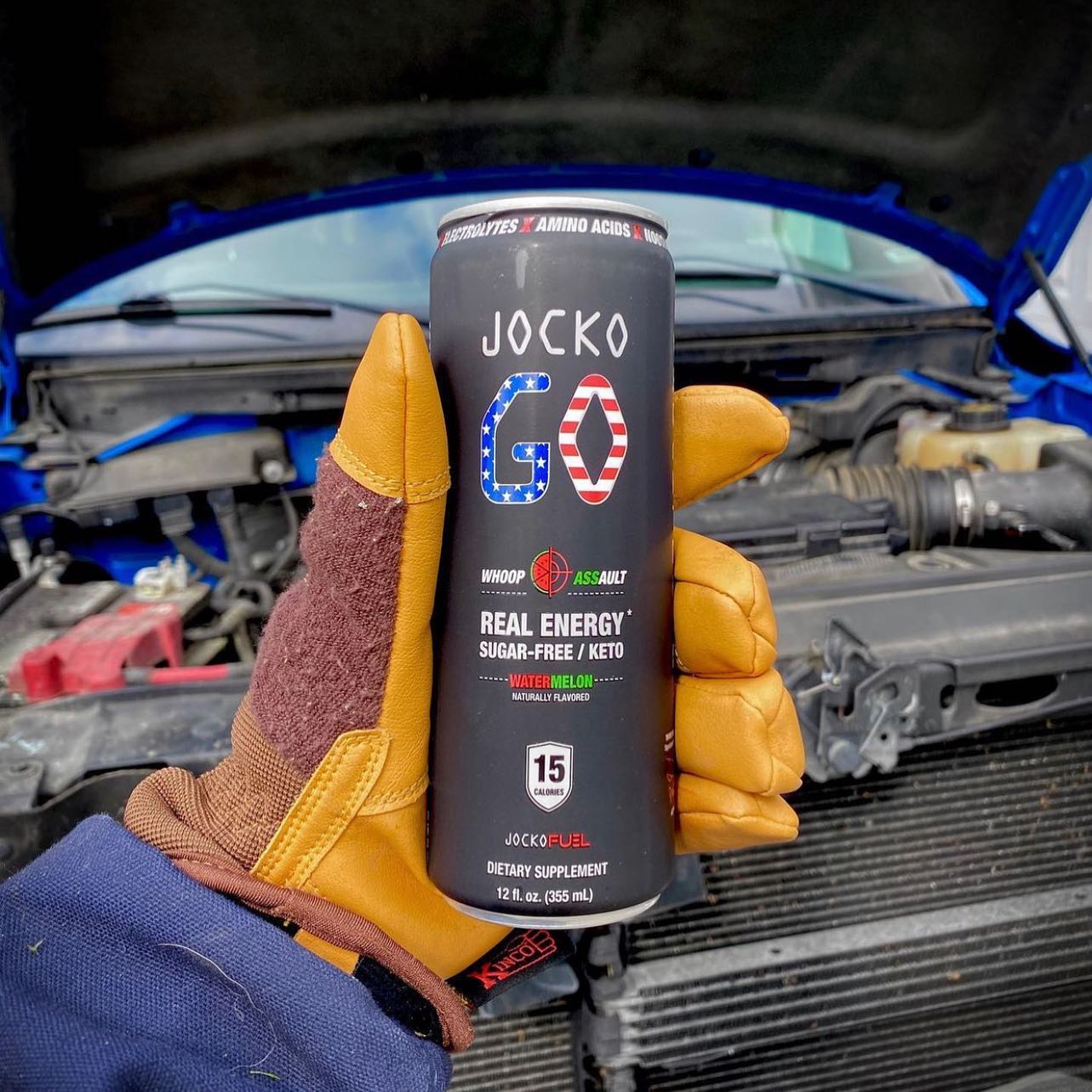 Brian then gets into a story where a company attempted to extort Jocko Fuel. They were threatening to go to the press telling everyone that this flagship American brand wouldn't buy their American-made ingredient. The issue is, it cost four times more than they were currently paying. They subtly hinted that they'd tell the world about it.
Brian told them to go pound sand, and it turns out that the ingredient ended up getting flagged for inconsistency, so he can rest easy knowing that they made the right decision.
Mike notes that strong-arming Jocko Fuel – essentially an alpha brand – is not a smart move. These guys may be a bit new to the "gym culture" side of sports nutrition, but they're no rookies.
Besides, "Just because it's made in America, doesn't mean it's better. You can make a shit product in America. That doesn't mean we're going to use it."
Brian also wants to look at the entire supply chain. With Origin, they have a saying that "If you follow the trucks of cotton all the way back to the beginning, you'll end up in the Tennessee Delta region."
This was also discussed at the end of Episode #104 with Bruce Kneller, who explained that some of these ingredient manufacturing processes are downright filthy and nobody wants them in their backyard. You may not want all of this made in America.
Either way, Brian's always open to talking to American manufacturers to onshore any inputs that may be possible.
2:26:15 – Recap at the End
The guys recap everything that's happening:
Launch of the Jocko Pre-Workout
Vitamin Shoppe Exclusives:

Launch of the exclusive Blue Raspberry GO Energy Drink cans
Nitro-Pop flavor of the Pre-Workout

The return of Smashing Pumpkin MOLK flavor, newly reformulated with Reb-M.
Ben asks where you can find Brian (those links are all below), but they also get into his TikTok, which he occasionally jumps on to "debunk" misinformation on the Internet. It's become a fun little "side quest", which is the perfect way to put it.
The gentlemen say thank you and close it out.
Thanks to Jocko and Team for having us, and to Brian for spending an entire day out of your busy life with us! Subscribe to the PricePlow Podcast on the podcast app of your choice below, and don't forget to leave a review on iTunes!