Bruised by an off-day in Boston, the world marathon record-holder heads for Berlin with a point to prove and the overarching ambition of Olympic glory, writes George Mallett
In a career that has yielded two world records, consecutive Olympic golds and the mantle of the first in history to break the marathon's two-hour barrier, it means a lot to say that Eliud Kipchoge's greatest challenge is yet to come. 
In June I met him in the manicured gardens of the Global Sports Communication Camp in Kaptagat, Kenya. He was in a reflective, grateful mood, surrounded by constant reminders of the fruits of his success. 
A new wing under construction for expanded dining facilities, a dirt track emblazoned with INEOS signs and the budding trees planted by the various dignitaries who had come for a glimpse into his home of over 20 years.  
Two months after a difficult day at the Boston Marathon, where he finished eighth, the former world 5000m champion talked about how his Olympic marathon titles from Rio and Tokyo had surprised him and how he wouldn't begrudge another athlete being the first to officially break the two-hour barrier.
"I will be happy," said the man whose run of 1:59:40 in Vienna four years ago was not eligible for record status. "I started and made history so we want other people to also make history."
I came away from our conversation, in all honesty, believing he knew his best days were behind him. Some months later, I'm not so sure. 
A few days after I left Kenya it was announced that the four-time winner would return for the 49th edition of the BMW Berlin Marathon, which takes place on Sunday September 24. A year will have passed since he set his second world record (2:01:09) on the streets of the German capital.
When we speak again one month before he toes the line there's a confidence to his words that only comes with the right feedback from your body. "Training has been going well," says Kipchoge. "After Boston, I took two weeks off to make sure my mind and my muscles had time to recover. I had a problem during the marathon, but I can say now that I am fully recovered. It is not a problem anymore. 
"I trust my body and my team and I listen to what both are telling me. I have been training well. I'm in good health."
What may sound cryptic – Kipchoge never really refers to what the problem was – also reveals a lot. 
During my time in Kenya I also witnessed two sessions of the NN Running Team, first on the track and then over a 40km long run. 
In the first Kipchoge was anonymous, sitting in the pack and completing five repetitions of 2km, 1km, in 5:52 and 2:50 respectively without complaint. Two days later came the long run up onto the escarpment above the Rift Valley, the notorious "Boston" course. 
That morning he and three others left the rest of the group behind. The quartet closed the final 5km at 2:06 marathon pace. By Kipchoge's subsequent admission, he did so barely a month into his return. 
Eight weeks later, you get the sense he has kicked on further. The prospect of returning to Germany seems to have energised him.
"Coming back to Berlin always feels special, it's like home to me," says the man who first competed in the event in 2013, coming second. "The city has given me so many incredible memories. Having run in Berlin five times I already know the course and I know if I trust my preparation and everything falls into place, I can perform well."
Kipchoge's language may have changed – where once he talked of winning all six Abbott World Marathon Majors, he now talks of completing them – but performing well in the eyes of the world's greatest marathoner can only mean one thing. Kipchoge is going to Berlin to win. 
With victory the Kenyan would become the first to take five Berlin Marathon titles, moving one clear of an Ethiopian he raced just once at the start of his career.
"Haile Gebrselassie is someone who has also achieved so much in athletics," says Kipchoge. "He is someone who pushed the limits and that is something I also do as much as possible. I can only respect him for everything he has achieved and continue pushing my own."
Kipchoge won last year's race by almost five minutes. Replicate any of that shape and it looks likely that fifth triumph will come. Patrick Sang's athlete, however, has eyes on a bigger prize.
"Berlin is the perfect preparation for the Paris Olympics, looking at the organisation and the time frame," he says. "I can run Berlin, come back, have a race, start again and still have enough time to train. 
"The Olympics only come once every four years and, so far, no man has ever won Olympic gold back to back to back. Doing that would be real history."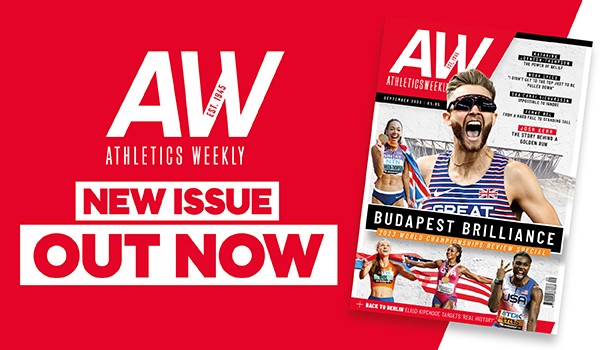 » This is an edited version of a feature that appears in the September issue of AW magazine. The issue also contains coverage of the World Champs in Budapest and you can buy it here for only £1 here