Next year's Diamond League bonanza will take place in the Belgian capital on September 13 and 14
Brussels will host the Diamond League final in 2024.
It will be the 11th time the city has headlined the last meet of the season and the first since 2019.
The honours of holding the finale have changed hands over the past few years.
In 2020, Doha hosted the last of a shortened eight meet format due to scheduling changes as a result of Covid-19.
Zurich headlined the finale in both 2021 and 2022 while the much lauded Pre Classic did this season.
The Oregon meet spanned the whole weekend and was judged by World Athletics to be the single greatest 'one day event' in history, based on the fact it received the highest ever score in the competition performance rankings.
Gudaf Tsegay almost became the first woman in history to go under 14 seconds for the 5000m as she shattered Faith Kipyegon's world record of 14:05.20 with a scintillating 14:00.21.
Mondo Duplantis also broke his own world pole vault record with a first-time clearance of 6.23m.
Other highlights included Athing Mu and Keely Hodgkinson setting US and British 800m records, Jakob Ingebrigtsen going third on both the mile and 3000m all-time lists, plus Chase Ealey throwing a US shot put record, to name just a few.
Next year's Diamond League calendar kicks off in Asia with two Chinese meets in Xiamen and Shanghai (April 20 and 27) before it moves to Doha (May 10), Rabat (May 19) and Eugene (May 25).
The European leg kicks off in Oslo (May 30) with Stockholm hosting their meet a few days afterwards (June 2).
There is then a break for the European Championships before the Diamond League is back, in Paris (July 7), Monaco (July 12) and London (July 20).
All of those athletes who excelled in Oregon will have their sights on the Paris Olympics and the London Diamond League will be their final opportunity to nail preparation.
After the Olympics, the Diamond League returns and goes to Lausanne (August 22), Silesia (August 25), Rome (August 29), Zurich (September 5) and Brussels (September 13-14).
Full Diamond League schedule:
🇨🇳 Xiamen (April 20)
🇨🇳 Shanghai (April 27)
🇶🇦 Doha (May 10)
🇲🇦 Rabat (May 19)
🇺🇸 Eugene (May 25)
🇳🇴 Oslo (May 30)
🇸🇪 Stockholm (June 2)
🇫🇷 Paris (July 7)
🇲🇨 Monaco (July 12)
🇬🇧 London (July 20)
🇨🇭 Lausanne (Aug 22)
🇵🇱 Silesia (Aug 25)
🇮🇹 Rome (Aug 29)
🇨🇭 Zurich (Sep 5)
🇧🇪 Brussels (Sep 13-14)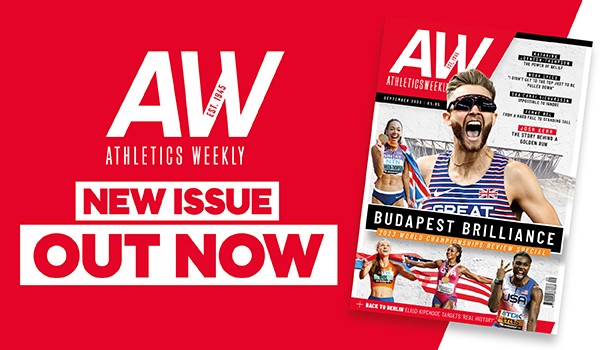 » Special offer – buy our World Champs review issue for only £1 here